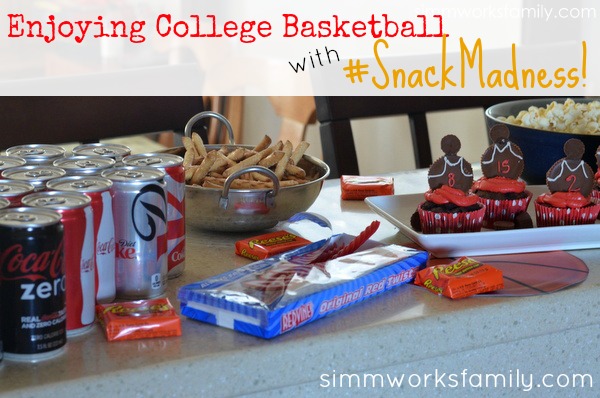 Any chance to celebrate my alma mater and root on college basketball players is welcomed in our home. Last year we were excited to see my old school, San Diego State, participate in the biggest college basketball tournament and while they didn't win, they sure as heck played hard.
When we're watching sports we love to snack on our favorite foods. And for college basketball that means one thing – junk food! We have to get back to our college roots and relive a little of the past.
I don't know what it is about Coke Zero and Reese's peanut butter cups but whenever I'm enjoying the two I re-live the long nights I spent partying er studying in college. So I set out to Walgreens to pick up a few essential basketball party snacks.
To see how I faired at Walgreens during my shop check out my Basketball Party Snacks G+ Album.
 The essential part of a basketball party are the snacks (well… besides the guests and the game!). Below are my favorite basketball party snacks that are sure to please any crowd.
Fair warning though – none of this should be considered health food. Eat like a college student and enjoy the game!
Our Favorite Basketball Party Snacks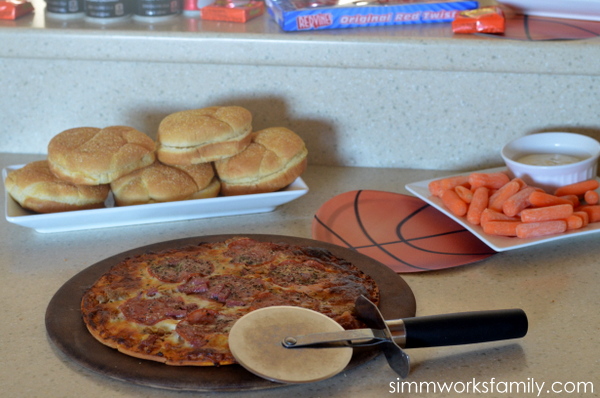 1. Frozen Pizza –
Any good college student knows that frozen pizza will get you far. Not only can you stock up on them on the cheap. they're easy to heat up in a pinch when you're starving at 4am after studying all night. Yeah.. studying.
Plus, they come in different flavors and you can add veggies and toppings to them to make them seem a bit more nutritious.
2. Slow Cooker Pulled Pork with Coke
This simple and easy slow cooker dish is perfect for making in the dorm. Only three ingredients are needed – pork tenderloin, a can of coke (or Coke Zero), and some barbecue sauce. All of this will feed the whole floor! Buns optional for those who might be going paleo.
The best part about this meal is the mess it leaves as you eat it. If you don't have barbecue sauce all over your hands you're doing it wrong!
 3. Chips, Pretzels and Popcorn!
Any sports watcher knows that when watching the game, munchies are required. So pick up your favorite chips, popcorn and pretzels and chomp down! We love popcorn and stocked up on some white cheddar popcorn on our trip to Walgreens.
But you can also get that same crunch from some veggies if you want to add something healthy to the spread.
4. Desserts –
Desserts are always a good thing to have on hand for any party. We loaded up the cart with red vines, Reese's peanut butter cups, and made some delicious Coke Zero cupcakes with peanut butter cup basketball players on top. How cute are they?
You don't have to make the cupcakes if you don't want to either. Just purchase cupcakes in your grocer's bakery and add the peanut butter cup basketball players to them! For more awesome ideas on what to make out of Reese's peanut butter cups, head on over to the Hershey's website for recipes.
And of course, like any good college student you'll have to wash down all of these yummy treats with either soda (like Coke Zero) or beer.
Who's your favorite college basketball team?
Disclaimer: I am a member of the Collective Bias®  Social Fabric® Community.  This shop has been compensated as part of a social shopper insights study for Collective Bias®  and Walgreens. All opinions are my own. #cbias #SocialFabric.