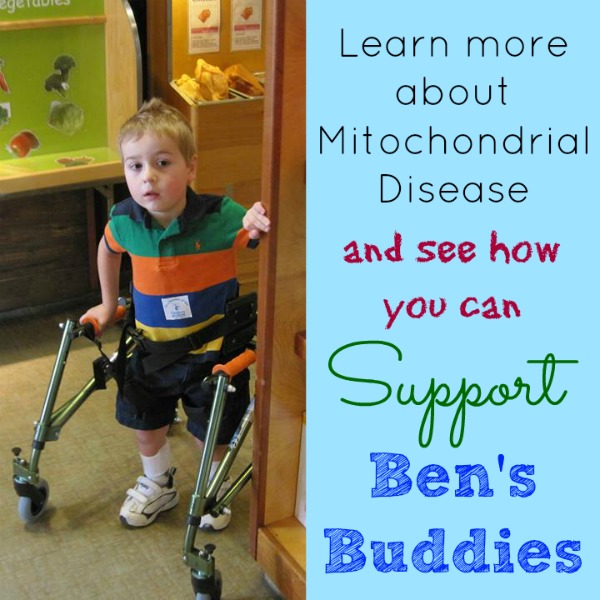 Meet Ben.
Ben is a sweet 5 year old boy of my good friend Kerri. He also has a twin sister whom he adores. A few years ago Kerri and her husband realized that Ben wasn't quite hitting the milestones that his sister was.
After many tests, doctors, and specialists they finally received their answer.
Ben has been diagnosed with a genetic defect that causes Mitochondrial Complex 1 Deficiency. The short explanation is that he has a problem converting chemicals into energy. Your brain, lungs, teeth, skin, etc… all require that your mitochondria convert what you eat into the different types of energy your body needs. Mitochondria are a special entity, each of your cells contains thousands of them. They even have their own DNA different from what is typically considered "your DNA".
Ben has a genetic mutation in his DNA that causes specific steps in the energy conversion process to not work properly, or at a reduced level. Because Ben's energy conversion process is flawed, he can't produce enough energy to enable proper development, hence his developmental delays. Your teeth, skin, eyes, etc.. all require significantly less energy to work than your brain, heart, and lungs do, which is why there are no visual indicators that a child has a mitochondrial condition.
Unfortunately, the bad news is these diseases are progressive and no cure currently exists. The typical timeline for decline can range from 4 years of age to 20 years of age, with most children passing away between 4 to 10 years old.
The team of doctors that support Ben haven't been able to determine which gene specifically is causing the problem, because the technology for testing them is a little out of reach. We could spend millions of dollars and never find the actual gene. Luckily, the lab Kerri works with is one of the leaders in this type of research, and they hope to have a test in the next 3-5 years that will help identify the gene.
Here are some facts about Ben and living with Mitochondrial Disease
Ben's condition isn't contagious. The genetic mutation occurred when he was conceived, and is not a contractible disease.
Ben's parents aren't adverse to questions or talking about it. Obviously they would like everyone to be considerate of the situation, but if you have questions, please ask!
Ben's condition makes everything behave differently in his body, medicines, chemical, etc.. all affect him differently than normal people. For that reason, he is in much greater danger from being sick (even a cold) than normal people are. Even a common cold could really impact him so sanitizing is a must.
Yes, this is very sad news, but it does reinforce how important enjoying daily life can be. Ben and his parents aren't just taking their diagnosis and leaving it at that. They've decided to help others and have created a great online auction to raise money for Ben's Buddies. All proceeds will be donated to Mitoaction under Ben's Buddies for the 2013 annual Mitowalk.
If you'd like to peruse the items on sale please visit the Ben's Buddies Auction on Facebook here.
For more information, I encourage you to browse this site: http://www.mitoaction.org/mito-faq