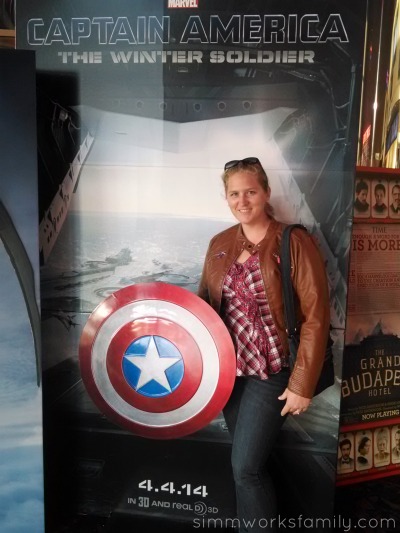 This past Tuesday I was invited to a pre-screening of Captain America The Winter Soldier. Marvel's Captain America The Winter Soldier picks up after the cataclysmic events in New York with The Avengers, and finds Steve Rogers living quietly in Washington, D.C., and trying to adjust to the modern world.
This action movie was the perfect date night movie for me and my husband. I loved seeing the relationships between Steve Rodgers and Natasha Romanoff grow and was excited to meet Sam Wilson. We also get a little glimpse into the future and a possible third installment or 'threequel'.
Shortly after the film started, the action began. When a S.H.I.E.L.D. colleague comes under attack, Steve becomes embroiled in a web of intrigue and mystery that threatens to put the world at risk. Joining forces with Natasha Romanoff aka Black Widow, Captain America struggles to expose the ever-widening conspiracy while fighting off assailants sent to silence him at every turn.
When the full scope of the villainous plot is revealed, Captain America and Black Widow enlist the help of a new ally, the Falcon. However, they soon find themselves up against an unexpected and formidable new enemy—the Winter Soldier.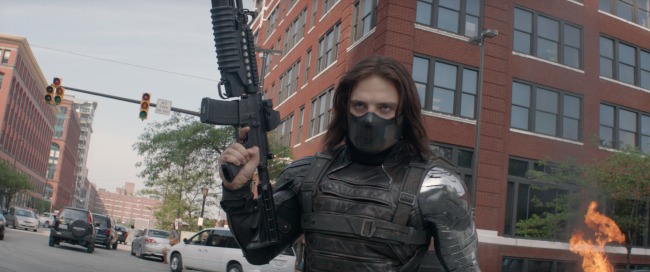 The Winter Soldier character, played by Sebastian Stan in the film, was created for Marvel comics by Ed Brubaker in 2005. Though the character of Bucky Barnes existed previously in the Captain America comic books, he was killed off in WWII and not resurrected until Brubaker brought him back as the Winter Soldier.
This leaves Captain America at a cross roads. Does he destroy The Winter Soldier and eliminate the threat 0r try to save his long lost friend and hope that he can get through to him?
I'm looking forward to seeing more of The Winter Soldier and Captain America. I cannot wait to find out what's to come of Bucky.
Head out to see Captain America The Winter Soldier opening today, April 4th in theaters everywhere! Like Captain America on Facebook or follow Captain America on Twitter at @CaptainAmerica and join in on the conversation by following the #CaptainAmerica hashtag.
Don't forget to stay after the credits for not one but TWO surprises at the end of the movie.
Who's your favorite super hero?