I participated in an Influencer Program on behalf of Mom Central Consulting for Carter's. I received a gift card to facilitate my shopping trip and to thank me for participating.
I absolutely love knowing that I'm getting the most out of my money when I'm shopping. Especially when I'm shopping for children's clothing. So when I heard that the Carter's Friends and Family Event was finally here AND it coincided with the Baby Sale I knew I had to get down and take advantage of this awesome deal.
Not only did I score big, I was able to get 5 outfits, 1 zip up sweater, and two pair of pajamas all for $100! And three of those outfits are for the newest members of our extended family who haven't yet arrived!
Carter's is the perfect Baby Shower Gift
Carter's is my go-to store for all baby clothes purchases. I love how their clothing fit my little ones when they were babies so it's a tried and true standby for baby showers and other gift giving occasions.
Since I'll be welcoming 3 new nieces & nephews in the new year I knew I wanted to get a little something for them on my recent trip. My brother's girlfriend is expecting twins and my sister is expecting her third child.
Now we know my brother's girlfriend is going to have a boy and a girl but my sister's baby hasn't been as cooperative and refused to show the goods at their last ultrasound. So I went with a gender neutral outfit for her.
Saving Big with Carter's Friends and Family Event
There was a huge selection of items on sale at Carter's right now since they are having their Baby Sale event where everything is up to 70% off.
And combined with the Carter's Friends and Family Event coupon I printed off (see below), I saved BIG on my purchase. Like 25% off all of the items I was already getting up to 70% off on!
In addition to the outfits I got for the babies, I also grabbed an outfit for each of my children as well as a new pair of pajamas. How cute are they by the Christmas tree? Neither would cooperate for a smiling photo at me so I had to do what I could with what I had.
These little outfits will be the perfect gifts to go along with the baby gear I've already gotten the twins. How absolutely adorable are these onesies? And I'm such a sucker for faux jeans on babies. I cannot stand the cuteness!
While in the store I definitely enjoyed being able to see everything in person. Since most of the items I've been purchasing for the babies are online it's hard to tell the quality of the clothing as well as the true style and color of the items I'm purchasing.
By heading to the store to pick everything up I really knew exactly what I was getting. And I just know that these expectant mamas are going to die over the cuteness!
Looking to make the most of your spending and score like I did at Carter's?
To score big and save 25% off, print off the Friends & Family coupon below. Simply save and print off the coupon to use in-stores.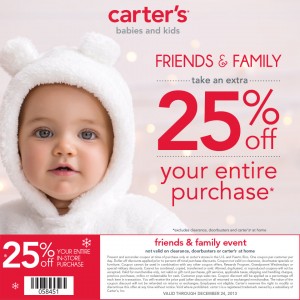 What do you love from the new Carter's line?