This is a sponsored post about solar solutions from Complete Solar Solution.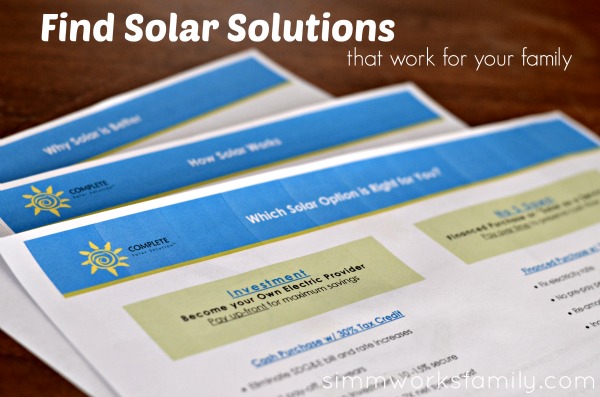 Making our home more energy efficient has been on my radar for quite a while. Just recently we made a few changes on our own to make our home more energy efficient but we're also looking to do more. Including finding solar solutions.
So when Complete Solar came to our home and talked with us about what our options were to adding solar panels to our roof we were quite interested to hear what they had to say.
What we learned is that it's actually a painless process with many different ways to go around doing it. And there's an option for everyone.
Why Find a Solar Solution?
With San Diego utility rates going up an exorbitant amount – about 10-15% in September – we've come to realize that investing in a solar system for our home will not only help save us money every month but will also help make our home greener.
Solar energy is an inexhaustible and sustainable energy, free for the taking. And living in Southern California we have plenty of sunlight all year long to make this a great solution for our power needs.
The solar panels used are long lasting – with a 25 year warranty – and very reliable with no moving parts. Plus the excess solar electricity offsets SDG&E electricity charges and helps our city as a whole fight the cost of soaring energy rates.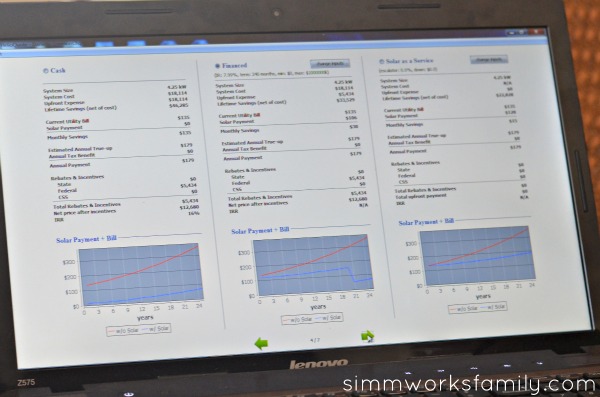 3 Different Payment Options
We learned that there are three ways to pay for our solar, two in which the customer pays over time and one in which we pay up front:
1. Pay Up Front: Cash Purchase with 30% Tax Credit
Eliminate SDG&E bill and rate increases
Fast pay-off, 6-10 years
High Return on Investment, 10-15% secure
Increase home value 1.2x net system cost
20% faster home resale
2. No Money Down: Financed Purchase with 30% Tax Credit
Fix electricity rate
No pre-payment penalty
Re-amortize one time
Increase home value 1.2x net system cost
20% faster home resale
3. No Money Down: Monthly Solar as a Service
Lower electricity bill
Fixed rate or lower rate escalation
Early buy-out option
20 year full warranty coverage
Increase home value
Faster home resale
Less Hassle with Complete Solar Solution
With Complete Solar Solution finding the right solar panels and set up is easy and hassle free. They come in, go through their simple to use system, and find us the best way to install solar in our home. No need to worry about different bids, different contractors, and the unknown.
Complete Solar Solution calculates the most economical way to add solar to our home. Once we decide which payment plan works best for us, Complete Solar Solution will configure the panels on our roof in their computer generated program.
They will then find the best installers and schedule everything for the homeowner. Definitely hassle-free, right? And did I mention that the whole process of choosing, purchasing, and installing is a lot shorter than competitors?
Get A Quote Today!
If you're looking to move to solar for your energy needs Complete Solar Solution is the perfect company to start with. Contact them today for a quote and get started moving towards being free from your electric bill! Let them know the Simmworks Family Blog sent you.