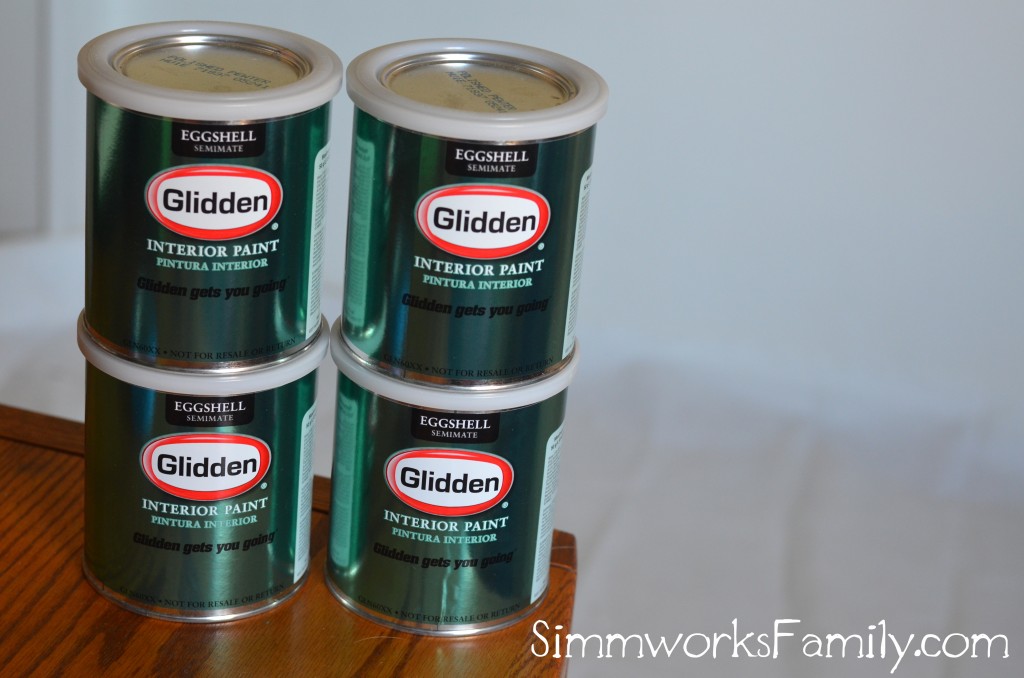 One of the most inexpensive ways to spruce up a home and make it feel new is to grab some paint and freshen up the walls. Not only does new paint make the space feel new, it also can be a great way to change up the look of the room. By playing with colors and picking out something different than what was there before you can change the whole dynamic of the room.
I've wanted to turn our playroom/office into something more for quite a while. I was frustrated with the space we had and knew I needed to change a few things around in order for it to work properly for us. Plus we are seriously lacking in storage.
So I set out to find the perfect solution. And I did! We have converted the closet in the playroom/office into an office/craft area that not only provides the storage I need for all my crap craft supplies it also gives us the space to create and work as well.
And with the condition of the walls in this room we knew some fresh paint would do the space wonders. I grabbed a few quarts of Glidden interior paint and saw a gorgeous transformation of what was to what is.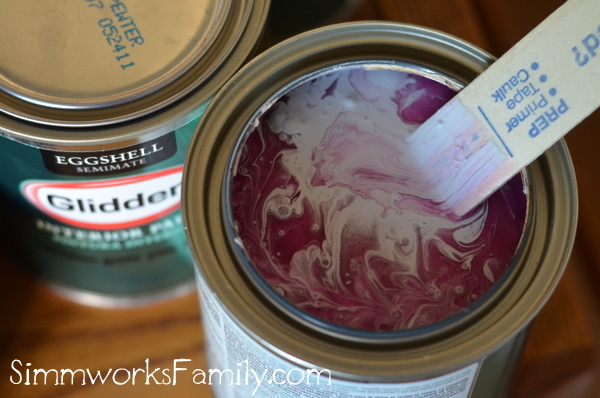 Choosing the Right Shade
In order to chose the perfect shade for the space I was creating I headed over to the Glidden site and played around with their room painter. I could easily pick and choose different colors for different walls and parts of the home and was able to find a color similar to the one we had in the room already. I then started to see what colors would look great paired next to the color we already had up.
Since my husband is more of a white/off-white guy I didn't want to go too extreme. I also didn't want to stick with off-white colors. So I went neutral. I checked out the options Glidden had for neutral colors and fell in love with two: Silver Dust and Polished Pewter. But when I saw the colors on the wall I knew that Polished Pewter was the winner.
Being able to play around and find the perfect shade of paint was not only fun but let me visualize the space before I actually started to paint. Much easier than trying to pin up little paint chips on the wall.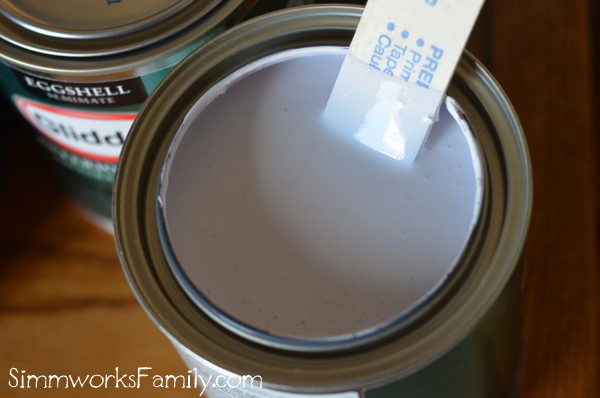 Glidden Gets You Going
With paint in hand I nagged talked my husband into starting this large project. I mean we had the paint. We had to start on the rest! So I grabbed drop cloths, paint rollers, masking tape, and stir sticks and opened up a can of paint.
I was intrigued that the polished pewter color I chose was actually a fushia based paint. Don't you just love the swirls and colors floating around before I mixed it? So pretty!
Once the paint was stirred into a uniform color I was ready to go.
Creating a New Home Look with Glidden Paint
As I said before the walls in this room were not the best to look at. Dirt, scrape marks, the works. And I cleaned the walls before I started to paint… they were still dingy. With the first few strokes of the paint roller I felt my body relax and could see how gorgeous the color would look once we were finished.
After painting the first wall I was hesitant to paint the inside of the closet but am so glad I did. It looked even worse in there then it did in the room!
I loved how easily the paint glided on. For an 8×10 space I only needed one quart of paint. I needed another quart for the closet area. And that was after two coats. The paint spread evenly and coated the walls nicely. Did I mention I was lazy and didn't use primer?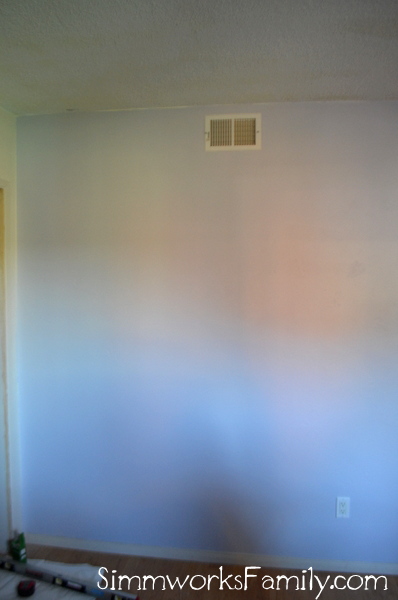 A New Workspace
In the end the color turned out exactly as I had hoped. It's a gorgeous grey with little bits of lavender mixed in and goes perfectly with the white we chose to paint the desk. And it creates a beautiful back drop for our My Wonderful Walls decals. The gray is soft enough to look like the sky behind the daffodils.
With the ease of use, fantastic color selection, and a durable paint that only needed two coats I am in love with Glidden. Stay tuned for more projects using Glidden paint in the near future! And stay tuned for the complete post of my room transformation and my new office/craft area.
Have a paint job in your near future? Check out Glidden's large selection of products, great ideas, and how to guide on their website.
Disclaimer: I received products from Glidden for review purposes only. All opinions are my own.