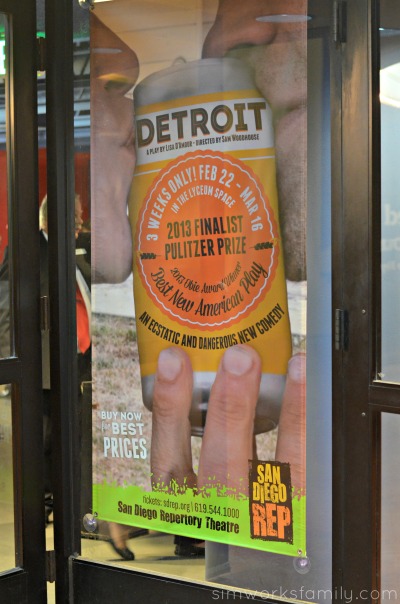 My husband and I have a standing date night every month. We never know what it's going to be but we always make sure to head out at least once a month sans kids. So when I was invited to go check out the San Diego REP production of Detroit I knew it'd be the perfect date night to kick off March.
Now we've been going to see great performances at the San Diego REP for quite some time now and are always excited to see what the new production will be about. We also love choosing different places around the Horton Plaza area of Downtown San Diego to eat.
Since we were a little short on time and didn't have the luxury of waiting around for a table or even waiting for table service, we headed over to one of our favorites: Tender Greens.
Quick and Tasty Dinner: Tender Greens
From a simple, easy to follow menu where you choose the basics to a delicious variety of drinks and desserts, Tender Greens is the perfect spot to head when you're short on time but still want a delicious sit down meal.
The service is quick, the food is delicious (omgosh… try the chipotle barbecue chicken sandwich with the kale salad. Delicious!), and the interior makes you feel as if you're at a sit down restaurant.
Plus? They have alcoholic options if you don't want to wait till you get to the Lyceum for your show. And… make sure to grab a cheesecake swirl brownie. Even if you have to bring it to-go.
Once we enjoyed our meal we headed back to the Lyceum to pick up our tickets and find our way in.
Detroit is playing at the Lyceum until March 16th so if you're in need of a date night, purchase online at www.sdrep.org. Questions? Just give them a call at (619) 544-1000.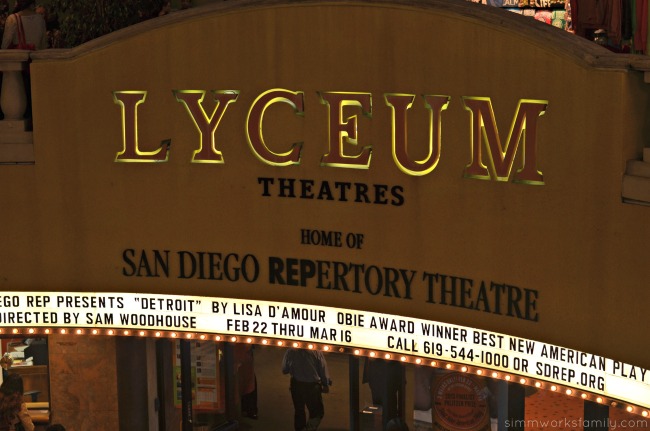 Detroit at the San Diego REP
There are three main reasons why I really love the San Diego REP:
Entertainment pre-show for some performances (especially on the weekend)
Being able to take your drink into the theater
Fabulous theater
And Detroit was definitely fabulous theater. Not only did it get me thinking, it also kept me entertained and laughing the whole time.
Detroit is the story of a young couple, Ben and Mary, comfortably settled into their suburban lifestyle just outside a major American city. Then Sharon and Kenny, a pair of free spirits, suddenly move into the long-empty house next door. Ben and Mary break out the booze and fire up the backyard barbeque to welcome their new neighbors. As a full moon rises in the night sky, the real truth telling begins.
Playwright Lisa D'Amour uses this setting to challenge the American cultural assumptions about status, comfort, ambition, and community. The New York Times says: "A friendly suburban barbecue spirals into a delirious, dangerous bacchanal in the superb play 'Detroit.'"
One of the actors, Steve Gunderson who plays Ben, described how others view the play as, "Recognizing something, even if it's painful, and laughing at it." Realizing that it's ok to laugh in hard situations. Because what else can you do? Want to hear more? Watch the clip below.
San Diego REPertory Theatre feeds the curious soul. To learn more about San Diego REPertory Theatre, to purchase tickets, or make a donation, visit 
www.sdrep.org
. Join the San Diego REP on 
Facebook
 and follow them on 
Twitter
.
How often do you do date night with your significant other?
Disclaimer: I received tickets in exchange for promotion of this show. All opinions are my own.