This past Monday my daughter and I were invited to the pre-screening of Disney's Planes. It was my daughter's first pre-screening with me and boy was she excited! Ever since her and her brother first saw the previews for this movie they've been geared up with anticipation of the day they finally got to see it on the big screen.
We headed over to the theater a bit early to meet our friends for dinner beforehand. Jillian of Mommy Testers brought her daughter along as well so we thought it'd be a fun night out. And it definitely was! I was planning on taking my son instead of my daughter, but he didn't nap that day and fell asleep at the restaurant while we ate and waited for my husband to come meet us there (he was originally coming to pick my daughter up but picked my son up instead).
Once we were done eating and my son and husband left it was time to head over to the theater to get settled for the movie. With our 3-D glasses in hand, a box of popcorn and some drinks purchased, and seats in perfect view of the screen, we were ready to start the show!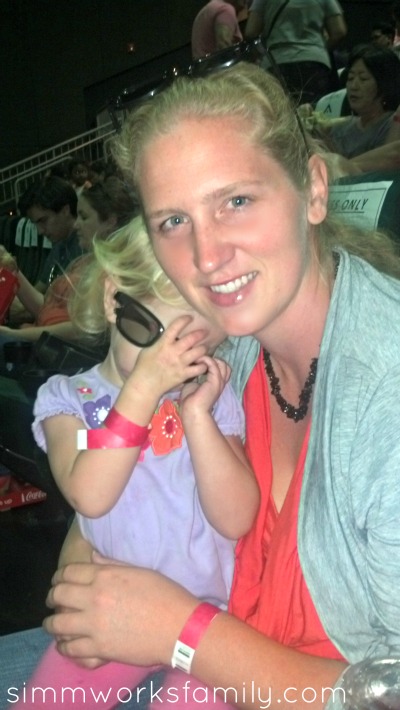 Disney's Planes" is an action-packed 3D animated comedy adventure featuring Dusty (voice of Dane Cook), a plane with dreams of competing as a high-flying air racer. But Dusty's not exactly built for racing—and he happens to be afraid of heights. So he turns to a seasoned naval aviator who helps Dusty qualify to take on the defending champ of the race circuit. Dusty's courage is put to the ultimate test as he aims to reach heights he never dreamed possible, giving a spellbound world the inspiration to soar.
From the moment the movie started we were whisked away into Dusty's world. Like with any good Disney animated movie, the fabulous music, touching storyline, and relateable characters won us over. My daughter, while restless during a few parts, was entertained and watched most of the film. She loved watching the planes fly, interact, and enjoyed clapping and cheering with the crowd as Dusty took to the sky.
My daughter wasn't the only one entertained. I enjoyed myself as well and found myself smiling and laughing along with her as we watched the movie. Since we're huge Cars fans we were hoping for a great Planes movie and Disney provided just that! If you have a 2+ child who loves the movies and enjoys Disney's Cars then I'm sure they'll love Planes too!
While it is rated PG for mild action and rude humor I didn't find any of the movie to be unsuited for my daughter at 2.5. But if you are sensitive to ratings I'd suggest seeing the movie yourself before taking your young kids. To find tips on taking your toddler to the theater check out my post over on Fabulous Mom Blog!
For a sneak peek of what you're in for check out this clip:
For more information visit the
Disney Planes website
. You can also like
Disney's PLANES on Facebook
and follow Disney's PLANES on Twitter at @
DisneyPictures
.
Disney's Planes takes off in theaters on Aug. 9, 2013
Disclaimer: I received complimentary tickets to the pre-screening of this movie in exchange for this post.