As Mother's Day quickly approaches, the one thing on my husbands mind has been what to get me to celebrate this big day! I mean I did carry and birth his two beautiful children so he's always willing to shower me with gifts for Mother's Day.
Ok, that was a stretch. I'm totally kidding! But for the mom who's looking for great ideas to hint at to her husband here are my top gifts for Mother's Day (of which I've asked for and have received!).
Gifts for Mother's Day
Gifts for the Active Mom
Active Accessories Hair Bands (and on the go accessory pouches) make great gifts for Mother's Day! Especially for the active mom who loves to throw her hair back in a pony tail and take on the day. I love how bright and fun these hair bands are and enjoy wearing them when I head to the gym or out for a run.
Another great gift for an active mom is a pair of running shoes! I'll be receiving my new Brooks Women's Glycerin 10 Running Shoes from the kids and husband for my big gift and cannot wait to get these gorgeous shoes on my feet for my next run!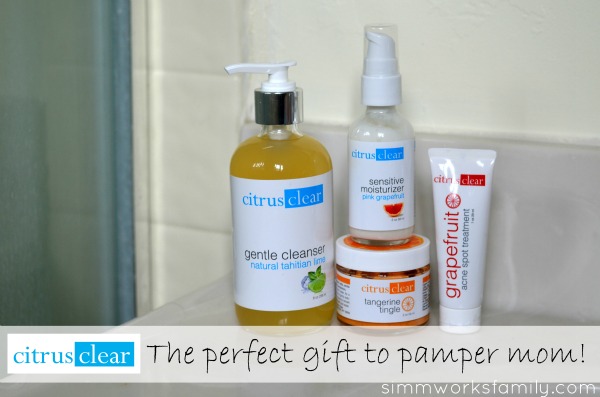 Gifts to Pamper Mom
I'm a huge fan of taking care of my skin. Since I'm not a huge makeup person and usually put it on just for special occasions or when I'm "feeling up for it" I need to make sure that my skin is looking good at all times. I recently found a line of skin care products that I absolutely love!
Citrus Clear is an all natural skin care product line that uses citrus ingredients and they smell amazing. I tried out the Tahitian Lime gentle cleanser, Pink Grapefruit sensitive moisturizer, and my personal favorite – the Tangerine Tingle! The Tangerine Tingle is a facial scrub that starts tingling the longer you have it on your skin. It's a great way to gently exfoliate and leaves my skin feeling soft and glowing.
I also received the grapefruit acne spot treatment but luckily haven't had the opportunity to use it yet. But as soon as I see one of those nasty pimples rear it's ugly head I'll know exactly what to use.
Gifts for the Baker or Cook
I love to be in the kitchen. I love trying old recipes, creating new ones, and seeing others enjoy what I create. But I've found that my gauge on how much to put in might be slightly off than what the recipe actually states. So having a kitchen scale on hand has done a world of difference for me as far as getting the results I want out of my baked goods.
And with being on Nutrisystem I weigh just about everything I eat to make sure I'm tracking my food intake correctly. That's when this Eat Smart Precision Elite Kitchen Scale is my new best friend! Not only does it look great on my counter (super slim design!) but it also weighs in grams, ounces, kilograms, and pounds. The tare feature is quite nice and can be used as I'm weighing different items.
I think it's best feature is the fact that the numbers are actually very easy to read – unlike my last scale – and the surface of the scale is fairly large giving me room to add a plate, bowl, or a large amount of food.
You can purchase this scale on Amazon or on the EatSmart website.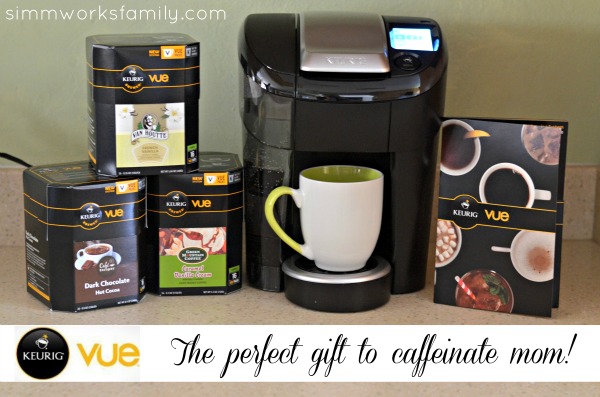 Gifts for the Coffee Lover
I have to say that I have been wanting and drooling over the Keurig machines for quite a while. And while I enjoyed my Tassimo while I had it, it just didn't quite add up to the awesomeness that is my new Keurig Vue!
This bad boy is amazing! With 7 different size options, strength control (stronger coffee – yes please!), temperature control, and over 40 vue cups to chose from I'm in coffee heaven! Plus they have tea so my husband is satisfied as well. I've made regular coffee, lattes, cocoa, and tea so far and I love it.
My coffee is still warm 30 minutes after I make it because I chose the hottest setting (knowing my kids won't let me drink my cup right when it's finished) and it tastes amazing! Plus it has a 60oz water reservoir and an awesome LCD screen that helps you make the best choice for your perfect cup every time.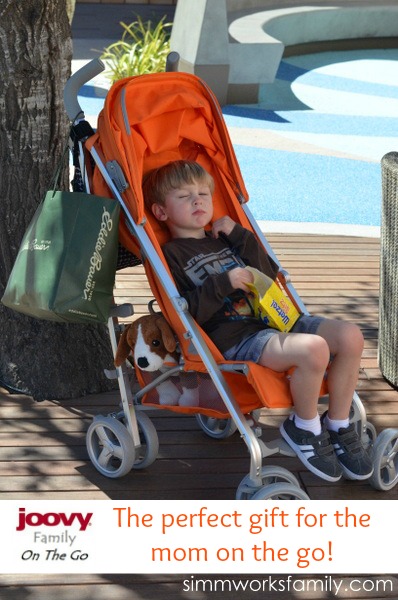 Gifts for the Mom On-The-Go!
Now I might be somewhat of a stroller hoarder but after 2 kids and 6+ strollers I know exactly what I want! And we recently made the switch from our old flimsy umbrella stroller to this new, amazingly sturdy Joovy Groove. And I've narrowed down my strollers to 1 double, 1 jogging stroller (my Joovy Zoom 360 which I'm madly in love with), and this awesome Joovy Groove.
The Joovy Groove is a comfy, lightweight stroller that both my 2 and 4 year old love to ride in. When one's walking, the other's in the stroller and vice versa. We've gone everywhere with our Groove – the zoo, Sea World, the park, Legoland and, of course, the occasional mall run
What I most love about the Joovy Groove is the sunshade cover that keeps the kids safely covered from the sun and the nice basket on the bottom. My other umbrella stroller was sadly lacking in both areas. And the Groove comes with a great parent console that can hold keys, a wallet, and two water bottles. And the kids have their own storage pouches on either side of them perfect for sippy cups and snacks.
You can purchase the Joovy Groove on Amazon or on the Joovy website. A full review to come shortly!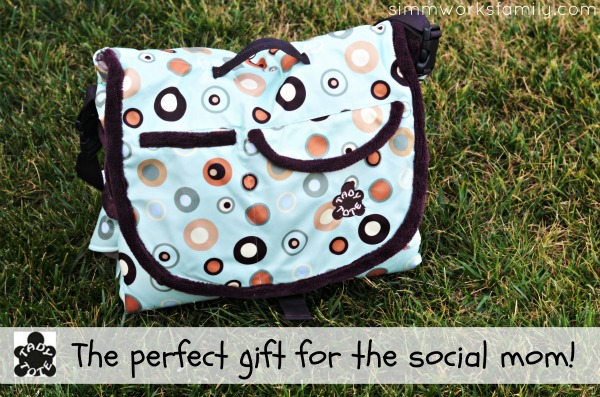 Gifts for the Social Mom
Whether your a new mom or have a few older kids running around this product is absolutely awesome to keep with you in the car for those trips to the park or beach! The Tady Tote is a large indoor/outdoor cushioned mat that is perfect for your baby or kids to play on. Not only does it fold up nicely into it's own cool carrying case, it also comes with a soft removable blanket that's tucked away inside
The size of this blanket is perfect for a small family to use and we've enjoyed taking it with us to the park and the beach. The Tady Tote even comes with pockets for storing your keys and other small items. And with it's great weatherproof backing you'll never have to worry about that wet spot on your back side again.
The entire Tady Tote is machine washable and the adorable, plush teddy bear blanket is completely removable for easy laundering as well. You can find my full post about the awesomeness of the Tady Tote coming soon!
How are you celebrating Mother's Day?
Disclaimer: I received these products for review purposes only. This post contains affiliate links to Amazon. Should you choose to purchase a product through my link I will receive a small amount of money in return. All opinions are my own.