I am part of the Microsoft Blogger Program and receive incentives from Microsoft to blog about its products.
I'll let you in on a little secret. We're gifting our 7 year old an Xbox One for Christmas. It's all he's asked for all year and something we can use as a family for game nights and bonding so the investment is worth it. But just the console itself isn't that exciting. You need games to play and accessories! Plus, you can't beat the Microsoft quality.
Luckily we have that covered with a few of our favorite last minute gifts for your Xbox One.
Since we have both a 5 year old girl and a 7 year old boy, you'll see the choices cover our whole family and not just one member. That's because this gift is meant to be used for everyone, and not just the recipient. We'll get moving with Guitar Hero Live and Just Dance and start creating and building fun worlds with Minecraft. All while relaxing and sitting back in our gamers chairs using our extra controllers!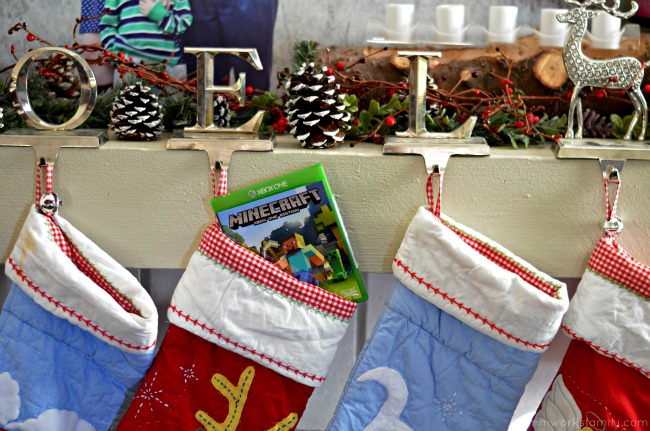 Last Minute Gifts For Your XBox One
1. Guitar Hero Live –
There's something for all ages with Guitar Hero Live. And now it's available for all devices, including the XBox One! As you may have seen, one of the biggest innovations of Guitar Hero Live is the ability to get recent live concert recordings, note-track the footage with the trademark Guitar Hero gameplay, and then put the video in game to be playable in just a short amount of time. In late October, one of my all time favorite bands Weezer headlined the Guitar Hero Live launch event at the YouTube Space in LA, and played a special show at the iHeartRadio Theatre in Burbank. Kicking off their set with their fresh new single "Thank Goodness for Girls," three Weezer tracks from these performances are now playable in the game, including:
"Thank Goodness for Girls" (Live)
"Undone – The Sweater Song" (Live)
"Say It Ain't So" (Live)
More key features in Guitar Hero Live include:
GHTV – The first 24-hour playable music video network, allowing fans to browse channels and access a constantly-updated library of official music videos and other featured content
GH Live – A first-person point-of-view story mode, where players take the role of rockstar during a live-action performances, as they work their way from intimate clubs to festivals featuring thousands of screaming fans
New Guitar – Revamped guitar controller that better mimics the playing of real world guitar notes and chords
Purchase Guitar Hero Live here
2. Minecraft –
I've already shared our love of Minecraft with you guys. And my son still hasn't gotten over his obsession. Now we're moving from the Surface Pro 3 to the Xbox One so he can create mods and do his own thing! Build with your imagination! Minecraft, one of the best-selling games on Xbox 360, is now available on Xbox One. Create and explore your very own world where the only limit is what you can imagine – just be sure to build a shelter before night comes to keep yourself safe from monsters.
3. Just Dance Disney Party 2 –
For the dancer in your life, Just Dance Disney Party 2 is the perfect game for every age. Just Dance and Disney are back together, bringing the greatest dance game for the whole family with music from the hottest Disney Channel shows, in Just Dance: Disney Party 2! Dance like the stars from the most popular Disney Channel shows and movies. With a great selection of family favorite songs, fun dances, and kid-friendly gameplay, children of all ages can dance along with family and friends.
Purchase Just Dance Disney Party 2 here
4. Extra Controller –
If you've purchased multi player games for your Xbox One, an extra controller (or a few) is necessary. We're starting with two controllers and might consider purchasing more if needed so the whole family can jump in on the fun.
Experience the unique intensity, precision and comfort of the Xbox One Wireless Controller. Impulse Triggers deliver fingertip vibration feedback, so you can feel every jolt and crash in high definition. Responsive thumbsticks and an enhanced D-pad provide greater accuracy. Plug any compatible headset into the standard 3.5mm stereo headset jack. Works with Xbox One and Windows 10 PCs and Tablets.
Purchase an extra XBox One controller here
5. Gamer's Chair –
Any gamer needs a comfy chair! Complete with audio on most models, it makes gaming easier and more ergonomically friendly. While it's not a necessity, it is a nice thing to have if you have a video game obsessed kid in the house! Plus? You'll always know where they are!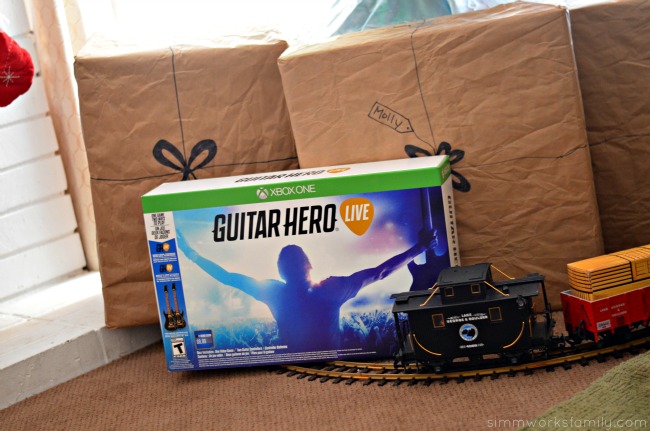 What's at the top of your gamer's Christmas list?