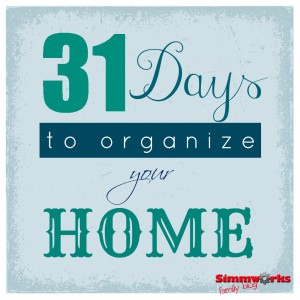 As part of my 31 day challenge I tackled the one closet I've always been afraid of… my hall closet. Not only was it overfilled with junk including cleaning supplies, extra toiletries, towels, and board games, it also contained all of our wrapping paper, ribbon, gift bags and more. So I decided enough was enough! I was not going to go through another day of praying rolls of wrapping paper didn't come flying at me when I opened the door.
I searched around in hopes of finding something that would work. My only criteria being that the wrapping paper stay in the closet and not migrate out into another area of the house. I already had an issue with space and did not have any room elsewhere to store my stash.
With a few quick searches for organizational ideas I found something that might just work! I Heart Organization shared the gorgeous way a reader used an over the door solution to store all of their gift wrap supplies. They were inspired by Better Homes and Gardens post here. This would be perfect for me! But being on a budget I couldn't quite shell out the money an Elfa storage system would cost.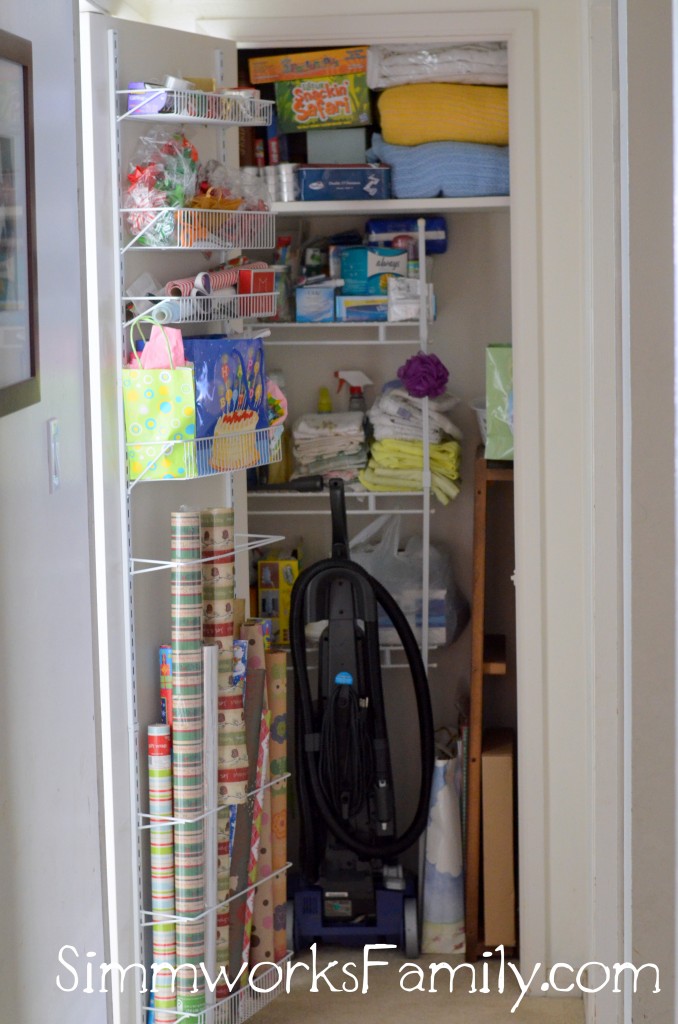 Over The Door Wrapping Paper Storage Solution
A quick trip to Target and I found a less expensive version of the door rack within my budget: a ClosetMaid 8 Tier Adjustable Door Rack found here. For $35 I had everything I needed to make this project work… until my husband came home, let me know we had a hollow core door and needed hollow core anchor screws or something like that.
So he took over the project and instead of using the over the door hook he screwed it into the door and it turned out beautifully!

Without using all of the racks provided I've been able to create the perfect over the door wrapping paper storage solution. I now have my wrapping paper, gift bags, ribbon, tags, scissors, tape and bows all in one area. Uncluttered and easy to access. And I'm so in love!
This definitely will help me remember what I need to stock up on and what we have too much of! I did have to purge a lot of bags so that I didn't have to store them elsewhere but for the most part I have everything I need for gift wrapping.
Have you found a great gift wrap storage solution? I'd love to hear what you do!