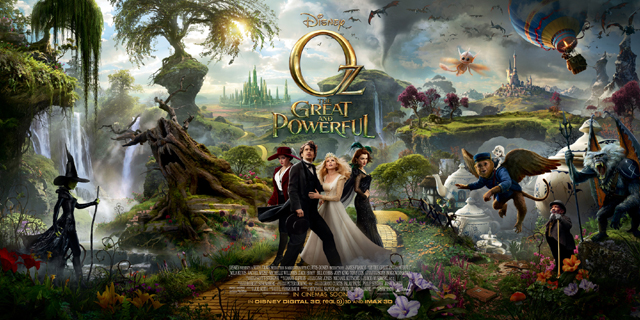 Ever since I saw the sneak peek of Oz The Great And Powerful I have been yearning to go see it! From the storyline to the amazing cast to the gorgeous scenery, this movie was put at the top of my list for must-see's in 2013.
From Disney comes the Sam Raimi-helmed, 3D-fantastical adventure "Oz The Great and Powerful," which imagines the origins of the beloved wizard character first brought to life in author L. Frank Baum's book "The Wonderful Wizard of Oz."
As a cinematic prequel to the book, "Oz The Great and Powerful" explores the backstory of the wizard, offering audiences both a unique and amazing moviegoing experience.
To experience a little bit of Oz, take a look at this awesome trailer:
Over the Rainbow
As soon as the story started I was wrapped up in the movie. My eyes did not leave the screen. I was whisked away on Oz's journey and felt as if I were in the land of Oz myself.
The scenery and landscape was breathtaking. And as soon as Oz stepped out of his balloon and into the land of Oz, we could spot rainbows everywhere. He truly had landed over the rainbow.
From that moment we were taken into Oz and shown the world in which sheer Fantasy came to life.
Oz The Great And Powerful
At times I found myself literally on the edge of my seat, other times I was laughing (mostly at Finley, the adorable little winged monkey who accompanied Oz and his friends throughout the land of Oz), and a few times I literally jumped out of my seat.
I was expecting to be entertained and amazed, but I was not expecting to be scared. And as a grown woman that's kind of hard for me to admit.
Oz The Great And Powerful was an amazing movie but I definitely would not recommend it for children under 11 years of age. There were just too many dark scenes that I wouldn't feel comfortable showing my kids just yet.
If you love Disney and enjoy being brought into a movie and entertained the whole time then you definitely need to see Oz The Great And Powerful. If I haven't convinced you, maybe this clip will:
Oz The Great And Powerful is in theaters today, March 8th. For more information about the film please visit the website. You can also head over and like Oz the Great and Powerful on Facebook or follow on twitter at @DisneyOzMovie.
Disclaimer: I received a complimentary ticket to the screening of Oz the Great and Powerful. All opinions are my own.