This post brought to you by Biz Stain & Odor Eliminator. All opinions are 100% mine.
Now my son is all boy. What does that mean? Well… from a very young age he's enjoyed dirt, destruction, and danger. This kid is all over the place but always has a huge grin on his face.
With his sense of adventure comes a constant need to be outdoors exploring. Whether it be going on hikes, heading to the beach, or simply playing in the yard, my son is able to create a fun world around him wherever he goes.
But these adventures also mean that I'm cleaning up a LOT of messes. And sometimes I just get frustrated with the stains that come with raising a boy.
Luckily I was invited to participate in the BIZ stain fighter challenge and was able to test out the stain fighting power of Biz.
Now I've had plenty of opportunities to test out the awesomness of Biz but most recently was after my son helped my husband build a new staircase for our hill. Not only was he helping build the staircase but he also took a few detours in our garden to get a bit muddy (surprise surprise).
With one treatment we were able to get those nasty stains to lift right off without any residue after the wash. I simply pretreated the stained area and then washed like normal! How awesome is that??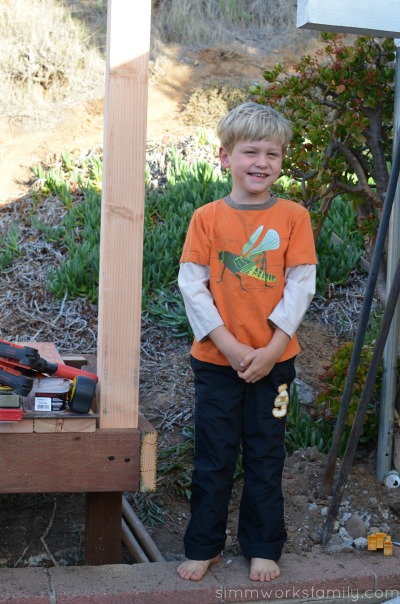 Now Biz is my go-to stain fighter in the laundry room. Biz contains more stain fighting ingredients and works better than our old stand by.
If you're looking for a great stain fighter for your rowdy boys (or girls!) find out where to buy Biz and check them out on Facebook. You can also save $1 on Biz with this awesome coupon!
Now moms of boys who enjoy the joys of raising a boy can rejoice in stain free clothes! No more frequent Goodwill trips for this mom to get more clothes.