My brother and his girlfriend are expecting their first babies this Spring. Yes, that's right, I said babies… as in twins. They're expecting a boy and a girl and are so excited to finally get to meet their bundles of joy. But with new parenthood also comes new responsibilities and creating a safe sleep environment for infants is something that's top on their list. So when we were asked to review the HALO SleepSack we couldn't help but say yes.
Since my brother's twins still haven't been born, I'll share some tips on how the HALO SleepSack and the HALO SleepSack Swaddle can help insure your infant's safety while they are sleeping. Both products were extremely helpful in giving me peace of mind while calming and soothing my children when they were infants.
Creating a Safe Sleep Environment for Infants
1. Lay your baby down on their back –
For naps and at night, place your child on their back to sleep. This isn't necessary when your baby's awake or able to roll over both ways without your help. Don't assume that others will place your baby to sleep in the correct position — insist on it. Advise sitters and child care personnel not to resort to the stomach position to calm an upset baby.
2. Ensure that your infant is warm, but not too warm –
Dress your baby in no more than one layer of clothing more than an adult would wear to be comfortable. Leave the blanket out of the crib. A one-piece sleeper or wearable blanket, such as the HALO SleepSack can be used for sleep clothing. Keep the room at a temperature that is comfy for you.
3. Remove all items that could block airways –
Keep soft objects such as toys, blankets or loose bedding, pillows, and crib bumpers out of baby's sleep area.
4. Make sure your infant feels secure –
Especially with newborns, babies love to feel secure. Consider using a HALO SleepSack swaddle blanket to give your child that sense of secureness but still allow them the ability to move freely.
5. Lay you baby down on a firm sleep surface –
Use a firm sleep surface such as a firm mattress and avoid placing your baby on thick, fluffy padding, such as lambskin or a thick quilt. These may interfere with breathing if your baby's face presses against them.
Preventing SIDS with HALO SleepSack Swaddles
By following the tips above to create a safe sleep environment for infants we can reduce the risk of SIDS.
HALO's founder Bill Schmid and his wife lost their firstborn to SIDS. From this tragedy, HALO® and its mission were born. For nearly 20 years They've been dedicated to putting the health, safety and well-being of babies first.
Using the HALO SleepSack ensures that our babies are comforted, secure, and warm enough to sleep safely through the night.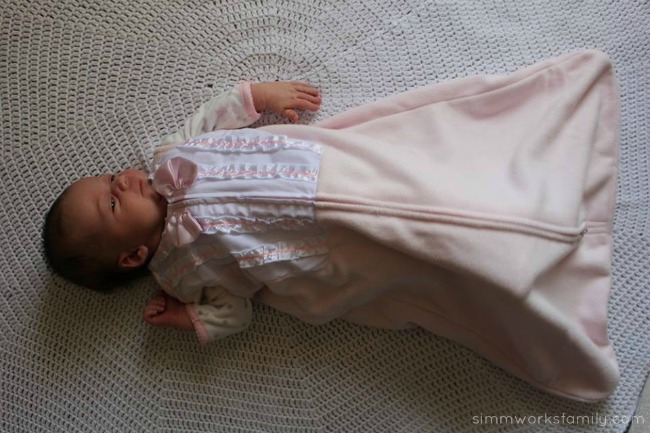 You can learn more about the HALO SleepSack by visiting their website. You can also find great information by following HALO SleepSack on Facebook and tweeting to them at @HALOSleepSack.
What tips do you have to insure a safe, restful sleep?
Disclaimer: I received a HALO SleepSack Swaddle Blanket in exchange for this post. This post contains affiliate links to Amazon. The photos above are of my friend Mariah's beautiful daughter. All opinions are my own.