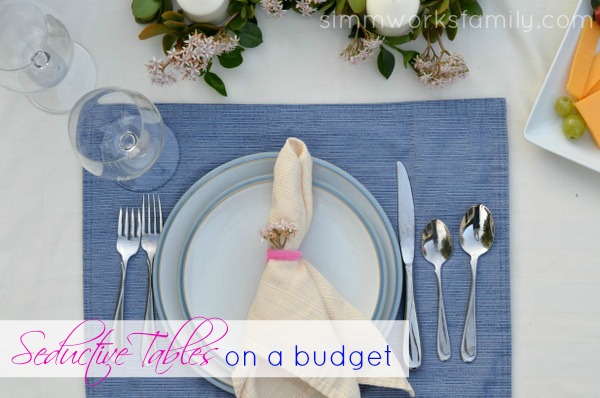 Setting time aside for date night is something my husband and I do at least once a month. Getting a chance to rekindle and reconnect with one another not only strengthens our bond as husband and wife, but also makes us better parents for our kids.
But date night can get a bit expensive so some months we hang out at home and make the best of what we already have. And after reading Seductive Tables for Two by Moll Anderson I now feel confident enough to take the romance from the restaurant and re-create it at home.
With a few simple ideas I've been able to create a gorgeous tablescape that creates the perfect place to rekindle at home as we enjoy a delicious meal.
Seductive Tables for Two on a Budget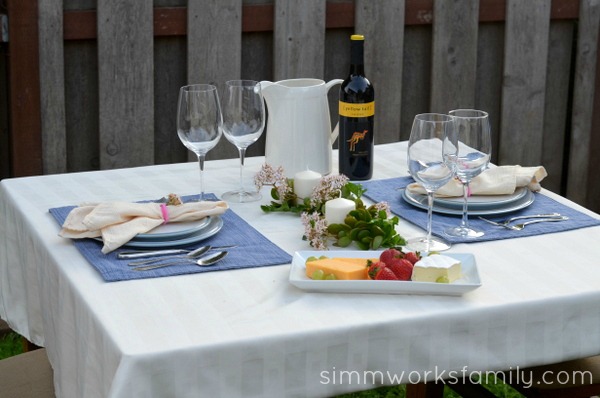 When planning our latest dinner together (which just so happened to be the day before Valentine's Day) I was inspired by what I had learned after reading Moll Anderson's Seductive Tables for Two. The book outlines how we can create tablescapes, picnics, and recipes that inspire romance.
Now whenever I'm setting the dinner table I think back to what I've learned and try to incorporate Moll's teachings into each meal. Even if it's just a touch here or there.
This doesn't mean that I have to go out and buy different place settings or props to create a gorgeous table. I simply use what I have on hand to set the scene.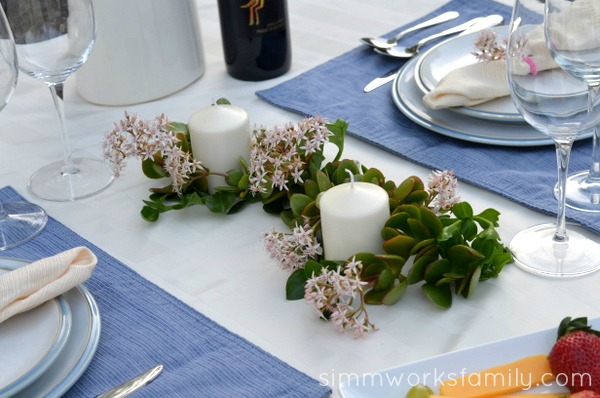 Be Inspired By What You Already Have
Since both my husband and I enjoy being outdoors I thought I might move our dinner out to our back yard to change the scenery a bit. I moved our teak patio set onto the lawn and started creating the setting.
I knew I wanted something casual and simple as well as something that reminded us of home. So I took ideas from our surroundings and created this seductive table on a budget.
Living in Southern California, we have tons of succulents in our back yard. The rich greens and soft pinks of the succulent flowers always bring beauty to our yard so I snipped a few pieces and created a simple centerpiece. I added two white candles to bring some balance to the color.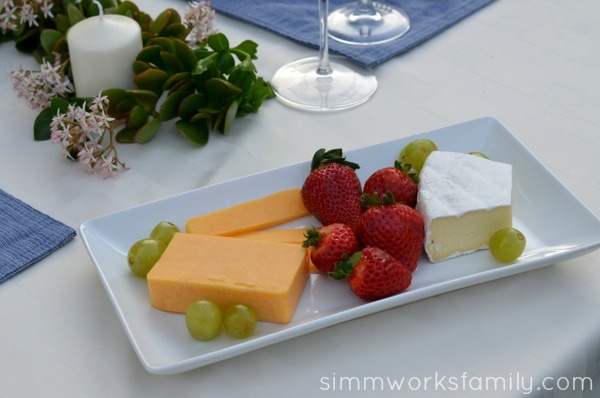 Keep it Simple and Colorful
The meal I planned was also created by looking what we had on hand and going from there. We started the meal with some yummy seasonal fruits and cheeses that paired perfectly with the wine we had left over from Christmas.
For our main course I grabbed chicken breast from the fridge, a bit of cheese and bacon, and made some deliciously bacon and feta stuffed chicken for our meal. Paired with brown rice and some sauteed green beans, the chicken tasted fabulous!
And for dessert who an resist mini bundt cakes? Our individual size cakes were the perfect way to end the meal with something sweet.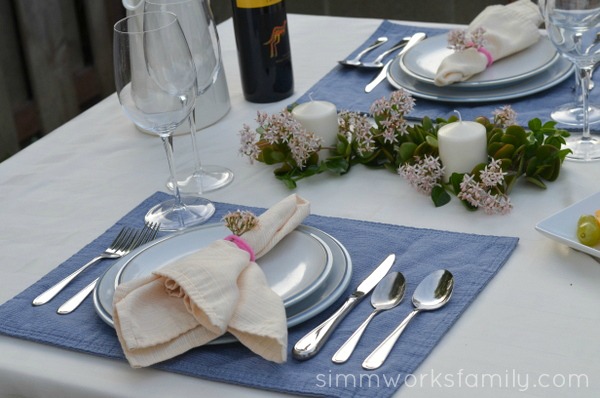 If you're looking for a way to spice up date night at home, I highly suggest checking out Moll Anderson's Seductive Tables for Two. You can purchase the book at Wal-Mart or on MollAnderson.com.
To check out my shopping journey to purchase the book as well as how I created my centerpiece, take a look at my Seductive Tables Google + album here.
You can find Moll Anderson on Facebook and follow her on twitter at @MollAnderson.
How do you make date night at home special?
Disclaimer: I am a member of the Collective Bias®  Social Fabric® Community.  This content has been compensated as part of a social shopper insights study for Collective Bias®. All opinions are my own #cbias #SocialFabric #SeductiveTables