It's no secret that I prefer green cleaners when keeping my house sparkly clean (ok… it's hardly ever sparkly but…). I also love to use green cleaners on our clothing and on our bodies. With Seventh Generation products I can not only keep my house clean, but my family and their laundry clean as well.
Over the past few weeks I have been sampling a few Seventh Generation products that were sent over to me for review. And I have to say that I might not go back to what I was using before.
Not only did I love the fresh, clean scents that the products came in, I loved that none of the products I used irritated mine or my family's skin. And coming from someone with sensitive skin, that means a lot!
Seventh Generation Products In The Laundry Room
With two kids our home is never short of dirty laundry. When I received Seventh Generation's Baby Natural 4x laundry detergent I was eager to head to my washer and try it out.
And just because we aren't washing any more cloth diapers doesn't mean we are going lax in what we choose to wash our clothes and linens with. Luckily this detergent is not only great for laundry and cloth diapers, it also has a premium stain fighting formula and leaves no residue on fabrics.
An added bonus? It's hypoallergenic and a USDA Certified Biobased Product (95%). I love how clean it gets our clothes and the kids love how fresh their clothes smell. The packaging and size is also eco-friendly. The 32oz 4X baby laundry detergent bottle delivers the same number of loads as a typical 64 oz 2X baby laundry bottle using 62% less plastic!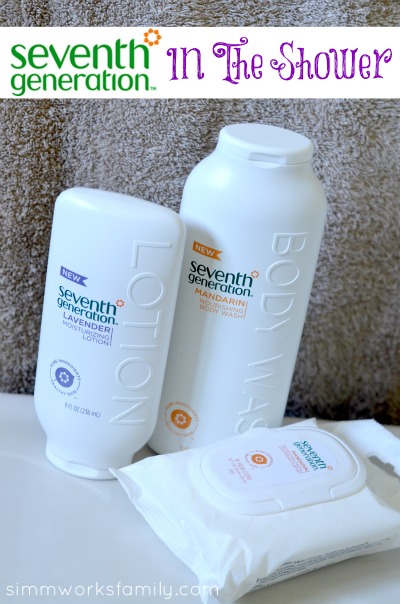 Seventh Generation Products In The Shower
I know I've complained a bit about not being able to shower regularly with the kids. As a mom I'm lucky to get a shower a day but on those days when I just don't have time I love being able to grab the Seventh Generation Madarin Refreshing Facial Cleansing Cloths and freshening up my face. Especially after workouts or at night when my face really needs it.
When I do get time to take a nice shower I love using the Mandarin Nourishing Body Wash. The smell is citrusy and fresh and leaves me feeling clean. Plus it's gentle and 93% plant-based. Definitely a bonus in my book.
To keep the moisture in from the shower I just took I always use a lotion when I get out. And the Lavender Moisturizing Lotion is a great way to calm down after a long day and
Of course other great benefits of these products are:

USDA Certified Biobased 93-100% (depending on the product)
No parabens or phthalates
Gluten-free
Naturally sourced fragrance
Lotion & Body Wash bottles made from 96% post-consumer recycled plastic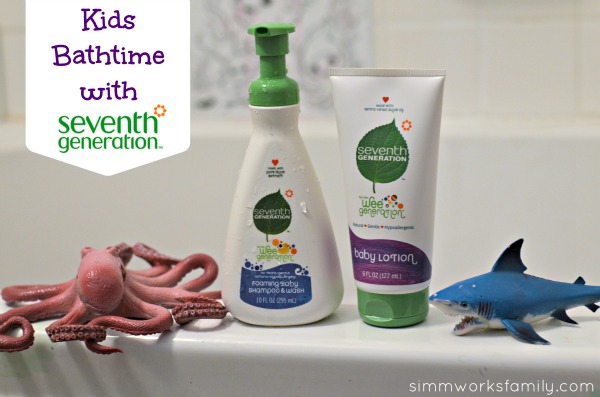 Kids Bathtime with Seventh Generation Products
Now I'm pretty sure my kids get to bathe more than I do. It's a sad fact but it's true. They LOVE the bath and are in it every night. Since they have dry skin (and my daughter has very bad eczema) we need products that won't irritate or harm their skin when they're taking their baths. I'm pretty strict with what I allow them to use.
So when we tried the Seventh Generation products I was a bit nervous. Luckily these products passed our test with flying colors. Both kids LOVED the foaming baby shampoo and wash and were excited to try it out themselves. They washed each other's hair and helped dump water to rinse the soap away.
The gentle, tear-free suds are infused with extra virgin olive oil and left the kids moisturized. But that doesn't mean we didn't use the baby lotion after our bath to keep that moisture in their skin.
We'll be continuing to purchase Seventh Generation products for our family and love that they were a perfect fit for us. Plus they have everything we need from green cleaning in the kitchen, bathroom, and laundry room to personal care.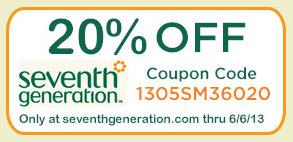 Want to try out Seventh Generation products for yourself?
Take advantage of this great 20% off discount on their website through 6/6/13!
You can purchase Seventh Generation products from Amazon, Walgreens, or the Seventh Generation website.
Disclaimer: I received Seventh Generation products in exchange for this review. All opinions are my own.