With our more natural approach to parenting it was only natural for us to invest in baltic amber teething necklaces for our kids at a young age.
Now that our children are older and are no longer teething we didn't think we'd continue to need those healing benefits. That is until I started having pain from my wisdom teeth being extracted. Luckily I had just received my gorgeous midnight baltic amber necklace from Spark of Amber.
And my daugther got one to match her momma! She hasn't taken this necklace off since I showed it to her and LOVES pointing out that she matches her mom.
The Benefits of a Baltic Amber Teething Necklace
There are many benefits to wearing a baltic amber necklace. A few I love are:
When Baltic Amber is worn against the skin, the body's heat releases succinic acid from the amber (healing oil). The acid is then absorbed by the skin into the blood stream
The anti-inflammatory properties of amber soothe red inflamed cheeks and gums
Recognized as a natural analgesic, amber absorbs pain
Amber boosts the immune system in assisting healing with ear, throat, stomach and respiratory infections.
Amber's calming properties neutralise negative energy and alleviates stress, therefore it will help calm and soothe a baby without resorting to drugs.
Plus? Our necklaces are pretty fashionable as well! I absolutely love the midnight color we received and have been able to pair it with quite a few of my favorite tops. And of course my little miss looks great in everything.
If you are looking for an alternative to help alleviate teething pain from your child I highly suggest looking into a baltic amber necklace. Spark of Amber carries a large selection of necklaces for every age. They also carry great teething necklaces, rings, bracelets, and other jewelry pieces.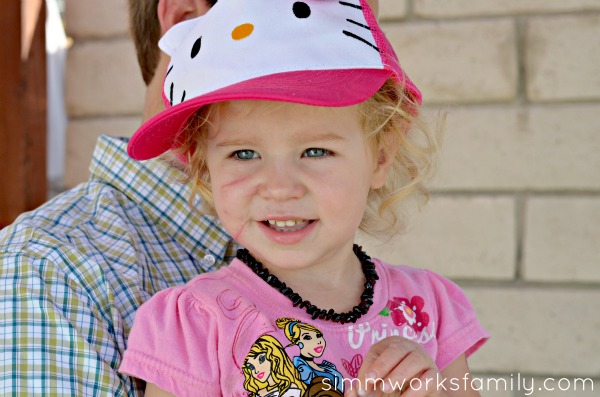 You can find baltic amber teething necklaces at Spark of Amber's website. You can also keep up with the latest styles, sales, etc by liking Spark of Amber on Facebook.  or follow on twitter at @SparkofAmber.
Learn more about Spark of Amber and their products by following their blog! Read up on each item and enjoy learning more about the benefits of amber.
Disclaimer: I received these necklaces for review purposes only. All opinions are my own.