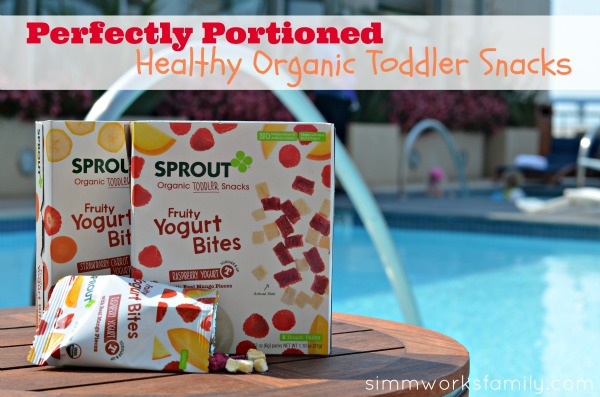 My kids are huge snackers. My daughter would much rather have small meals throughout the day then big meals three times a day. So when a shipment of Sprout Toddler Fruit & Veggie Crispy Chews and Fruity Yogurt Bites showed up at our door for review I knew she'd LOVE trying them out!
One thing that's very important to me when it comes to snacking options for the kids is convenience. If I can grab a pack or two and put them in my diaper bag for on-the-go snacking it makes getting out of the house much easier!
With Sprout Organic Foods BPA free packaging and small sizes I can easily fit a few in the bag as we enjoy our summer fun around town.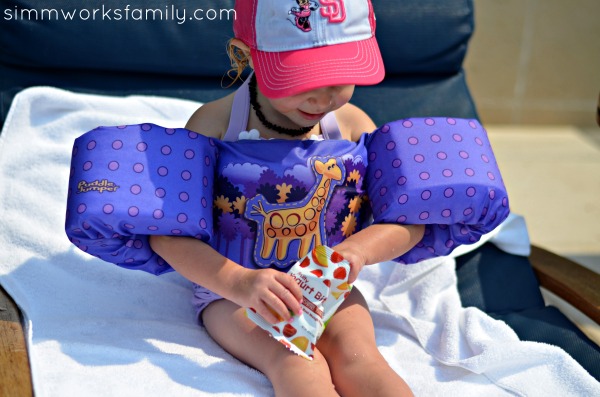 This past weekend we headed out for a little family staycation in Downtown San Diego and since I knew we'd be spending a lot of time at the pool I brought along our Sprout Organic Foods snacks to enjoy poolside. They were the perfect way for our kids to enjoy their new snack after fun in the pool.
We tried 8 different varieties. There are four flavors of Fruit & Veggie Crispy Chews and four flavors of Fruity Yogurt Bites. Here are the varieties you can find:
Fruit & Veggie Crispy Chews
Organic Fruit & Carrot

Purple Berry & Carrot

Red Berry & Beet

Tropical Fruit & Pumpkin
Fruity Yogurt Bites
Banana Pumpkin Yogurt with Real Banana Pieces

Orange Carrot Yogurt with Real Mango Pieces

Raspberry Yogurt with Real Mango Pieces

Strawberry Carrot Yogurt with Real Banana Pieces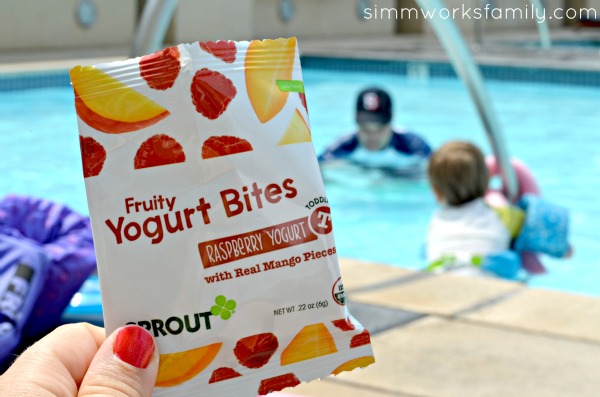 The kids gobbled up the snacks and loved the different flavors. My daughter's favorite was definitely the raspberry yogurt with real mango pieces. The pieces were perfectly sized for her little fingers and she quickly gobbled them up.
My son absolutely loved the crispy chews and calls them his fruity snacks. Plus he loves carrots so mixing fruit with his favorite vegetable is just genius.
We did have to make sure that their hands were completely dry before eating because the yogurt bites disolved a bit and the crispy chews got a bit sticky when wet. Luckily the kids let me wipe down their hands before enjoying their snacks after a great morning at the pool.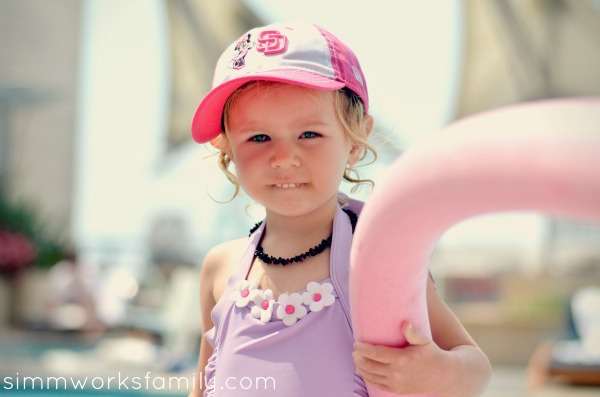 Sprout produces a variety of healthy, safe and delicious food for children. We use a variety of ingredients in our products, which are carefully selected to be baby-friendly and provide a balance of nutrients and flavors for your child to experience. We only use the finest organically grown fruits, vegetables, grains and proteins.
Check out the other great products Sprout offers by visiting their website. You can also check out Sprout Organic Foods on Facebook and follow them on twitter at @SproutFoods. You can also follow along on the conversation at any time by following #SproutFoods.
Disclaimer: I received a sample pack of Sprout Organic Foods snacks. All opinions are my own.