We love to travel. And we love to entertain. So we're sharing a little of both with these two recipes featuring our sponsor, Ritz. Read ahead to find out how to marry your favorite destinations all on one tablescape! 
I'm planning a fall harvest party for my family and cannot wait to share a few of the recipes I'll be serving at the party. With the help of Ritz, I've created two delicious destination dishes that include one inspired by local foods here in San Diego, and another dish inspired by a Southwest Airlines destination I'm dying to travel to.
One thing these recipes have in common are that they're both very simple to put together and the dessert can be made ahead for easy serving at the party. I love make ahead dishes! Not only do they make planning easier, timing is also easier with a few make ahead dishes at the party.
I've also submitted both of these recipes to be featured on LuvRitz.com in a contest they're hosting with Southwest Airlines. I have a chance to win a $500 Southwest Airlines voucher if I receive the most votes on my recipes! How awesome is that? Read ahead to check out my recipes and don't forget to vote for me: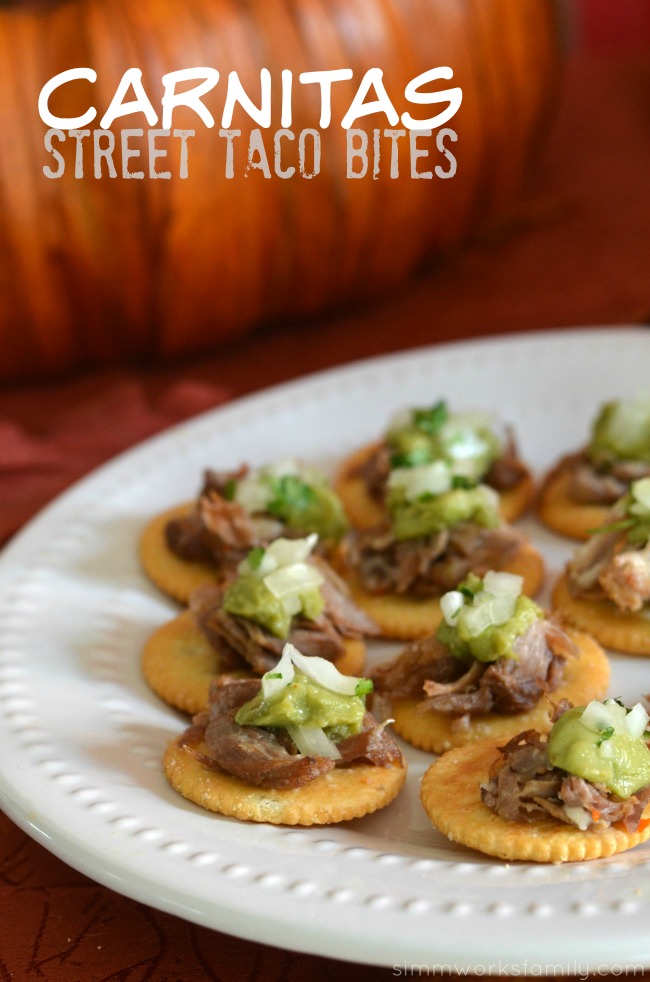 I've lived in San Diego all my life. Born and raised with deep roots in this city. I'm 3rd generation San Diegan and my husband is 4th generation. It's pretty rare to find one of us around town and we're pretty proud of the city we live in. One thing I absolutely love about this city is the copious amounts of good mexican food available around town. From our favorite taco shops, to our go-to mexican sit down restaurants, whenever I have a craving for the food I love, I am always close by.
I don't just head out for mexican food either. Being raised by a dad who's half mexican and half english rubs off on you, even if that means eating tortillas and drinking tea for breakfast. And some of my relatives make the best carne asada and mexican rice out there. I remember my dad's stories of his father making fresh tortillas for him and his siblings and how he wished he had a chance to learn how to make them too.
Needless to say, I enjoy preparing mexican inspired dishes in my own home today. And that includes street tacos! But when I'm serving food at a party I love making things bite size. So for our upcoming fall harvest party I decided to miniaturize our favorite street tacos and put all of our favorite flavors on a Ritz. All of the deliciousness in one bite!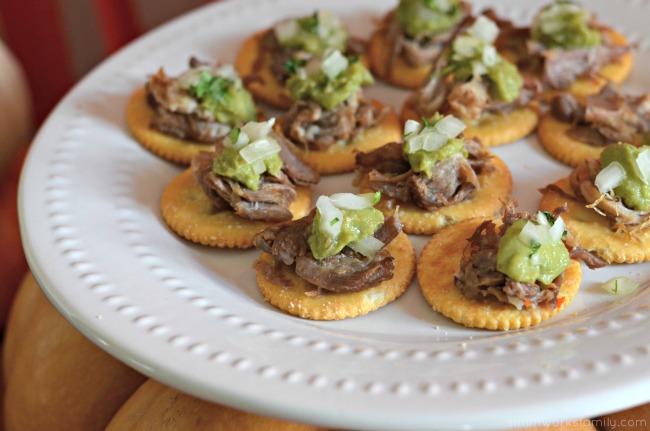 Carnitas Street Taco Bites
Ritz crackers
Carnitas, shredded
Guacamole
Onions/cilantro
Grab a Ritz, top with shredded carnitas, guacamole, and onion/cilantro mixture. Place in mouth, chew, and enjoy!
Vote for this recipe here: http://wshe.es/jDtdNsXi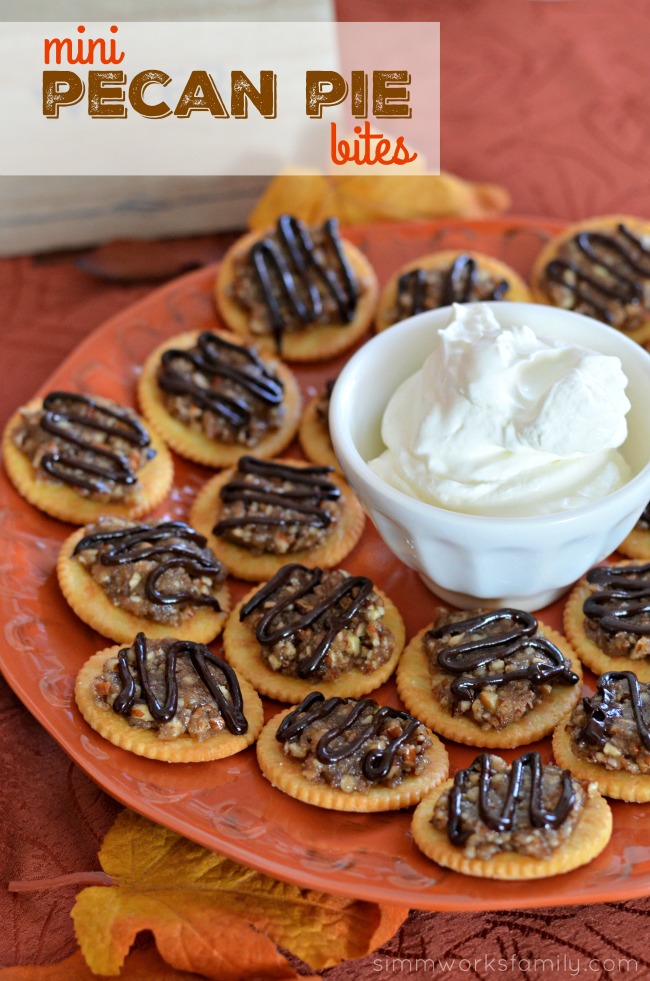 While I love where I'm from, I also love traveling. The best part about living where I am is that it's really easy to travel. Whether it's by car, train, or plane. However there's one destination I've never been. And that's the southern US. I've dreamt of visiting but have never pulled the trigger and planned a vacation down south. But that doesn't mean its not on our list in the near future.
And when I'm ready, I know Southwest flies to multiple destinations in the south. That means I get to keep track of Southwest sales that hit my inbox to keep an eye on flight prices. If a good price comes up I may just snag it even for a long weekend trip.
One thing I look forward to when I visit the south is the various foods I've heard so much about. I have a little confession to make. I never tried pecan pie until about two-three years ago when it was brought to Thanksgiving by one of the relatives. Pumpkin was usually the only option growing up so that's what I ate. So when I had the chance ot try it, I jumped on it. And fell in love with it.
Since pecans are grown in the south, my easy no-bake party dessert was inspired by this destination. Yeah, that's right, no-bake dessert! And bite size so it's perfect for parties.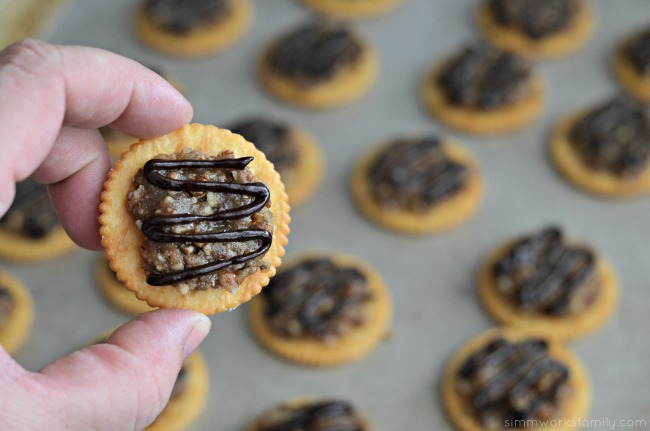 Mini Pecan Pie Bites
2 sleeves Ritz crackers
1 cup pecans
1/2 cup brown sugar
1/4 cup unsalted butter, softened
1 tablespoon corn syrup
2 teaspoons vanilla extract
1/4 cup dark chocolate morsels
1/8 cup heavy whipping cream
Grab 2 baking sheets and line each with wax paper. Lay out 1 Ritz sleeve of crackers on each baking sheet.
In a food processor, chop up the pecans finely. Pour pecans into a small bowl. Add brown sugar, butter, corn syrup, and vanilla extract to the pecans and mix well until combined.
Using a teaspoon, take a spoonful of the pecan filling and place on top of a Ritz. Press down flat with the back of the teaspoon. Repeat with the rest of the crackers.
Take the dark chocolate morsels and heavy whipping cream and place in a microwave safe bowl. Microwave on high for 30 seconds. Stir well to incorporate morsels and cream. Add chocolate to a sandwich bag. Cut off a small piece of the corner of the sandwich bag.
Drizzle chocolate over each mini pecan pie bite. Serve and enjoy!
Vote for this recipe here: http://wshe.es/ZgX5gTDI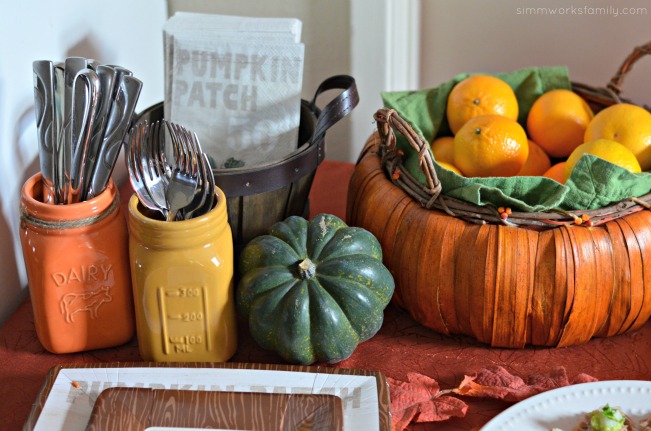 Stay tuned to see more of my fall harvest party next week! In the meantime,
here's a sneak peek
of the tablescape I'm planning.
I'm not the only one who can enter for a chance to win! 
Ritz and Southwest Airlines want to know where you want to go and how you enjoy Ritz Crackers. One lucky winner will win $5,000 in Southwest gift cards! Just Tweet or Instagram your response along with #LuvRitzSweepstakes to be entered. (Example: "I want to go to #Dallas for the holidays and enjoy Ritz Mint Thins #LuvRitzSweepstakes")