Disclaimer: This post featuring Knott's New Year's Eve is brought to you by GigaSaavy
The countdown to the New Year is on at Knott's Berry Farm! Knott's is the place to ring in 2016 with a night full of special family-friendly experiences, including live musical acts, exclusive stage shows, and Merry Farm entertainment, culminating in a fantastic fireworks show.
We've been invited to head out and enjoy the celebration with our family and the kids couldn't be more excited! As the final moments of 2015 countdown, the Knott's Sky Cabin will dramatically rise over 200 ft. to the top of the "K" tower as special lighting effects countdown to midnight. When the cabin reaches the top at the stroke of midnight the "K" tower, the skies above Knott's will light up with a spectacular fireworks show!
Knott's Berry Farm is open from 10:00 am – 1:00 am and the New Year's Eve Celebration is included with regular daytime admission. It's the perfect way to ring in the new year with fun for the whole family! From an entertainment line up that's not to be missed to a sky full of fireworks in celebration, this is a must attend event.
A 2016 Knott's Season Pass is a great way to visit on New Year's Eve. 2016 passes offer a year of family fun and includes one free visit in 2015, including the New Year's event. And for a limited time, Season Passes can be purchased online for just 6 easy low payments of $13.50 each, the best price of the year.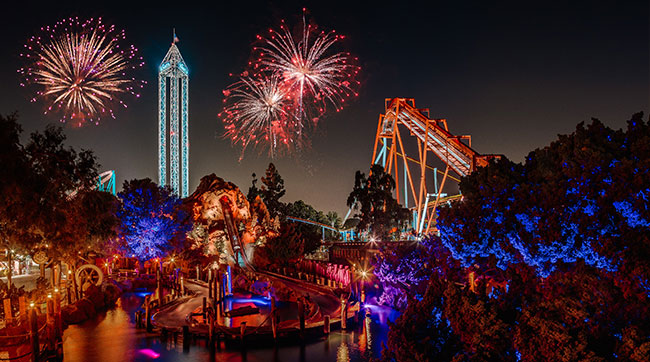 New Year's Eve at Knott's Berry Farm
There's live entertainment everywhere you turn. Adding to the lineup of can't miss entertainment are:
Jumpin' Joz Band and Memories Swing Dancers invite guests to jump and jive to the sounds of Jumpin' Joz. Join them on the dance floor and boogie into the New Year. Guests have the opportunity to learn a few moves from expert swing dancers.
THE REFLEXX is the best 80's new wave cover band around who cover songs from bands such as Depeche Mode, Simple Minds, Tears for Fears, New Order, A-Ha, The Cure, Duran Duran, Flock of Seagulls, Devo, and more.
DJ Howly's eclectic mix of high energy music will transform Calico Square in the place to celebrate the new year and offers a great view of the Midnight Fireworks Spectacular
Family-friendly comedian, Taylor Hughes, brings his hilarious comedy, magic and fun audience interaction to Boardwalk Ballroom
Midnight Fireworks Spectacular – Ring in the New Year with a bang. Look to the western skies for an aerial fireworks display that will amaze. And don't miss the spectacular countdown to midnight on the Sky Cabin tower.
A New Year's Eve celebration is not complete without a delicious meal, and Knott's has just what you need. The New Year's Eve buffet in Spurs Restaurant will be served from 4pm-9pm; prices are $34.99+tax for adults and $18.99+ tax for kids (3-11).
Where will you be celebrating New Year's Eve with the kids?