Our family absolutely loves waffles. It's about the only breakfast item I can get my husband to eat with us on the weekends and it's my kids go-to choice on the weekdays. Most of the time I do admit to using Trader Joe's baking mix. It's fast, simple, and tastes good. But sometimes I get a hankering for homemade waffles.
This recipe is easy and I usually have most of the ingredients on hand. When I don't have buttermilk I simply add some apple cider vinegar to milk and let it sit for about 5 minutes. I give it a good stir and than use it as I would buttermilk.
Since our family of four still can't eat a whole batch I make up everything and freeze the extras for a quick breakfast I can pop in the toaster for the kids. It's simple and costs less than purchasing the frozen waffles at the store.
Homemade Waffles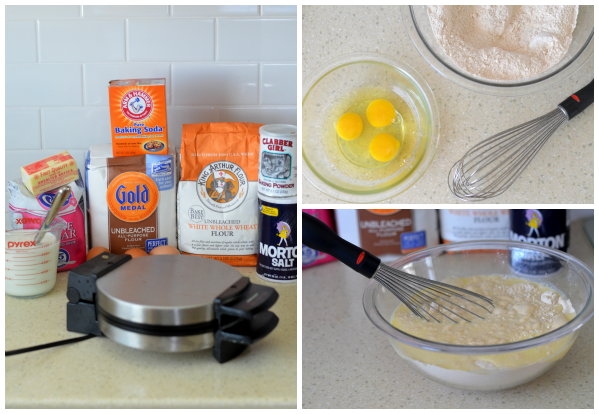 Homemade Waffles Recipe
Ingredients
1 cup all-purpose flour
1 cup whole-wheat flour
½ teaspoon baking soda
1 teaspoon baking powder
1 teaspoon salt
3 tablespoons sugar
1 teaspoon cinnamon
3 eggs, slightly beaten
2 ounces unsalted butter, melted and cooled
2 cups buttermilk, room temperature
Instructions
Plug in your waffle iron and let it heat up.
In a medium bowl mix together the dry ingredients with a whisk. In a separate bowl mix the beaten eggs, buttermilk and melted butter.
Pour wet mixture over dry mixture and stir with whisk until just combined. If your waffle iron isn't seasoned and needs it, spray the hot iron wiht a little cooking spray.
Ladle on about ½ – ¾ cup of the batter (or whatever the manufacture recomments) and close the waffle iron. Cook until the waffle is golden brown on each side and comes up easily.
Serve and enjoy!