While on Nutrisystem I've learned to really experiment and explore new possibilities when it comes to Nutrisystem food and I've started to really search for great Nutrisystem recipe ideas. Sometimes the food the way it's packaged doesn't taste the best to me or isn't the most filling portion size for me. So I do a little doctoring up (within the plan!) and create new dishes from Nutrisystem foods.
One of my favorite recipes that I make at least once a week is this Baked French Toast Casserole. Not only is it very filling, it also reminds me of my favorite Overnight French Toast Casserole recipe that definitely isn't Nutrisystem friendly. And I love that I can sub other Nutrisystem items like the blueberry muffin, cinnamon bun or cinnamon streusel muffin if I don't have any frozen french toast on hand.
Now, you do not need to prepare this overnight if you don't have the time. There have been many mornings where I wake up and realize I didn't prep this the night before. But sometimes it tastes a bit better when all of the flavors can meld together before baking. Either way, it's still going to be delicious and very filling.
Nutrisystem Recipe Ideas: Baked French Toast Casserole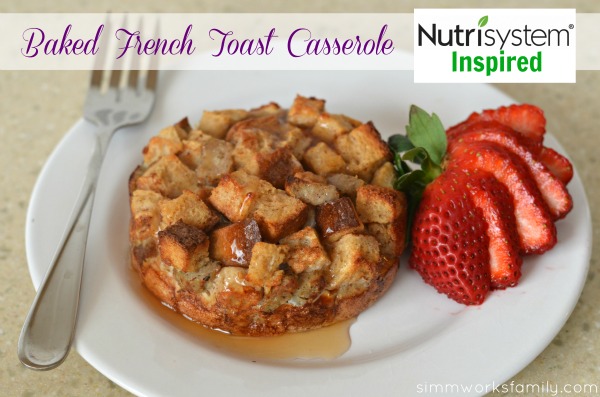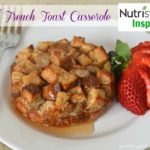 Nutrisystem Baked French Toast Casserole
Ingredients
Nutrisystem frozen french toast

1/2

cup

egg beaters or egg whites

1

teaspoon

cinnamon

1/2

teaspoon

vanilla

1/4

teaspoon

nutmeg

1

turkey sausage link

cut small
Instructions
Cut the frozen french toast into pieces and put it into a small baking dish sprayed with butter flavored PAM. I've found a small ramekin to be perfect.

Mix 1/2 cup egg beaters, 1 teaspoon cinnamon, 1/2 teaspoon vanilla, 1/4 teaspoon nutmeg, and turkey sausage link together.

Pour the mixture over the french toast pieces and squish it down until all pieces are covered. Place it, covered with plastic wrap, in the refrigerator overnight.

In the morning, take the dish from the fridge, remove cover, and bake at 350 degrees for about 30-35 minutes until cooked through. This bakes up REALLY high, and then it collapses a bit when it's out of the oven - totally normal.
I love to serve this with a couple sprays of light spray butter, or Walden Farms (or equivalent) syrup. It counts as one Nutrisystem breakfast and a PowerFuel. I can even add a strawberry or two for a limted extra too!
What healthy dishes do you love to make?