Summertime is the perfect time to whip out the barbecue and open up the outdoor kitchen. With temperatures in the 80s and 90s over the past few weeks we've done a lot of grilling in our home.
After receiving an Eat Smart thermometer to try out I decided to write up some tips for the perfect barbecue. They're very simple and basic but make a huge difference when cooking meat on the grill.
And with Labor Day right around the corner, its the perfect time to start practicing your barbecue skills! 
1. Find the perfect marinade or seasoning –
The best part about barbecue are the unlimited flavors found to season meat. From rubs to marinades to seasonings, there are so many different directions we can go with our barbecue. I, for one, love a good marinade and usually go with something that'll compliment the meat like this marinade. The smoky flavors of the Worcestershire Sauce paired with garlic and Montreal Steak seasoning lead to a delicious meal every time.
2. Don't move the meat –
To ensure perfect grill marks leave the meat on the grill for the amount of time per side your instructions tell you to cook it. That way you'll have nice grill marks on each side.
3. Use a thermometer to confirm temperature –
Knowing the exact temperature of the inside of your meat will help you determine when to take it off the grill and allow it to rest. Because meat will continue to cook once it's taken off the grill and rise another 5 degrees, make sure you take it off before the temperature you need it to be at.
By using a great thermometer like the EatSmart Precision Elite Thermocouple Food Thermometer you can ensure a perfectly cooked piece of meat every time you grill! It turns on automatically when you fold out the probe and shuts off when you fold it closed. Plus the instant read thermometer is easy to read and has a great back-lit screen.
4. Allow meat to rest –
As I mentioned before, meat will rise about 5 degrees after it's taken off the grill. So allowing it time to rest and reach that temperature before cutting in will create the perfect tasting steak. You also want to give the meat time to soak in all of the juices again so that once you cut into the meat they all don't come trickling out. No juice means no flavor!
I typically allow my meat to rest anywhere from 5-25 minutes depending on the thickness and size (roasts take longer to rest).
5. Cut against the grain –
Once you've allowed your meat to rest it's time to start cutting in and serving it up! When serving meat make sure that you're cutting against the grain to create a more melt in your mouth slice of meat. Cutting with the grain will make the meat tougher.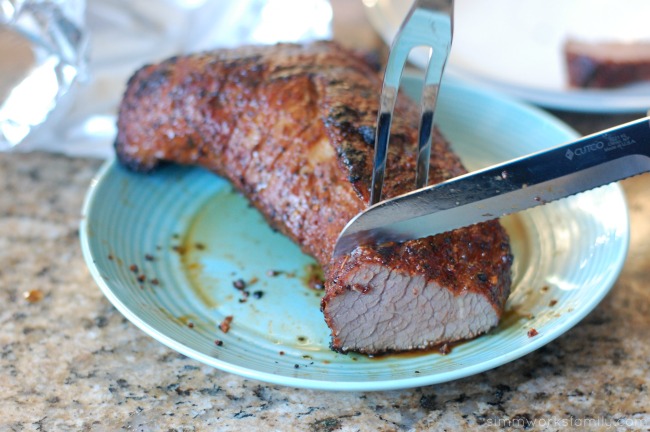 What are your tips for barbecue perfection?
Disclaimer: I received an EatSmart Precision Elite Thermocouple Food Thermometer for review. All opinions are my own.