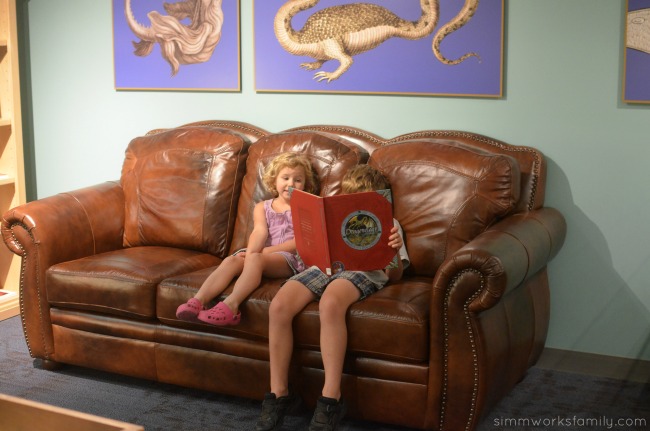 Last Saturday marked the grand opening of Extraordinary Ideas from Ordinary People: A History of Citizen Science, a brand-new, permanent exhibition at theNAT. The kids and I were invited to check it out a bit early though so we headed over to the museum last Friday to take a peek. As soon as we walked in one kid went one while while the other headed the other way. And boy were they excited to find that not only were there cool items on display, there was also a little book nook upstairs just for them in the Dragon's Den.
Located in the new Eleanor and Jerome Navarra Special Collections Gallery, Extraordinary Ideas was developed from the ground up by the Museum's exhibits staff. The exhibition features approximately 70 rare books, works of art, and photographs from the Research Library's 56,000-volume collection that demonstrate how everyone can participate in science. Exhibits will also include plant and animal specimens, touchscreen interactives, and touchable models (perfect for little hands).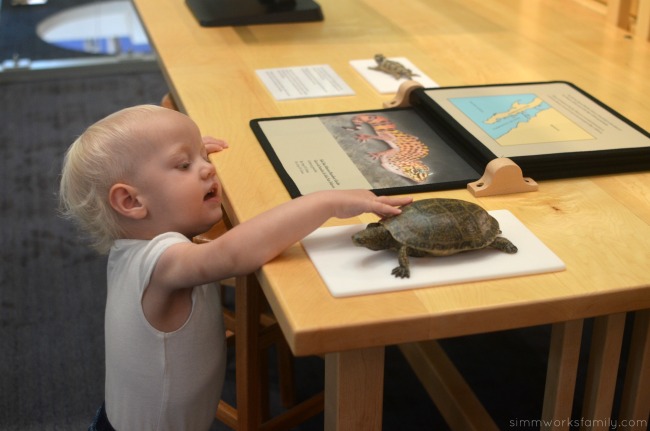 A Little History (of course)
TheNAT was founded in 1874 as the San Diego Society of Natural History by a small group of citizen scientists who had a passion for the natural world. They dedicated countless hours to documenting their observations of the flora and fauna in San Diego County. Extraordinary Ideas helps tell their stories by featuring exhibits that showcase works that resulted from their devotion to the natural world.
For example, Laurence Klauber, who is featured in the exhibition, is a locally known amateur naturalist who was the chairman and CEO of SDG&E, and in his off time focused on studying reptiles. In the field of herpetology, he left his mark as the world's leading authority on rattlesnakes. Klauber donated 36,000 reptile and amphibian specimens to theNAT, including the most comprehensive collection of rattlesnakes in the world.
More To See
In addition to the main exhibition, there is an upper mezzanine featuring two smaller galleries. The first gallery showcases exquisite original watercolors of California wildflowers by renowned artist A.R. Valentien. The A.R. Valentien gallery will display approximately 10 paintings at one time from the 1,094 pieces the Museum has in its collection. The second gallery is named the Dragon's Den and houses a fantasy book nook designed specifically for children with comfortable seating and antiquarian books depicting dragons and other mythical creatures.
"Very few people have seen the objects that are featured in Extraordinary Ideas and its accompanying galleries," said Margaret "Margi" Dykens, curator of Extraordinary Ideas and longtime director of the Research Library at the San Diego Natural History Museum. "The objects and rare books on display, some dating back to the 1500s, convey the impact citizen science has had not only on our organization, but the world at large. It's a great honor to be able to share these items with the public for the first time."
A Stunning View
The exhibition is on Level 3 of the Museum, and the entryway is clearly marked by a dramatic pediment featuring a griffin, a mythical beast whose image is found in many early natural history encyclopedias. As visitors approach, they will notice larger-than-life natural history books, replicas of 10 books in the Museum's collection. Once visitors enter the space, they are greeted by wallpaper murals of marbled end papers, a design detail included in many of the Museum's rare books. To preserve the condition of the featured objects, each gallery is climate- and light-controlled.
Other exhibition highlights include:
An extremely rare copy of the gigantic Double Elephant Folio of John James Audubon's Birds of America. The folio, one of only a few intact copies in existence, depicts life-size renditions of a wide variety of North America's birds.
Gorgeous, oversized murals featuring illustrations from rare books, including a Reddish Egret from the aforementioned Birds of America as well as a stunning mural fromHistoria Naturalis Ranarum, a book from 1758 about the natural history of frogs.
Exhibits on naturalists—both past and present—featuring rare books alongside specimens from the Museum's research collections, touchable objects, and multimedia experiences that allow deeper access to the works on display.
The top of the Foucault pendulum, which was installed in the 1950s and has been restored and adorned with a new, modern casing.
Exposed skylights and other stunning architectural elements from the original 1930s building.
Finding Inspiration
"Early citizen scientists helped develop our understanding of the natural world, and today they broaden and amplify the work of professional scientists," said Judy Gradwohl, president and CEO at the San Diego Natural History Museum. "Extraordinary Ideas allows us to show how amateur naturalists began our beloved institution and how they continue to provide vital support for our research projects. Our hope is that visitors will walk away knowing that their observations help make a difference in the world of science and, more specifically, the natural history of our region."
Extraordinary Ideas will show visitors how they can contribute to the Museum's research efforts by submitting information on various digital platforms, one such platform being theAmphibian and Reptile Atlas of Peninsular California, a binational effort to understand the biodiversity of amphibians and reptiles from southern California and Baja California.
The Research Library's resources that are not on view in the exhibition continue to remain available for research purposes. For more information or to schedule an appointment, please visit theNAT's website or call 877.946.7797.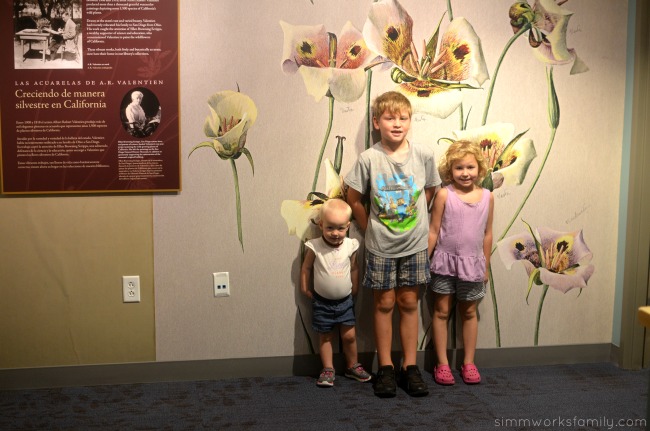 When was your last visit to theNAT?
The Museum is located at 1788 El Prado, San Diego, CA 92101 in Balboa Park. For more information, call 877.946.7797 or visit sdnat.org. Follow theNAT on Twitter and Instagram and join the discussion on Facebook.