One thing I always forget to get until the last minute are the stocking stuffers for the kids. It's a task I normally will just give to my husband the night before Christmas eve and then we end up with too much or too little. So I'm going simple this year! Each of the kids will get a DVD in their stocking, an apple & an orange (tradition in our home), a See's santa chocolate, and a Christmas lego. Simple but fun, right? Now what DVDs should I stick in their stocking?
Here are some ideas:
The BFG
Disney and Amblin Entertainment, in association with Walden Media, present the fantasy adventure film "The BFG," the first-ever motion picture adaptation of Roald Dahl's resonant tale of childhood, the magic of dreams and the extraordinary friendship between a young girl and a big friendly giant. Directed by three-time Academy Award® winner Steven Spielberg, the film reunites the director with his Oscar®-nominated collaborator on "E.T. the Extra-Terrestrial," Melissa Mathison, who adapted the children's author's timeless adventure for the big screen.
This magical tale of an extraordinary friendship loaded with exciting extras will brighten the holidays for the whole family! "The BFG" comes to Digital HD, Blu-ray™ and Disney Movies Anywhere Dec. 6.
Purchase it on Amazon (through my affiliate link) here: http://amzn.to/2hLaReu
Elena of Avalor: Ready to Rule
Disney's newest princess comes to DVD with the release of Elena of Avalor: Ready to Rule just in time for the Holidays! Join Elena as she learns about being a princess who will one day become a queen and rule her kingdom. She's saved her kingdom from an evil sorceress who was trying to destroy Avalor, but that was the easy part! Elena's journey leads her to understand that her new role requires thoughtfulness, resilience and compassion, the traits of all truly great leaders.
This DVD is packed with laughs, new characters to cherish, and heart, Elena of Avalor: Ready to Rule is a must-own for the entire family! Includes Four Full Episodes and a FREE Exclusive Projecting Scepter – A Great Holiday Gift! Bring home this charming series on Disney DVD December 6th!
Purchase it on Amazon (through my affiliate link) here: http://amzn.to/2hLf4Pr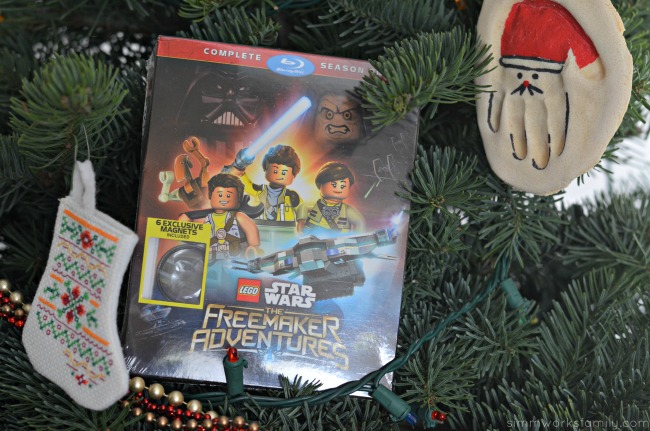 LEGO Star Wars The Freemaker Adventures
Are you ready for more fantastic and fun LEGO Star Wars adventures? Of course you are! LEGO Star Wars The Freemaker Adventures Complete Season One arrives in our galaxy on Blu-ray and DVD on Dec. 6th.
Taking place between THE EMPIRE STRIKES BACK and RETURN OF THE JEDI, this new Lego Star Wars series follows a family of scavengers who build and sell starships from battle debris strewn throughout the galaxy. When their youngest discovers a natural connection with the Force through an ancient artifact – the Kyber Saber –he and his family are thrown into an epic struggle against the Empire to restore peace and freedom to the galaxy. The Freemakers explore new worlds, meet new and familiar characters and discover the strength of family.
Now you can relive all 13 action-packed episodes in LEGO Star Wars: The Freemaker Adventures Season One, with new bonus features and 6 exclusive Lego Star Wars magnets available nowhere else! This is a must-have release for fans!!
Purchase it on Amazon (through my affiliate link) here: http://amzn.to/2hLauAz
What are your top stocking stuffer ideas?