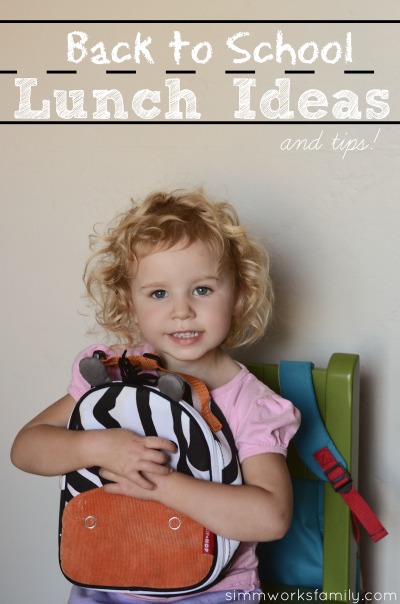 Ever start thinking of school lunches and wonder what the heck you're going to pack? Well here are some great back to school lunch ideas and a few tips that might help you out!
My son isn't quite ready for kindergarten yet but will be there next year and we've already exhausted a few great ideas for toddler lunches at home. So I'm trying to gather a bunch of ideas and tips so that when I am packing his lunch I can pack something that he'll enjoy and actually eat. Good thing I have a whole year to figure this stuff out, right?
Ok, I'm not going to spend the whole year working on this. But I did start practicing by packing lunches for us to take with us on his days off preschool. When we're heading out to the zoo, playing at the park, or heading to the beach, I've been able to pack lunches for him and his sister that they both enjoy. And here's what I found… (some of the links included are affiliate links to Amazon)
Back to School Lunch Ideas and Tips
Get Creative with the Presentation
Gone are the days of plastic sandwich bags and plastic pudding cups. With an effort to provide my kids with tasty school lunches that are also somewhat healthy (with the added treat thrown in every once in a while) I've started to think outside of the box when preparing their meals.
I've started to use BPA-free containers to pack everything up together so I don't have to use bags. And when I do use bags I use the cloth ones. I have also been using cupcake liners to hold snacks and whatnot next to their main meals inside the containers.
Another great way to make fruit and veggies more appetizing is to create fruit and veggie kabobs. I made some peanut butter and banana sandwiches and used a blunt tooth pick to hold them together. The kids LOVED it and ate all of their fruit.
Make Meals Fun
My husband and I were at Big Lots a few days ago and I found the most awesome tool for sandwich prep… a sandwich sealer! You know, the kind that makes homemade uncrustables? Pocket sandwiches that keep everything in so the contents don't slide around and get on everything else. No one wants jelly on their cheese stick. The best part? It was like $1.20!
I've also invested in a few sandwich shape cutters like this cute dino cutter as well as a few other shapes. But a friend of mine, Jen of My Leilaland, started using cookie cutters to cut her daughter's sandwiches. How genius is that? And so easy! So when my daughter wants her sandwich cut into a heart I don't have to go searching for a heart sandwich cutter. I just grab the cookie cutters for Valentine's Day.
Freeze Juice Boxes and Yogurt Tubes
Afraid perishables won't stay chilly with just one ice pack? Freeze juice drinks and yogurts and use them in addition to your ice packs to assure that everything stays the temperature it should be. My kids love the slushy effect freezing their drinks has while the drink thaws out throughout the day.
Worried it'll stay frozen? Pack water! That way they can drink their water with lunch and enjoy their juice later in the day. And if the yogurt stays frozen no one will complain. Who wouldn't want frozen yogurt in their lunch?
Need more great ideas? Here are some articles from fellow bloggers to help make your kids lunches the best!
And don't forget a sweet note to tell them how much you care! Download this cute lunch note printable and include a personalized message to let your child know you're thinking of them throughout the day.
What is your child's favorite lunch item?
This post was originally published on August 23rd, 2013