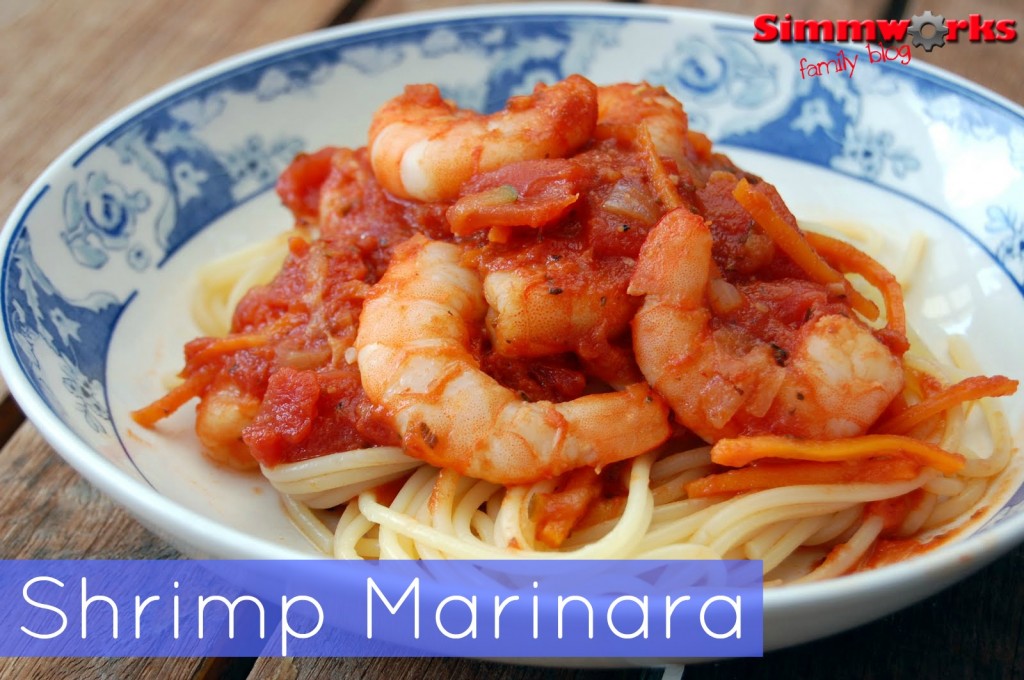 One of our family favorites in this house is spaghetti. It's the one dish I can get everyone to eat without complaining. But sometimes I'm just not in the mood for a meat sauce. I want a different flavor.
This dish is not only tasty, but it's pretty healthy too! And the best part is that all of the ingredients are usually in my pantry or fridge at all times. Meaning I can have dinner on the table in less than 30 minutes without having to make a special trip to the grocery store.
I used a bag of frozen cooked shrimp from Trader Joe's instead of fresh but it worked great. And I can always keep some in the freezer so consider this an official staple meal in this household!
Shrimp Marinara Spaghetti Recipe
Shrimp Marinara Spaghetti Recipe
Ingredients
2 tablespoons olive oil
1/2 small onion, diced
1/2 cup carrots, shredded
1 zucchini, shredded
2 cloves garlic, minced
6 ounce can tomato paste
2 tbsp dried parsley
1/4 teaspoon pepper
1/2 teaspoon dried basil
1 teaspoon dried oregano
1/2 teaspoon salt
1/2 teaspoon garlic salt
28 ounces can diced tomatoes
1 pound frozen cooked shrimp, tails off
30 ounces organic spaghetti
Instructions
Start heating a large pot of water to a boil for pasta.
Add oil to dutch oven and cook on medium high. Add onions, carrots & zucchini. Saute until tender, about 5 minutes. Add garlic and saute for another minute. Add tomato paste, spices, & tomatoes into dutch oven and let cook until boiling. Once it's boiling, turn heat to low and let simmer.
Once pasta water is boiling, sprinkle with some salt and add pasta. Add shrimp to sauce. Cook pasta until done and drain. Shrimp will be warmed thoroughly as soon as the pasta is done. Plate pasta and top with shrimp marinara.
What type of pasta do you love?