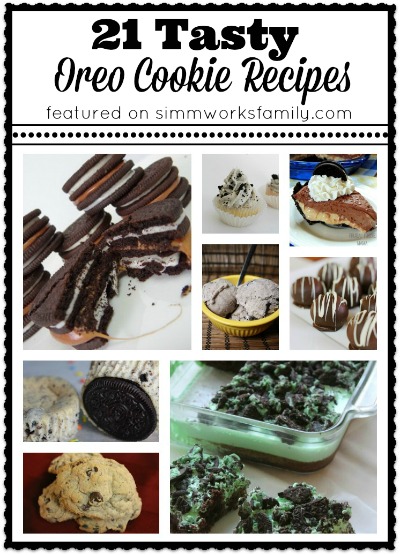 Childhood memories of summer always involved Oreo cookies and an ice cold glass of milk on back porches after playing in the pool or running around with the neighborhood kids.  As a grown up I still crave Oreo cookies, but now I like a bit more sophisticated flare (although you'll still catch me with a handful of oreos and a tall glass of milk some nights!).
Here are 21 Tasty Oreo Cookie Recipes that are perfect for kicking it up a notch and creating a new adult cookie memory.  With ideas great for kids parties, giving as yummy food gifts or sneaking as an adults only dessert after the kids go to bed, this list is perfect for any Oreo lover out there.
21 TASTY OREO COOKIE RECIPES
Next time you want your favorite childhood cookie, just check this list for a fun elevated version of the classic Oreo.  Whether you are adding them to another dessert classic like the banana cream pie or crushing them for ice cream or cupcakes you can't go wrong with one of these 21 tasty Oreo cookie recipes on your menu plan this week!
What's your favorite way to eat an Oreo?