When we celebrate the 4th of July we do it with the 3 F's:
Food

,

Family

, and

Fireworks

!
And the food part is usually left up to me. Burgers are the main go to but the side dishes are the ones we try to change up and make better each year.
This year I'll be bringing some delicious pasta salad that includes a few of my favorite flavors: pepperonis and mozzarella!
Not only is this dish easy to make, you can prepare everything the night before and let it sit in the fridge to marinate and just grab it right before you leave for the party.
And while it doesn't have any blue in the mix, the red and white is covered! Paired with a juicy burger and delicious green salad and you have the perfect July 4th celebratory meal.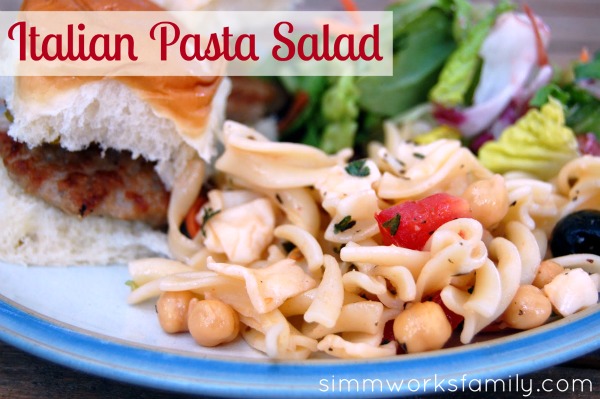 Italian Pasta Salad
1 package Trader Joe's fusilli pasta, cooked and drained
3 ounces Hormel Pepperoni Minis
6 Kraft provolone slices, diced
5 ounces Frigo part skim mozzarella
1 6 ounce can large black olives
1 15 ounce can garbanzo beans (rinsed and drained)
2 roma tomatoes, diced
1 teaspoon parsley, chopped
1 teaspoon basil, shredded
For the Dressing:
1/8 cup red wine vinegar
1 tablespoons lemon juice
1/4 teaspoon honey
1/2 teaspoon coarse salt
1 tablespoon Italian seasoning
1/4 cup olive oil
In a large bowl, toss together the pasta, pepperoni, cheese, olives, beans, tomatoes, parsley and basil.
To make the dressing, whisk together the vinegar, lemon juice, honey and salt. While whisking vigorously, slowly drizzle in the olive oil. Once combined, pour over pasta mixture to coat and toss. Store, covered, in the refrigerator until ready to eat.
Serves 20 | 4 WW+ Points (1/2 cup)
What are you making for your 4th of July celebration?