I have been compensated by Johnson's® Baby for this post; however, I am sharing my own thoughts. All opinions are my own.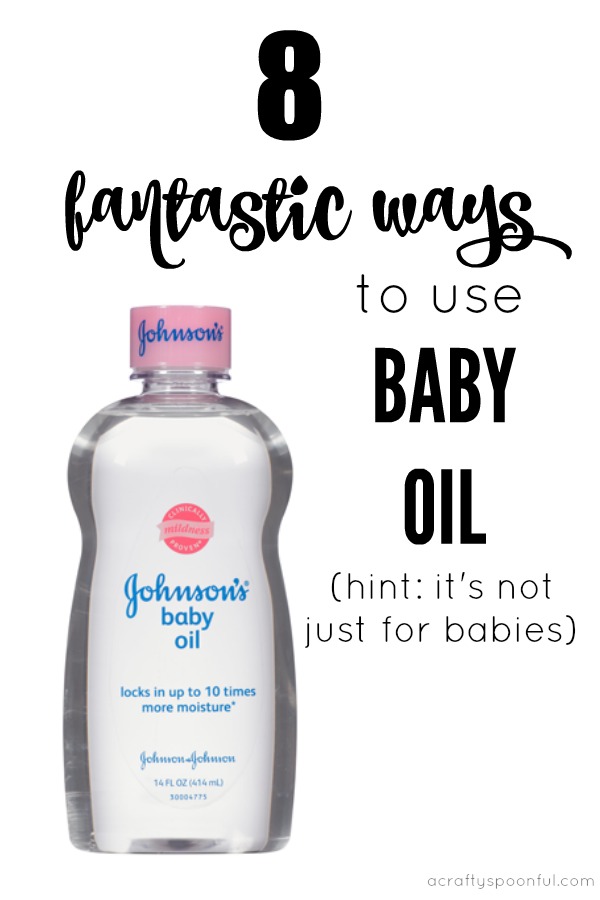 What do you do with the products you've come to love as you raise your babies but they aren't babies any longer? My youngest just turned two and we are finally happy with the size of our family. Since she transferred into toddlerhood I decided to clean out her closet and pair down the baby stuff we still have in the home. And what did I find? We still had Johnson's® Baby baby oil, baby lotion, and baby wash (full sizes!) in the way back.
Now we  already had bottles in the bath tub so these weren't just forgotten about. We just got so many from family and friends at the shower, that we had enough left over. Luckily I know that baby oil is for more than just babies! And it's a great item to have on hand even for adults. We keep it in stock at all times in our cabinet!
Baby oil is actually just mineral oil with perfume added to it, and mineral oil has a lot of potential uses! So if you've got a bottle of Johnson's® Baby baby oil sitting in your cabinet, check out these 8 Fantastic Ways to Use Baby Oil!
8 Fantastic Ways to Use Baby Oil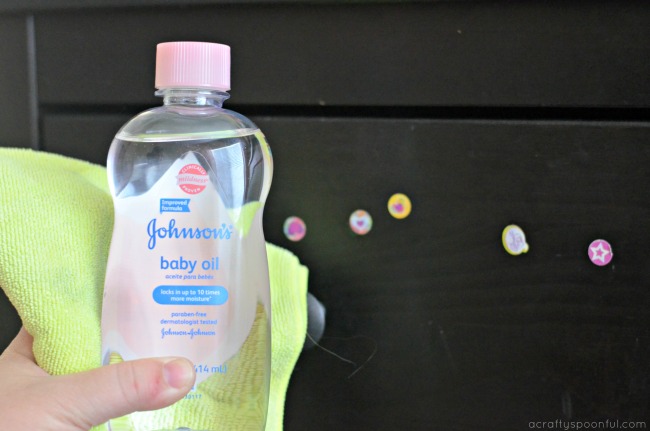 1. Easy Adhesive Removal
If you want to peel labels off of things faster, try one of the many ways to use baby oil- as an adhesive remover! Just rub the baby oil onto the label or sticker, let it sit for 5 minutes to soak in, then rub at it was a cloth. The label should come right off! Do you kids like surprising you by putting stickers on their furniture or on the windows in the car? This also works to remove adhesive that's left behind after peeling a sticker off, and can help loosen up Band-Aids!
2. Body Insulator
One of the more surprising ways to use baby oil is as a way to insulate yourself against the cold! If you rub baby oil onto your skin your pores will close and you'll become better insulated against the weather. However, since it does temporarily close up your pores, you may want to avoid putting it on your face if you suffer from acne.
3. Necklace Chain Loosener
Have you ever had a necklace where the chain got tangled and caught on itself? To undo this, you can use baby oil! Just put a drop or two of the oil onto the area that's stuck, then work to undo the tangle using something pointy, like a sewing pin. My girls have found my jewelry box and may or may not have tangled up a few pieces together. With some baby oil, I can help loosen everything up and am wearing my favorite necklace come date night!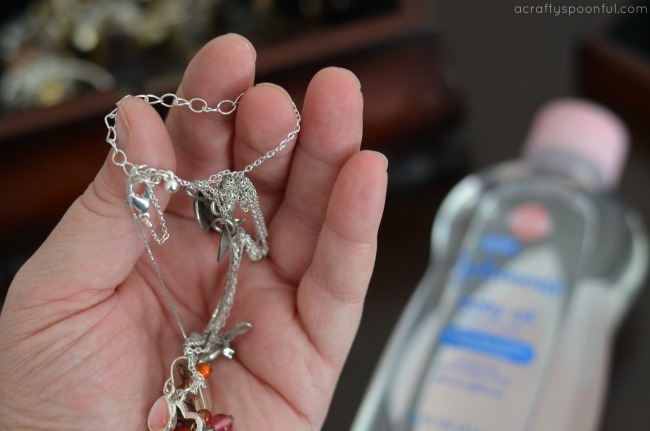 4. Remove Paint from Skin
If you happen to get paint on yourself, you don't need to rub yourself down with paint thinner! Instead, use baby oil! Rub the baby oil onto the paint on your skin until you feel that the paint is loosening up, then wash with soap and water. Repeat until all the paint is gone.
5. Polish Anything
One of the best ways to use baby oil is as a polish! And baby oil can polish pretty much anything! It can polish leather, wood, faucets, car hubcaps, chrome, and other such hard surfaces. It also can help protect surfaces from water, as it has some waterproofing properties. Make sure to test it out in a small area first before going to town just in case!
6. Shredder Lubricant
If you own a document shredder, then you may have been given some free shredder lubricant pages with your purchase. It's important to keep the blades on your shredder lubricated to keep the shredder working at 100% and prevent jams. But rather than continually buying more and more lubricant pages, all you really need is baby oil with which you can make your own shredder lubricant pages! To make them, lay a few pages of paper down in a large dish or on a baking sheet and coat them with baby oil. Let that soak in for a few minutes, then shred them in your shredder!
7. Remove Sticky Stuff from Hair
Kids are surprisingly good at getting sticky things like gum (or lollipops) in their hair. To get the sticky stuff out, massage some baby oil onto the stuff, and use your fingers or a comb to gently pull it out. This works because the baby oil moisturizes and lubricates the sticky substance, helping it to let go of the hair and slide right out.
8. Shaving Cream Substitute
It's okay to run out of shaving cream if you have some baby oil in the closet! That's because one of the ways to use baby oil is as a shaving cream/gel substitute! Just rub it into your skin before you go to shave, and the razor will be able to move across your skin without any problems. If you put some more baby oil on after shaving, you'll find that it also helps soothe your skin post-shave!
Do you use baby oil?
If you aren't stocked up on Johnson's® Baby Baby Oil, grab a bottle or two on your next trip to Walmart. You can find it in the baby products aisle right next to the baby wash and body lotion! Or do what I do and order it online at Walmart.com and have it shipped right to your door. So convenient and perfect for busy moms.
Adverse Claims Disclaimer: If someone is reporting an adverse event or a product quality complaint, please tell them to call the Johnson & Johnson (J&J) North America Consumer Care Center at 800-361-8068 during normal business hours of operation: Monday through Friday, 8 a.m. to 8 p.m. ET. After normal business hours, they can report adverse events or product quality complaints through www.jnj.com Contact Us page.