This post featuring an Almond Coconut Granola recipe is a sponsored conversation written by me on behalf of Silk. The opinions and text are all mine.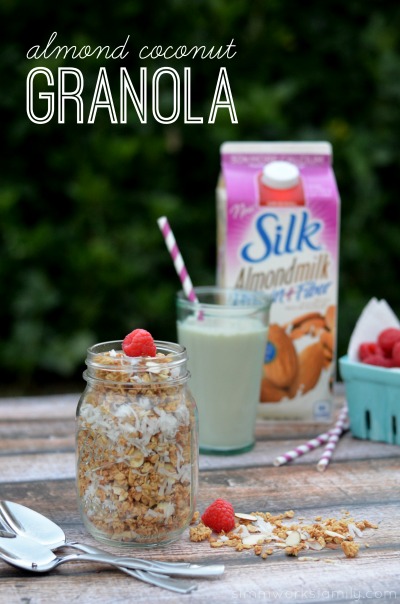 Over the years I've found that breakfast really is the most important meal of the day. So that means that choices made at breakfast need to be smart ones.
Something I always need in the mornings is a good protein packed fuel to get me going for the day.
But that doesn't mean I want to eat eggs and breakfast meat everyday so I've been searching for some other healthy alternatives to keep me satisfied. Quick to prepare is an added bonus!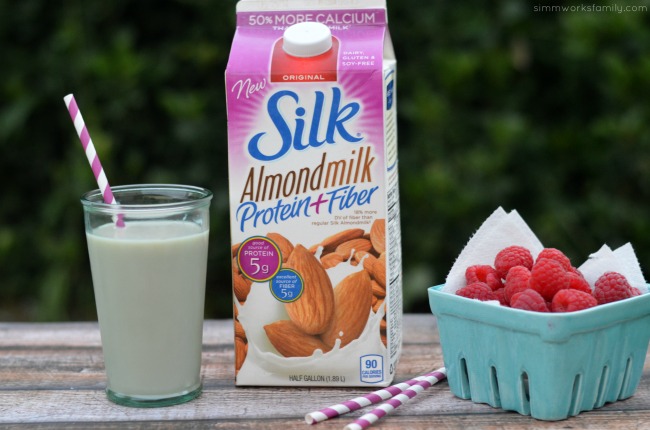 Last weekend I headed to the store for breakfast foods and found myself in the milk aisle. But I kinda wanted something different. So when I spotted the Silk Almondmilk Protein+Fiber I was curious.
Now I'm not an almond milk fan when it comes to drinking a whole glass plain but mix it into a smoothie or pour it over some delicious granola and I'm in!
So I put it in the cart along with some ingredients to make some homemade granola an I was in business for a protein packed, tasty breakfast for the week.

Almond Coconut Granola
3 cups old fashioned oats
1/2 cup slivered raw almonds
1/2 teaspoon salt
1/2 teaspoon cinnamon
5 tablespoon maple syrup
1/4 cup coconut oil
3 tablespoons honey
1 teaspoon vanilla
1/2 cup unsweetened coconut (shredded)
Preheat the oven to 300 degrees F.
In a large bowl, combine the oats, slivered almonds, salt, and cinnamon and stir to combine.
In a small sauce pan over medium heat, stir together the maple syrup, coconut oil, and honey until the coconut oil is melted. Remove the pan from the the heat and add the vanilla. Pour the liquid over the oat and almond mixture and toss to combine.
Prepare a parchment lined baking sheet and pour the granola mixture on top of the parchment.
Bake the granola for 30 minutes. Remove the baking sheet after 30 minutes and toss the granola. Place the baking sheet back into the oven for another 10 minutes to finish baking. Once the granola is done, remove the baking sheet from the oven and let the granola cool and add the coconut. Once cool, break the granola into pieces and store in an airtight container.
Serve as needed.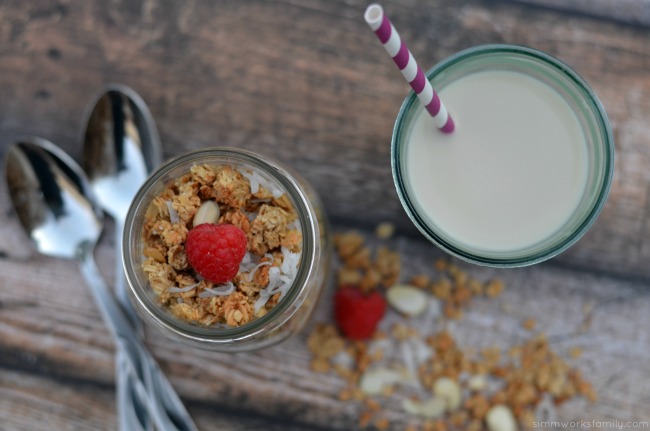 Not only was this delicious pairing a hit with me, but the kids loved it too. Win-win for when school starts and we need a quick breakfast to gobble up before leaving for school.
Interested in trying Silk Almondmilk Protein + Fiber yourself? Check out this awesome coupon here and save.
What's your favorite protein packed breakfast?
This is a sponsored conversation written by me on behalf of Silk. The opinions and text are all mine.