This post featuring tips on how to navigate health care plans is sponsored by UnitedHealthcare.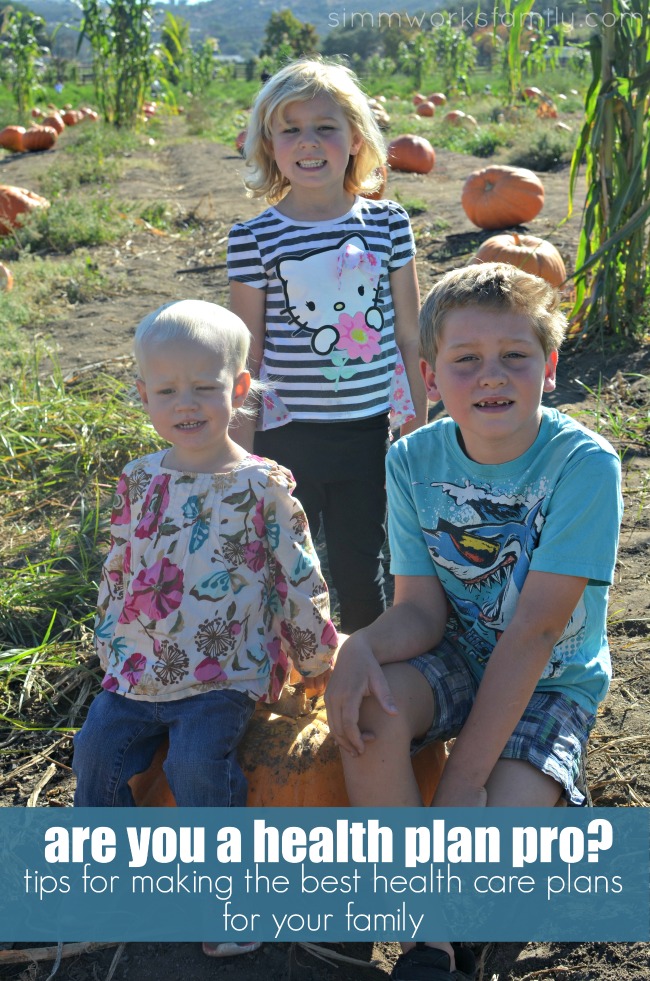 Having kids can be expensive. Even from the very beginning. Throughout pregnancy, childbirth, and the first year of life, if you haven't chosen the right health care plan for your growing family, health care costs can skyrocket. That's why it's good to know your options when open enrollment comes around so you know what health care plan to choose and how to get the best plan for your family.
When I was pregnant with my second child we switched over to a completely new health care plan. We had switched over from our old provider and weren't quite sure what to do. Luckily UnitedHealthcare was there to help us out and show us the ropes.
Now UnitedHealthcare is here again with a fun way for families to find out what health plan is best for them with two games to play on their website:Are You a Health Plan Pro andWhat's The Word.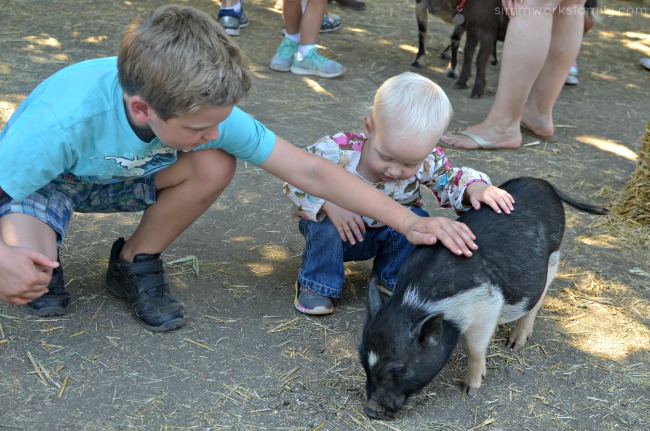 What's The Word
Our family's health is something that's very important to us but navigating the health care system can seem daunting. Luckily UnitedHealthcare is here to help make those choices a little easier. And they have a fun way of doing it too!
Right now they're running two fun activities where you can learn more about the world of health plans AND enter for a chance to win prizes. Pretty cool huh? These contests both run until November 30th.
The first activity you can participate in is an interactive crossword puzzle called What's The Word. The concept is pretty easy to understand. It's a terminology game where viewers have to fill in the correct word in the puzzle for the definition that it matches with.
While you're doing your crossword puzzle, print out this FREE printable so your kids can play along as well!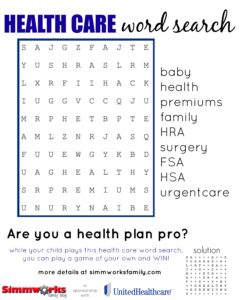 Are You A Health Plan Pro?
Done with the crossword and ready for more of a challenge? Then play Are You a Health Plan Pro? and jump into this 4-stage game:
Stage 1: Answer a few quiz questions about health care (mostly terminology)…if you get an answer wrong, it tells you the right answer so you are learning no matter what.
Stage 2: Play a matching game surrounding the three different types of health care accounts—the FSA, HSA, and HRA. You will be given three different descriptions of the accounts, and will have to drag and drop each account label to the description it matches.
Stage 3: Use United Healthcare's slide configurator to learn more about premiums versus out-of-pocket ratios. You will be given a family description and their health care needs (family of four / children 8 and 14, occasional need of prescriptions, visits ER once or twice a year, etc.) and must use the sliders to figure out the correlation between the premium and out-of-pocket costs for that specific scenario.
Stage 4: Use United Healthcare's ranker to organize 8 health care situations from least expensive to most expensive (examples are having a baby, going to urgent care, having a surgery). Once you rank them, it will correct any mistakes you made so you know which item belongs where in the list…it will also tell you how each item affects your out-of-pocket costs.
After you have completed each stage (should take a total of around 5-6 minutes) you will enter your name and email to be entered to win a prize. Then you will receive a score on a scale of 1 to 5 stars for how ready you are to purchase a plan. That way, you know whether you need to do more research or that you feel confident in yourself to purchase the best plan for you and your family.
There are prizes given for both the crossword puzzle and the Health Plan Pro game. There will be a $100 weekly winner chosen and $500 monthly winner chosen for each sweepstake. So on top of learning more about the health plans out there, you can win cash money as well. How awesome is that! Are you ready to play?
These are two separate sweepstakes and two separate chances to win prizes!
Play Are You A Health Plan Pro by clicking here | Play What's The Word by clicking here

How do you decide on a health care plan?
Want another chance to win big JUST for checking out these sweepstakes? Enter to win a $100 gift card to Amazon below!
Open to US only, 18+. Giveaway ends November 30th at 11:59pm PST and a winner will be randomly chosen December 1st and announced right here.
*Important: By completing any entry in our giveaways, you agree to ALL of our giveaway terms and conditions. Comments such as "Thank you for the giveaway" "I want to win" etc will not be counted as the mandatory entry and will be deleted. Please be aware that comments are moderated and may not appear right away. Make sure you use a valid email address so we may notify you if you've won! Giveaway winners will receive their prize through email directly from the sponsor. Winner must provide email address to receive this gift card.