Today we're sharing some great baby gift ideas for the third child with help from our sponsor, Huggies. Read on to find out what we're leaving under the tree for our little one this year.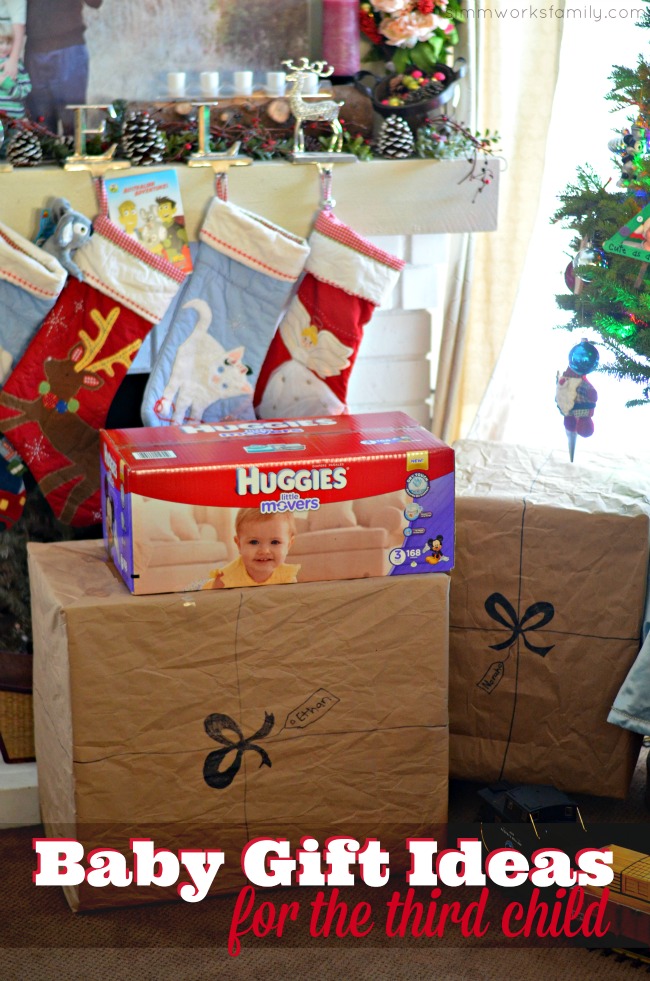 As a mother of three I never thought there'd come a day where I was clueless at what to get one of my children for Christmas. There's always something that they are wanting for even if it's a small book or toy. But for Baby's First Christmas, it's hard to look at everything we have handed down to our third child from the first two and think of something else she needs for Christmas. I did what I always do in these situations and reached out to my mama tribe. You know, that group of online women who will help out whenever you need them? And who would have known? Every.single.idea was something we already had or gifted to the other two previously.
Why not wrap up something they don't play with anymore and give it to her, right? Wrong. The other two would be mighty suspicious if I just wrapped up a bunch of their old toys to give to her. So, instead of wasting money on things she won't use, I've come up with some practical gifts to place under the tree this holiday season for the third child. Especially on their first Christmas.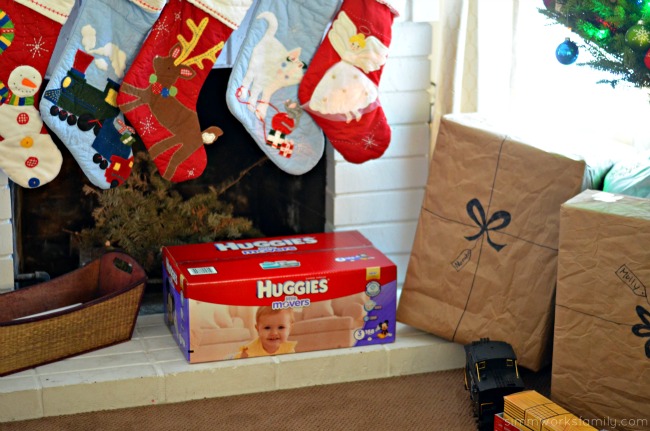 Baby Gift Ideas For The Third Child
1. Diapers
So maybe this sounds boring, but after making the switch to disposable diapers after our third child was born, I realized the importance of staying stocked up on the basics. Even if it's a bit boring. And with the hustle and bustle of the holidays, why not wrap a box of Huggies Little Movers diapers to put under the tree for your little one? My baby loves playing with the diaper boxes. In fact, she's pretty obsessed with the babies ON the boxes and continues to talk and wave to them every time she finds the box in my closet. So a box of diapers is not only fun for my 10 month old, but something we'll be using in the near future!
And like everyone else this time of year, I need to be able to easily grab what I need for baby and the family. Three kids means lots of parties, events, and presents to organize. So I get a little help during the holiday season – and throughout the year – with my Sam's Club membership. I can use Sam's Club pick up and have everything I've ordered ready for me when I arrive. Wrangling 3 kids in the store isn't always the most fun so the option to have everything ready for me when I arrive makes the trip a lot smoother.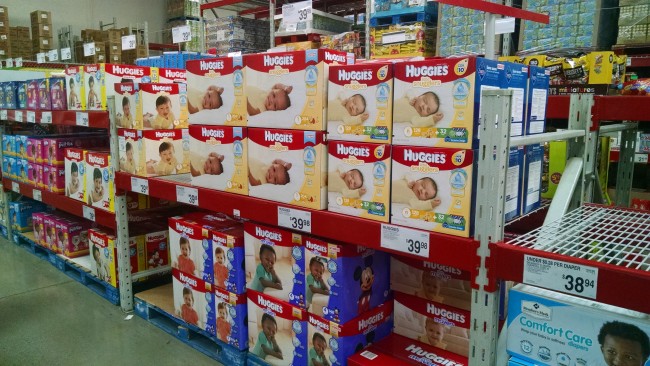 Our go-to brand of diapers for Norah when we made the transition was Huggies. We used the Little Snugglers and loved how soft and absorbent they were. We weren't woken up to find that they leaked at night like the others we've tried to use, and they kept her dry during the day as well. I was a huge fan of the wetness indicator! Now that she's moving non-stop (Did I mention she's cruising along now? Crazy how fast that happens!), we've switched over to the Huggies Little Movers. With DryTouch liner, contoured shape, Double grip strips, and leak lock protection, it's Huggies moving Baby System!
2. Wipes
Just like diapers, wipes are something we use for EVERYTHING. Not just wiping bottoms! From washing toys that fell on the ground at a restaurant, to cleaning off surfaces, to wiping faces, wipes are not only useful in various situations, but they're fun to pull out too. Just ask Norah. She's emptied a wipe container faster than any of the others. And I only had my back turned for a second! They also serve as a chew toy if you aren't fast enough to grab it too. Mmm… wipes!
I stock up on the big box of wipes from Sam's Club and then wrap each individual wipe up so there's more ripping and tearing. Then you can add the wipes back to the big box and wrap that up too! Who doesn't love more presents to open?
3.  Clothes
Now for older kids this is the most boring present to receive, at least for my son. My daughter jumps for joy at the sight of clothes. As long as she approves and loves. But babies… babies love to play in clothes. When Norah see's a freshly laundered pile of clothes on the living room couch she makes a bee line for them. And promptly pulls each and every piece off of the couch and onto the floor. So the dog can lay on them. FUN stuff right?
Since kids are constantly growing, and finding new ways to dirty up and stain their current clothes, new clothes is always a fun way to add more boxes under the tree to unwrap. Plus, if your baby is anything like mine, she'll have it out of the box and playing with the outfit on the floor in no time.
4. Sippy Cups
Sippy cups and bottles are always disappearing in my home. I can have a full cupboard one day and later in the week there's none to be found! Now that Norah is getting closer to a year, we're starting to make the transition from bottles to sippy cups so we'll be gifting her with a lot of varieties under the tree this year. The big man himself has even mentioned putting one or two in her stocking. The straw kind, of course. Because that's what she prefers right now. Easier to spit out the contents when she's sucking it out with a straw!
5. Boxes
Now of course the most obvious gift of all, and one we've been talking about all along, are boxes. Norah is a climber. You put down anything on the ground and she's climbing right over it. Even if it's only 2 inches up. Boxes are a huge deal to her and she loves being able to play with them. So we're practical and stock up on the boxes that come in the mail with other presents (remember that Sam's Club pick up? Well they also deliver too from online! Boxes galore here…). You can choose to wrap them, or leave them unwrapped. We prefer using some of the packing paper that came in the mailed boxes and recycling that as wrapping paper. Then grab a sharpie and start writing away!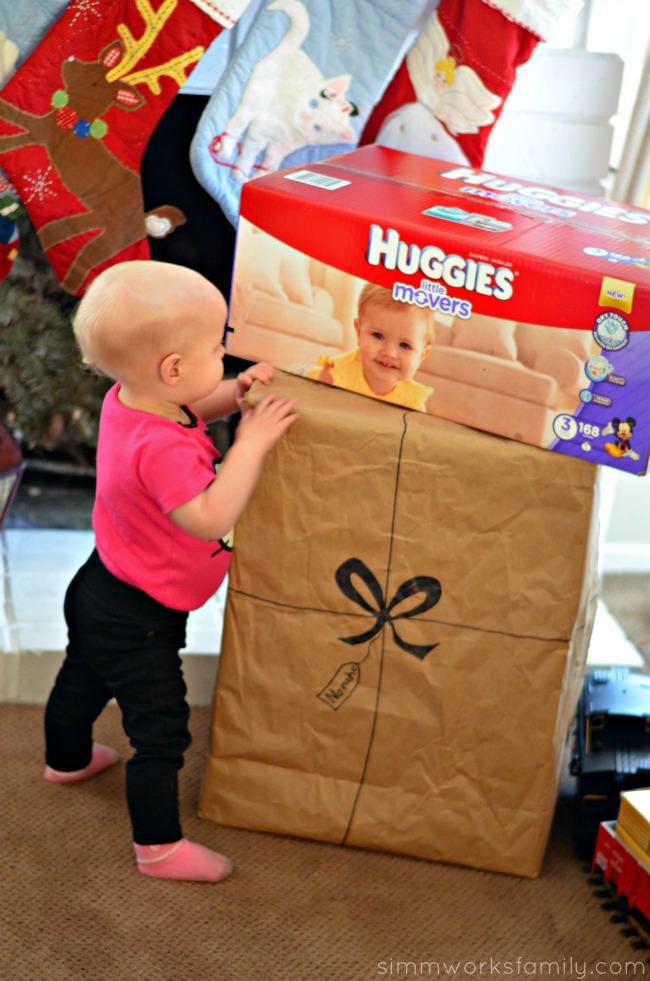 What will your baby be enjoying under the tree this Christmas?