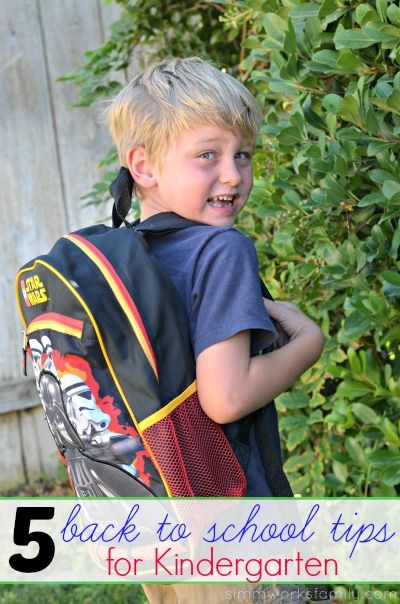 Your child is heading into one of the most important school years of their lives, are they prepared? There are several things you can do to prepare your child for kindergarten.
Over the past year I've been trying my best to prepare my son for his first year of elementary school but I'm sure there are still some things I could be doing. I've written out a few back to school tips for kindergarten to help me stay on track and, hopefully, give my son a successful chance at his first year of school.
Have a kindergartner too? Then you may be interested in a few of these… if not all!
#1. Reading
I'll always put reading as the number one thing you can do to help your kindergartner prepare for the new school year. Try and make reading as fun as possible. Reading should never feel like a punishment. If your child doesn't like to read, consider putting in a reward system for their benefit.
Since reading lays the foundation of all of their future learning, I'd say this is an important step. Granted, your child probably won't know how to read when they first enter kindergarten, but they'll most likely know how when they leave. If they can't read, replace that time by reading to them.
A reading nook at home may help make the child feel more welcome to sit down and take their time looking at the books you have in our home. A well stocked bookshelf can do wonders!
#2. Study Space
Kindergarten is a time when children will be introduced to studying and homework for the first time in their lives. It's wise to create a place where your kindergartner can do their "homework." This doesn't need to be a fancy space. However, it should be a spot that is made theirs.
Need ideas? Check out our DIY Homework Station for inspiration.
#3. Comprehension
There are several things you can do as a parent to make sure your child's day at school is not wasted. After school, consider taking the time to see how your child's day was. Help them break apart their day little by little. It's important that they understand how to comprehend what they've learned at school. It's also important that you know what's going on at school.
#4. Sleep & Eating
You may not understand the value of sleep and eating for kindergartners and their first year of school, but it's so important. Helping them get access to proper sleep and nutrition is truly the key to helping them get an academic advantage.
#5. Starting School When Ready
Just because your child is turning five, it doesn't mean they are ready for kindergarten. It's important to talk to the school your child will be going to and to trust their academic opinion. You know your child best though, so you'll also want to go with your instinct.
The most important tip to share with you is to have fun with kindergarten. It's about the academics, but it's also okay to have a little fun. Enjoy this time with your child and the memories you'll make this year!
Do you have a child going into Kindergarten this year?