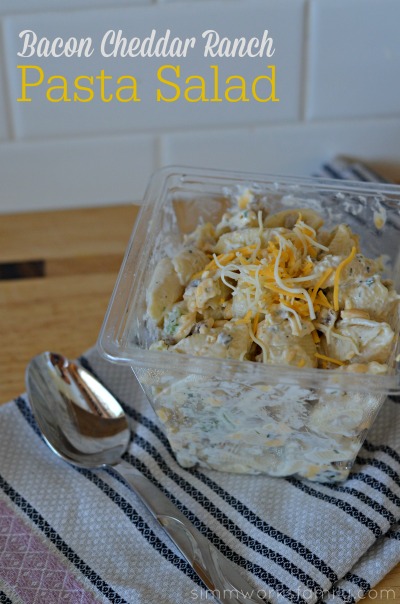 In the summer I'm all about easy side dishes. Especially when barbecue season rolls around and we have an invitation to something every other weekend. This bacon cheddar ranch pasta salad is my go-to when I'm in a rush and need something quick. Plus it's absolutely delicious!
If you're looking for a great dish that has fantastic flavor (come on… bacon and cheddar!?) then this is the side dish for you. Make a double batch or stick with a single for just your family. But whatever you do don't just sit down with the whole bowl and a fork. Because it will disappear fast!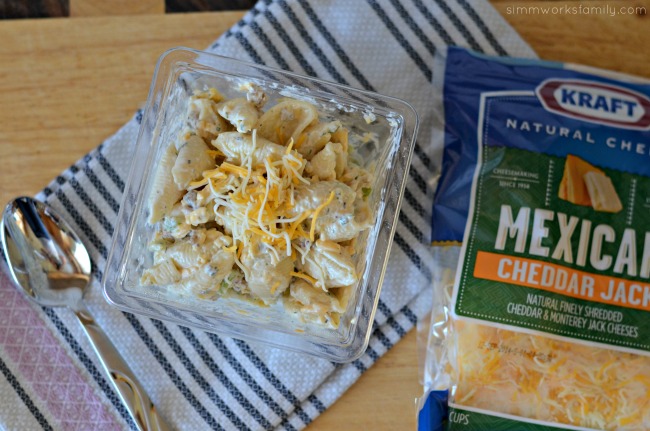 Bacon Cheddar Ranch Pasta Salad
Ingredients
1 (12 ounce) package uncooked pasta shells
10 slices bacon
1 cup mayonnaise
3 tablespoons dry ranch salad dressing mix
1/4 teaspoon garlic powder
1/2 teaspoon garlic pepper
1/2 cup milk, or as needed
1 celery stalk, chopped
1 cup shredded KRAFT Mexican Style finely shredded cheddar jack cheese
Instructions
Bring a large pot of lightly salted water to a boil. Cook pasta at a boil until tender yet firm to the bite and drain.
Place bacon in a skillet over medium-high heat and cook until evenly brown. Drain and chop. Or use microwavable bacon if you don't want to deal with the hassle.
In a large bowl, mix mayonnaise, ranch dressing mix, garlic powder, and garlic pepper. Stir in milk until smooth. Place pasta, bacon, celery and cheese in bowl and toss to coat with dressing. Cover and chill at least 1 hour in the refrigerator. Toss with additional milk if the salad seems a little dry.
What's your favorite summer side dish?