I don't know if I've mentioned this before but I love traditions. And when I had kids I knew I wanted to create some traditions with my little family that we could continue to do every year. One of those traditions was going to a pumpkin patch every year. And not just any pumpkin patch, Bates Nut Farm. Ok… so no, it's not called Bates Pumpkin Patch but this farm is a great location for family fun during the Fall season.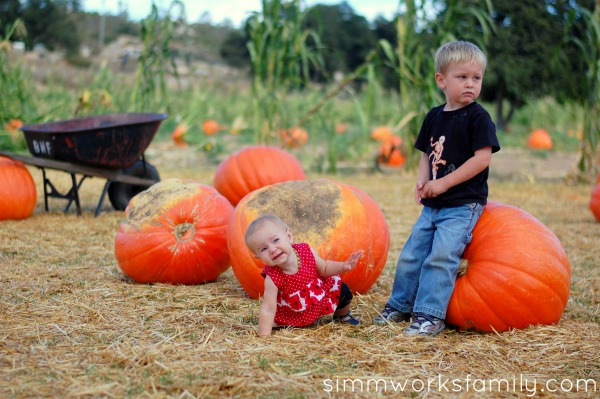 What to do at Bates Nut Farm
We checked out the awesomely huge pumpkins and picked out some nice medium sized ones to take home. Then we headed over to ride the tractor train. This is one of our son's favorite things to do at the farm. We bought a (very affordable – $7.75) pumpkin package that included:
1 pumpkin
1 tractor ride
1 straw maze
So after we went on the tractor ride we headed over to the maze. Now this isn't a huge, can't see over the top of the corn and hay type of maze (and there's no way we could get lost and have to call 911 to get us out of there) but it's still fun and perfect for the little ones.
E made his way to each stamp station and placed a stamp in the coordinating box on his stamp card. At the end of the maze you're supposed to turn in your card to get a prize but E lost interest and wanted to check out what else the farm had to offer… animals!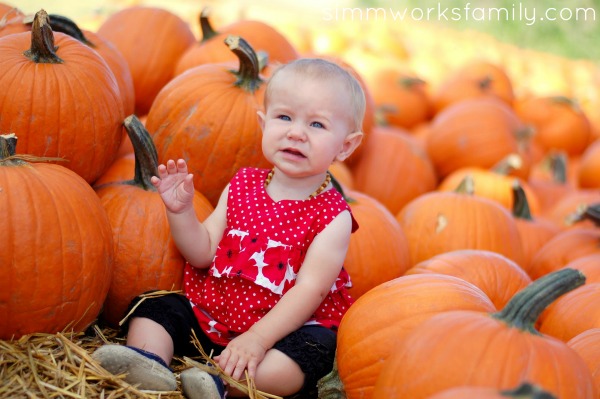 Enjoying the Petting Zoo
Now we asked E when we first got there what he wanted to do. And he responded by saying he wanted to ride the ponies and pet the animals. So we headed over to the ponies. And to our surprise E didn't want to go on them. He wanted to go play with the goats and chickens. So we paid our entrance to the petting zoo and headed in.
We were greeted with goats and sheep of different sizes, some chickens roaming around and some adorably cute little bunnies (and a larger bunny). Both kids pet just about every single animal in the corral. And they had a great time doing it. Miss M walked around while holding Daddy or Mommy's hand and kept pointing to each animal she wanted to go to. Once E saw the little bunnies there was no getting him away from them. He wanted to feed them, hold them and cuddle them until we had to drag him out.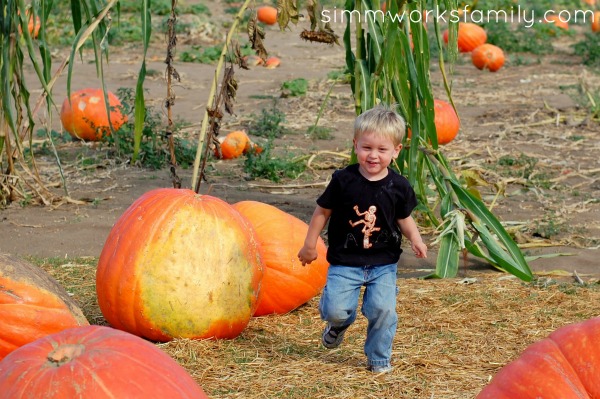 Fun Finds at the General Store
After we pet every animal on the farm we headed up to the general store to see what goodies we could score this year. Last year I indulged in some delicious pumpkin fudge so I wanted to try something different. Right away the kids spotted the barrels of candy so we let them get a small amount to take home. And I ended up choosing a bag of walnuts as my treat. I'm still thinking of what I want to make (or bake) with them.
All in all it was a great family day. And I hope the tradition stays alive and we continue to enjoy Bates Nut Farm for years to come!
And a little tip? Head over about 30 minutes before they open to enjoy the farm without a crowd. You'll have first dibs at the best pumpkins of the morning and will get some awesome photos without harsh sunlight. And less lines for the fun rides and animals.

What Fall traditions does your family have?