Last weekend I hosted an awesome playoff party for family and friends in celebration of getting our new, amazingly awesome big screen from Best Buy the week before. We wanted to celebrate the playoffs while talking about our new electronic devices with family and friends.
With the geek squad setting up everything for us, the only thing left for my husband to do was mount the screen to the wall. And invite his friends and family over so we could celebrate! The rest was left up to me. And I was up for the challenge!
I love hosting parties and celebrating just about any occasion. So this party was a blast to plan and put together. We used a few things we already had from past years celebrations and mixed them in with some new editions.

Big Game Party Ideas: Snack Bar
Every big game needs a snack bar. Somewhere people can go throughout the game to grab some munchies. Our snack bar was conveniently located behind the main food spread and blocked off by the crepe paper backdrop I created.
I hung up some football lanterns I picked up at the party store by using removable Command hooks (easy removal!) and set out popcorn, Pretzel Crisps, and individual pretzel cups in this awesome football popcorn box template I picked up from HWTM.
I also included some smaller plates, napkins, and these awesome football snack baskets (also found on HWTM). The kids loved the football snack baskets and filled them full of all of the goodies they wanted to munch on.
Big Game Party Ideas: Decorations
A big must for this party were the bleachers that held the sodas and cupcakes and the goal post centerpiece. I had envisioned them since I first started planning the party and was SO happy with the way they turned out.
My husband was a huge help with these. With a little explaining from me he turned spice racks and some scrap board (found in the As-Is section) from Ikea into the bleachers. He then helped cut and glue together a dowel I had painted to form the goal post seen in the centerpiece.
While he was doing all of that, I was creating this awesome football pennant banner. Then, while enjoying our new TV, I caught up on some episodes of Dexter while I created the crepe paper background you see in the back. I'll be excited to use that in the near future for my son's birthday party.
Big Game Party Ideas: The Main Spread
Now, aside from the decor and the snacks, the main spread is probably the most important key to throwing an awesome football party. So I wanted to stick with favorites among the crowd coming over.
Here's what we served up:
flatbread pizza
buffalo wings with ranch
pierogies
cheeseburger sliders
angel food cupcakes with football toppers
soda
condiments
I also had a veggie tray and chips with salsa on our dining room table for guests to munch on near the snack bar. Everything was a huge hit, even with the kids! I set everything up on top of this football field table runner I made a while back.
 Football Cupcake Topper Printable
The kids loved the cupcakes the most. These were simple angel food cupcakes with whipped cream I dyed green. Then I made these cupcake toppers from a printable I created and glued them onto tooth picks. Super easy and inexpensive too!
You can print your own cupcake toppers by using this printable here.
One of the best moments of the night was seeing how happy my husband was as he showed his new TV off to his family and friends. He would show them the different features, talk about how easy it was to have Geek Squad install everything, and overall how great the process was.
Everyone had a great time, we were excited to watch the game together, and I enjoyed seeing all of my hard work pay off.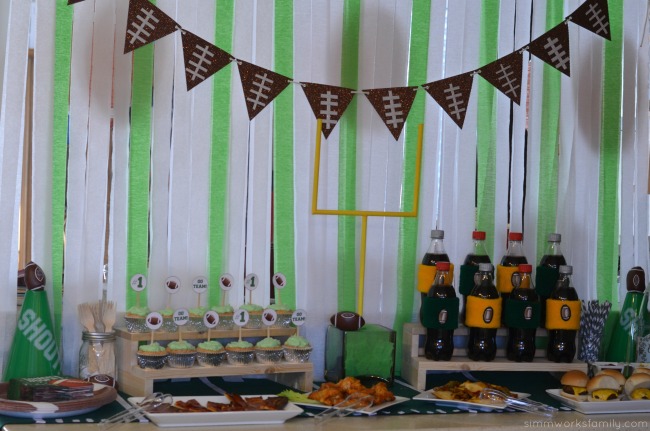 How will you be celebrating the big game?