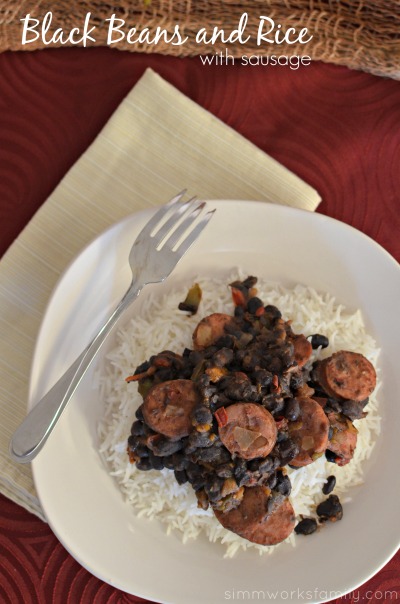 As many know, I love a good bottle of wine. But with this pregnancy I've had to find more useful ways of incorporating wine into my life. Luckily I was recently sent two bottles of Oberon wine, a Sauvignon Blanc and a Cabernet Sauvignon. And I knew exactly how to use one of them!
This black beans and rice with sausage recipe is one of my favorites and is full of flavor. It takes only a few minutes to throw together into a pan and about 20 minutes of simmering on low.
I served this to a few friends for lunch one afternoon and paired it with the Oberon 2013 Sauvignon Blanc for the non-pregnant women. They were quite delighted with the flavor and how it paired with this dish.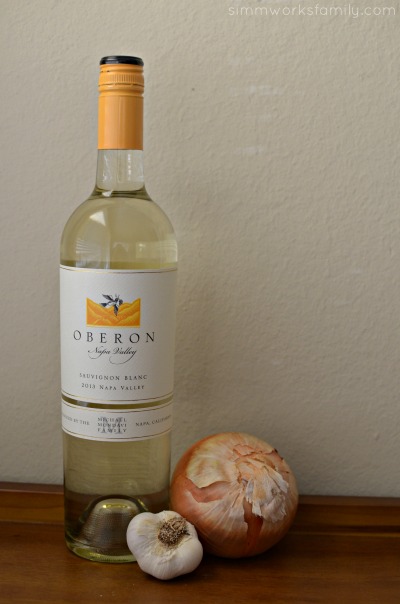 With the addition of a good white wine, this dish is taken from ordinary to extraordinary. The Oberon 2013 Sauvignon Blanc is the perfect wine to enjoy with dinner and in dinner!
This wine is distinctive in style because the fruit is sourced from both the warmer Oso Vineyard (46%), located in northeastern Napa Valley, and the cooler Milliken Vineyard (54%) in the southern part of the valley. The cold-fermentation in tanks creates pureness of fruit and aromatics, with a subtle creaminess and length.
Enjoying a glass of this Sauvignon Blanc with this dish is the perfect way to enjoy the perfect evening.
By using a few shortcuts this meal is something I keep on regular rotation. With a well stocked pantry and freezer I can grab everything I need at any time.
I keep canned black beans in the pantry and frozen onions and bell peppers in the freezer to enjoy this meal. Having these types of recipes in my arsenal makes meal planning a lot easier!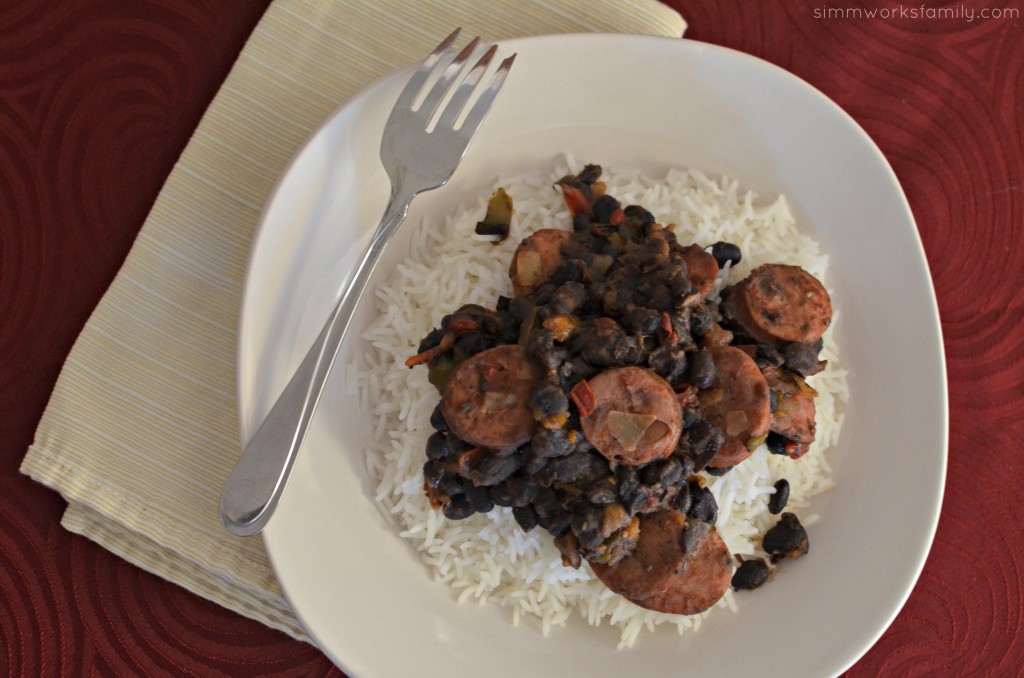 Black Beans and Rice with Sausage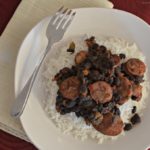 1 tablespoon olive oil
1/4 cup chopped onion
1/8 cup chopped bell pepper
1 clove minced garlic
1 can black beans (15 ounce, undrained)
1/2 cup Oberon Sauvignon Blanc
1/2 teaspoon oregano
1/8 teaspoon sugar
1 teaspoon cumin
2 sun dried tomato chicken sausage links
2 cups cooked rice
Heat the olive oil in a medium saucepan. Sautee the onion, bell pepper, and garlic until tender, about 8 minutes. Dice up the sausage and throw it in the pan whe the peppers and onion are 1/2 way through cooking.
Add in the remaining ingredients (except the rice) and stir until boiling. Reduce hte heat and simmer 15-20 minutes until the sauce is reduced. Serve over cooked rice.
What recipes do you incorporate good wine into?