When I purchased my bread machine I thought that all I'd be making was bread. Shortly after getting married I swapped out a Kitchen Aid mixer we received (we already had one) for my Zojirushi
and I instantly looked for great recommendations for bread books. That's when a co-worker of mine mentioned that not only could I make great bread in my machine but I could make basically any type of yeast dough I wanted in it.
I was so overwhelmed with just the making bread part that I filed that info away. Until my husband brought up wanting to make hamburger buns from scratch. Then I really got started…
Now whenever I want some dinner rolls, pizza dough, or even cinnamon rolls, I just grab the bread machine. It truly is an amazing appliance and I'm so glad I got one when I did. On my list of must haves in the kitchen it's up there with the coffee maker, rice cooker and microplane grater. Seriously… if you love bread and dough you must invest in a bread maker!
Ok… enough about the appliance and onto this dough. I've made a few other dough recipes in the past but none turned out as perfect as this one from Williams Sonoma. I was able to thinly roll the dough out on my countertop and then transfer it to my hot pizza stone without any tears. It was so easy to work.
And the end product spoke for itself. Flavorful, light and airy. 
The crust held all of the toppings onto it without drooping. Now that's my kind of crust! If you have an itch to make your own dough from scratch then I highly suggest trying this recipe out!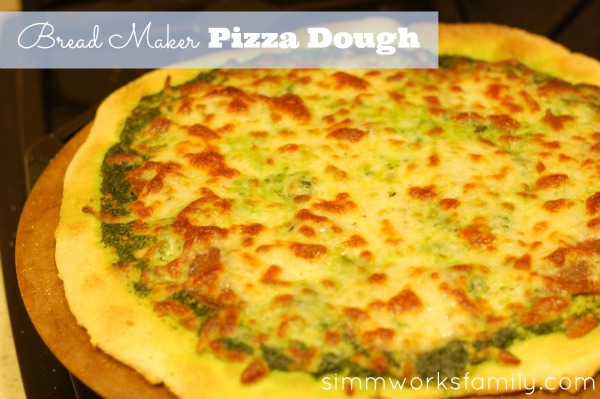 Bread Maker Pizza Dough
1 cup warm water (105° to 115°F)
2 Tbs. olive oil
1 tsp. salt
1 1/2 cups unbleached all-purpose flour
1 1/2 cups whole wheat flour
1 Tbs. active dry yeast
In the bread pan of an electric bread machine, combine (in this order) the warm water, olive oil, salt, flour and yeast. Set the machine for Pizza Dough according to the manufacturer's instructions and process through the cycle.
Transfer the dough to a lightly floured work surface. Punch down the dough and divide in half. Form each half into a ball and cover with a clean kitchen towel. Let the dough rise in a warm place until doubled in size, about 40 minutes. Roll out as directed in the pizza recipe.
Makes two 12-inch rounds.
Disclaimer: This post contains affiliate links. By clicking through to the sponsor's website your are helping support the Simmworks Family Blog.