I participated in a Blogger Activation on behalf of Mom Central Consulting for Stonyfield. I received coupons to facilitate my shopping trip and a promotional item to thank me for participating.
Mornings can be pretty hectic in our home but with a good routine in place I've come to learn how to make things smoother. By planning ahead and utilizing some great on the go breakfast ideas for busy mornings, the hassle of figuring out what to prepare in the mornings has lessened.
Recently I was asked to check out Stonyfield's new products – YoBaby, YoToddler, and YoKid yogurt pouches. These are the first refrigerated organic yogurt pouch available in stores and come in a variety of flavors.
All of the Stonyfield organic yogurt pouches contain pure organic ingredients and never any high fructose corn syrup or artificial flavors. Meaning I don't have to worry about what's going into my kids bodies. I know exactly what's there!
In order to see which flavors my kids liked I got a variety of pouches. I knew my daughter would love the YoBaby vanilla and blueberry pouches. My son's a bit more adventurous so I grabbed a few YoToddler flavors.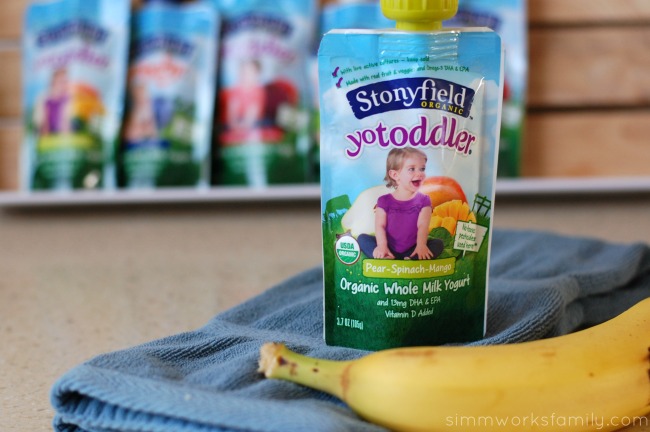 My daughter – being predictable – loved the vanilla and blueberry. She enjoyed them with a banana for a quick and easy breakfast before preschool.
My son didn't have any preference to flavors and tried each of the YoToddler flavors (including the ones with beets!) along with a serving of fruit during breakfast time. He also requested that we bring them to the zoo as a snack on the weekend.
We've been Stonyfield fans for quite a while. The yogurt tubes are one of my kids favorite snack choices and we always have a box in the fridge.
Having organic products available for my kids to enjoy is pretty important to our family. With all of the chemicals and GMO laden foods out there it's nice to know there are great healthy organic options for my family to enjoy.
Check out what Stonyfield has to offer and see if the Stonyfield organic yogurt pouches are sold near you. Connect with Stonyfield on Facebook or follow them on Twitter at @Stonyfield.
 What's your favorite on-the-go breakfast option?