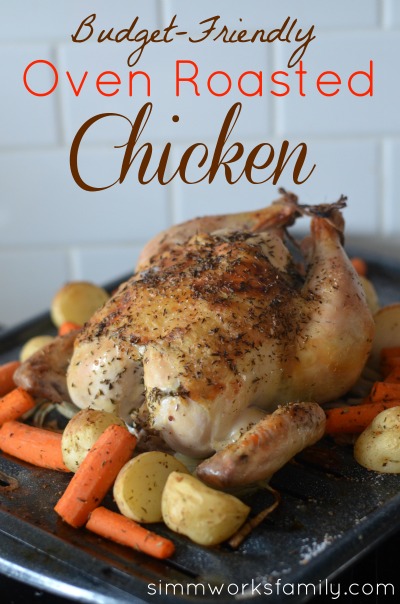 While on Nutrisystem I've started to adapt easily to this lifestyle change. And that doesn't mean I'm the only one eating healthy! I've also continued to prepare delicious, healthy meals for my family as well.
One of my favorite budget friendly recipes has to be this oven roasted whole chicken. Not only is it an amazingly delicious meal (and comes with the sides all on one roasting tray) it also provides a good amount of left overs to use in other meals throughout the week.
Plus I can use some of the breast meat as my Power Fuel option for lunch on top of a delicious spinach salad with veggies. Score!
While roasting a whole chicken may seem like a daunting task, once you tackle it the first time, the next few times after that are even easier. You could even throw the whole thing in a crock pot like I sometimes do. But the taste of the roasted version is always something I turn back to!
Oven Roasted Whole Chicken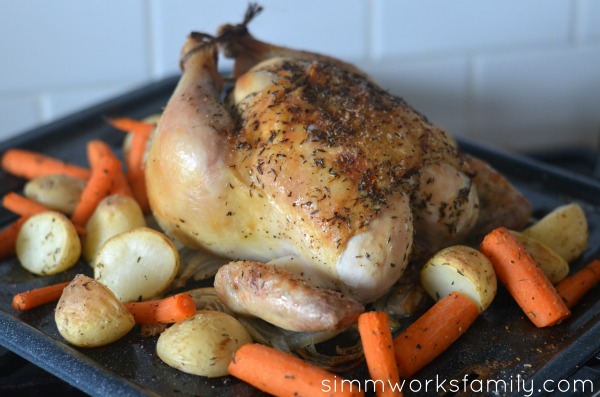 Oven Roasted Whole Chicken
Ingredients
1 three-pound whole chicken, giblets and neck removed
2 tablespoons unsalted butter
Salt and pepper
1 medium onion, peeled and sliced
1 lemon
2 large cloves garlic, peeled
2 tablespoons thyme
Instructions
Let chicken and butter stand at room temperature for 30 minutes. Preheat oven to 425 degrees.
While chicken is getting to room temperature, take onion slices and spread onto a roasting pan making a bed for the chicken to cook on.
Rinse chicken inside and out under cold running water. Dry chicken thoroughly with paper towels. Cut off any excess fat or skin from the chicken and tuck the wing tips under the body.
Place the chicken on the roasting pan and sprinkle the cavity of the chicken liberally with salt and pepper, set aside.
Grab the lemon and pierce entire surface with a fork. Using the side of a large knife, gently press on garlic cloves to open slightly. Insert garlic cloves, thyme, and lemon into cavity (I sprinkled the thyme all over the lemon and the juices kept it on).
Cut about 18 inches of kitchen twine, bring chicken legs forward, cross them, and tie together.
Spread the softened butter over entire surface of chicken, and sprinkle liberally with salt and pepper. Place in the oven, and roast until skin is deep golden brown and crisp and the juices run clear when pierced, about 1 1/2 hours.
When chicken seems done, insert an instant-read thermometer into the breast, then the thigh. The breast temperature should read 180 degrees and the thigh 190 degrees.
Remove chicken from oven, and transfer to a cutting board with a well. Let chicken stand 10 to 15 minutes so the juices settle. Once the chicken has rested, carve and enjoy!
What's your favorite chicken dish?