Chicken is a main staple in this home. And knowing multiple ways to serve it to my family only makes my job easier. So when I was asked to review 125 Best Chicken Recipes by Rose Murray I knew I couldn't turn down the opportunity. Plus there was a delicious chicken fajitas recipe I just had to share with you!
Not only has 125 Best Chicken Recipes been an easy recipe book to follow, it's filled with great ideas for all sorts of different cuisine and flavor profiles. I can find something to make when my girlfriends come over or something to make for my selective kids.
And the chicken fajitas dish I'm sharing today is something that was so simple to whip up in under 30 minutes! Definitely a great chicken dish to add to my collection of go to recipes.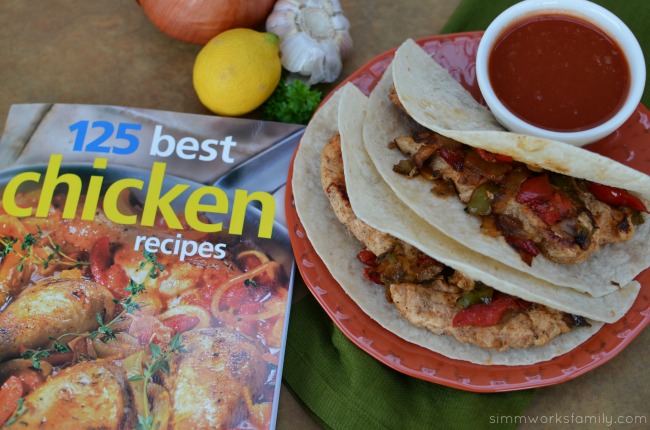 I love how the author sets up each recipe. She starts by sharing exactly what you need to do to prep before even giving you the ingredients.
So for this recipe I preheated the oven first and prepped the pan the chicken and veggies would be cooking in. Then she lists out he ingredients in both the metric and imperial measurements so if you prefer to weigh out your ingredients (or you don't use imperial measurements) you can easily follow along with out any conversions.
Each chapter is also nicely divided with certain topics to follow along. And included in the back is a great glossary for reference and quick location of specific recipes.
And now for the good part – the chicken fajitas recipe!
You can purchase the book here (affiliate link): 125 Best Chicken Recipes
Chicken Fajitas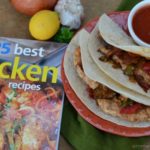 1 lb skinless boneless chicken breast
2 tbsp vegetable oil
1 tbsp fresh lime juice
1 tsp chili powder
1/2 tsp ground cumin
2 large onions (in wedges)
2 large red bell peppers (cut into wide strips)
salt and pepper
8 large flour tortillas
1 cup shredded lettuce (optional)
2 avocados (peeled and sliced)
tomato salsa
sour cream
Preheat oven to 400 degrees F. Grease a large shallow roasting pan.
Cut chicken crosswise into 5 or 6 strips. Toss with half the oil; add lime juice, chili powder and cumin; set aside.
Combine onions and peppers in prepared roasting pan. Drizzle wtih remaining oil; sprinkle with salt and pepper. Add chicken mixture; stir to combine and spread out in the pan. Roast in preheated oven, stirring once or twice, for 20 to 25 minutes or until chicken is no longer pink inside and vegetables are tender.
Meanwhile, wrap tortillas lightly in foil and place in the oven for 10 minutes to heat.
Transfer chicken and vegetables to a heated platter and serve with tortillas, lettuce, avocados, salsa, and sour cream. Have each diner spoon some chicken mixture into a tortilla, top with lettuce (if desired), avocado, salsa, and sour cream to taste; roll up to eat.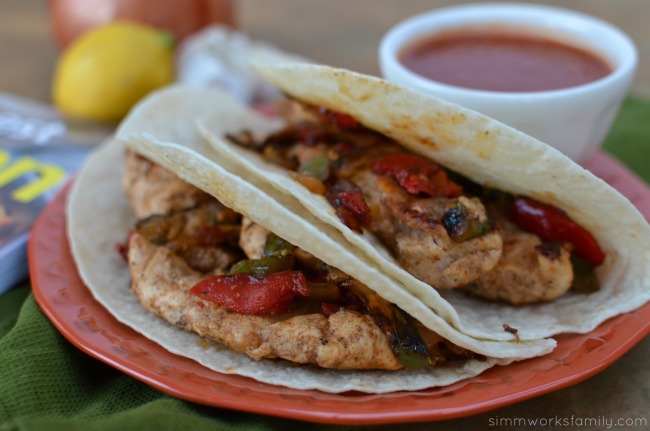 What's your favorite chicken dish?