This shop featuring the perfect coffee gift basket and a cinnamon marshmallow recipe has been compensated by #CollectiveBias, Inc. and its advertiser. All opinions are mine alone. #ChooseSmart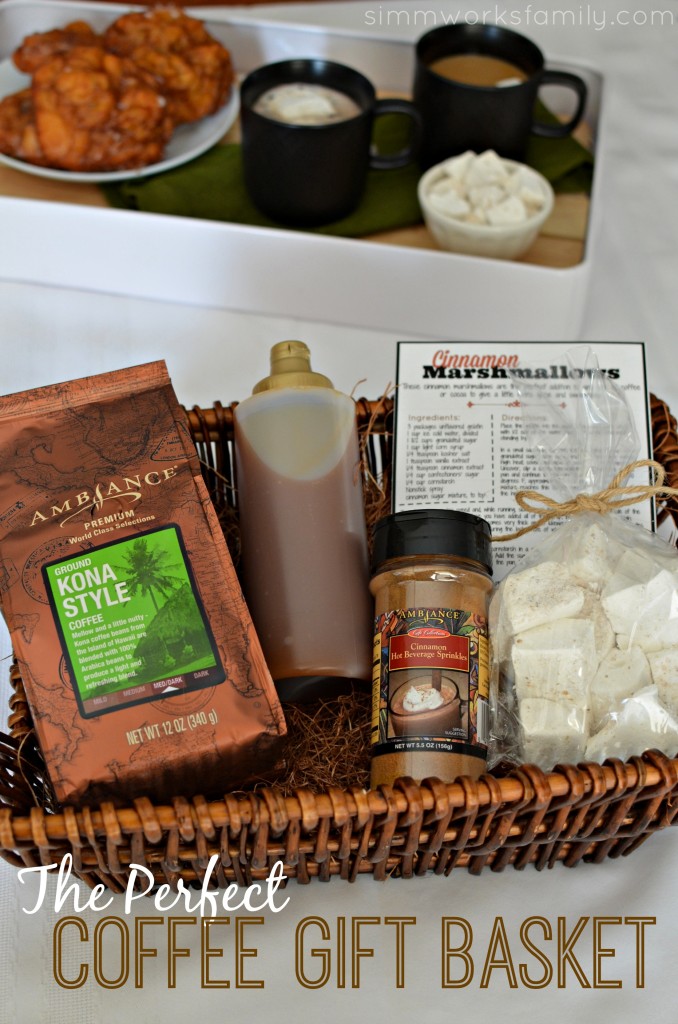 As I've mentioned before, my good friend Nadia will be leaving soon and off to her next adventure as her husband gets new orders. So I've been wracking my brain with what I could give her that was easy to pack and would remind her of our friendship.
Since most of our time together is spent watching the kids and drinking coffee I thought that a coffee gift basket with her favorite treats would be the perfect gift! And adding a homemade element (with a recipe card, of course) just added that perfect personal touch.
What would be better than enjoying a delicious caramel coffee drink topped with homemade cinnamon marshmallows before gifting her the gift basket? 

To gather all of the supplies I needed for my gift basket I headed off to Smart & Final, my favorite warehouse store to do one-stop shopping for everything I need.
I was able to grab some delicious Ambiance coffee, caramel syrup, cinnamon sprinkles, and the rest of the ingredients for the cinnamon marshmallows I decided to make.
Plus I picked up some apple fritters to enjoy with her when we met up for our weekly cup of coffee. They paired perfectly with the caramel coffee and marshmallows.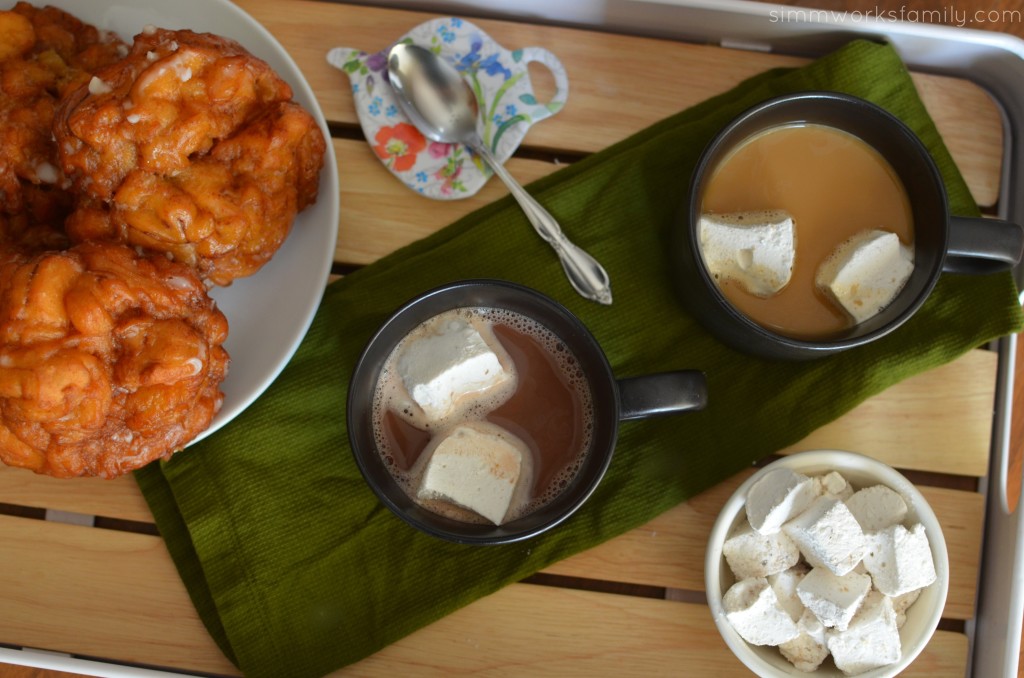 One thing I love about these marshmallows is that they're great to make ahead and then store to use for up to 3 weeks after. That way I can make them in advance before the craziness of the holidays and then use them at get togethers.
And since I love sharing my recipes, I included a recipe card in the gift basket so that Nadia could make her own marshmallows once she's settled into the new place.
To print your own Cinnamon Marshmallow recipe card for your coffee-themed gift basket download this PDF here. Print on a 5×7 card or paper and include in your basket with your marshmallows!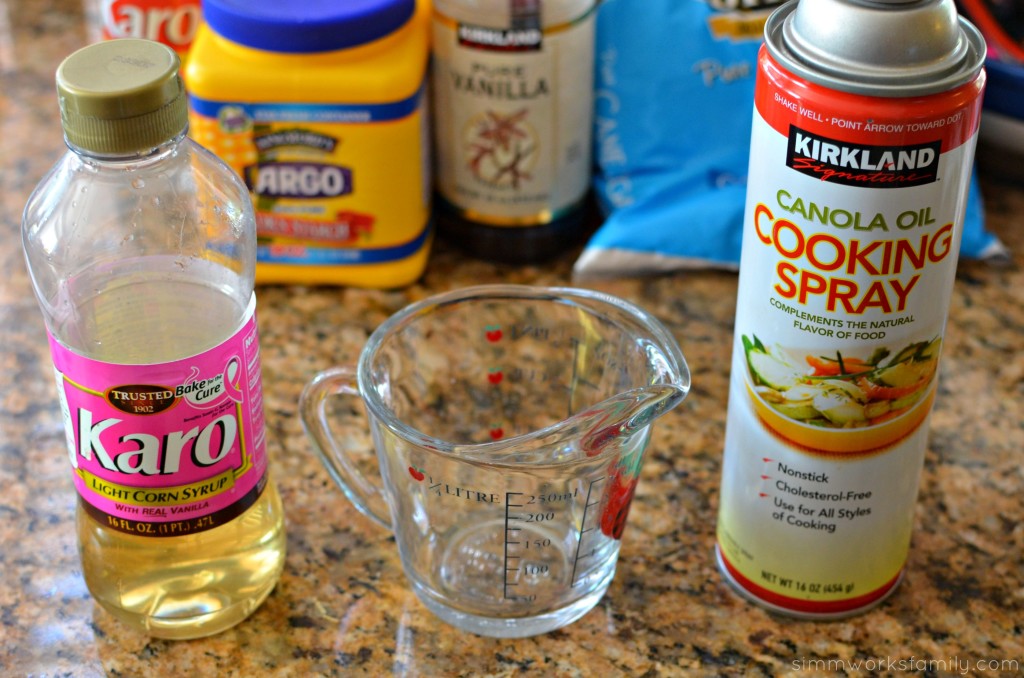 Tip: When pouring corn syrup into the measuring cup, spray the cup with nonstick cooking spray first so that the syrup pours out easily without sticking to the walls! This is also great to do to the spatula you'll be using to scrape out the marshmallow mixture into the pan.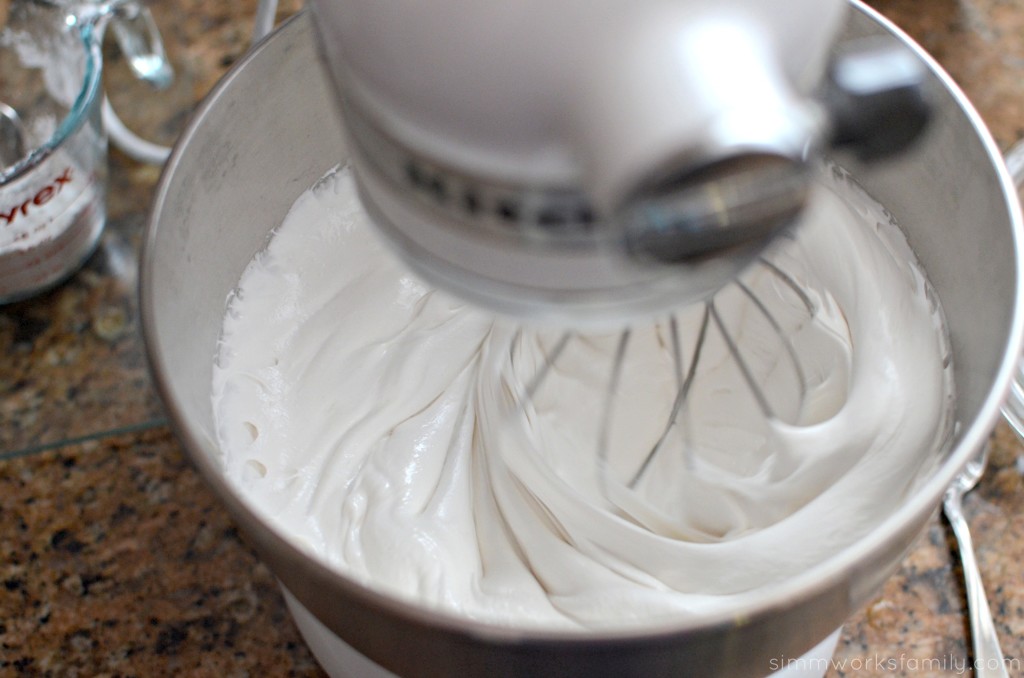 With so many different varieties of Ambiance coffees available at Smart & Final it was hard to make hte decision of what to grab for our coffee together (and for the basket) but I went with a favorite: Kona Style coffee.
Once brewed I simply drizzled in some caramel syrup and stirred to dissolve. After the caramel was dissolved I added some creamer to mine and milk to hers and topped with the cinnamon marshmallows.
So good!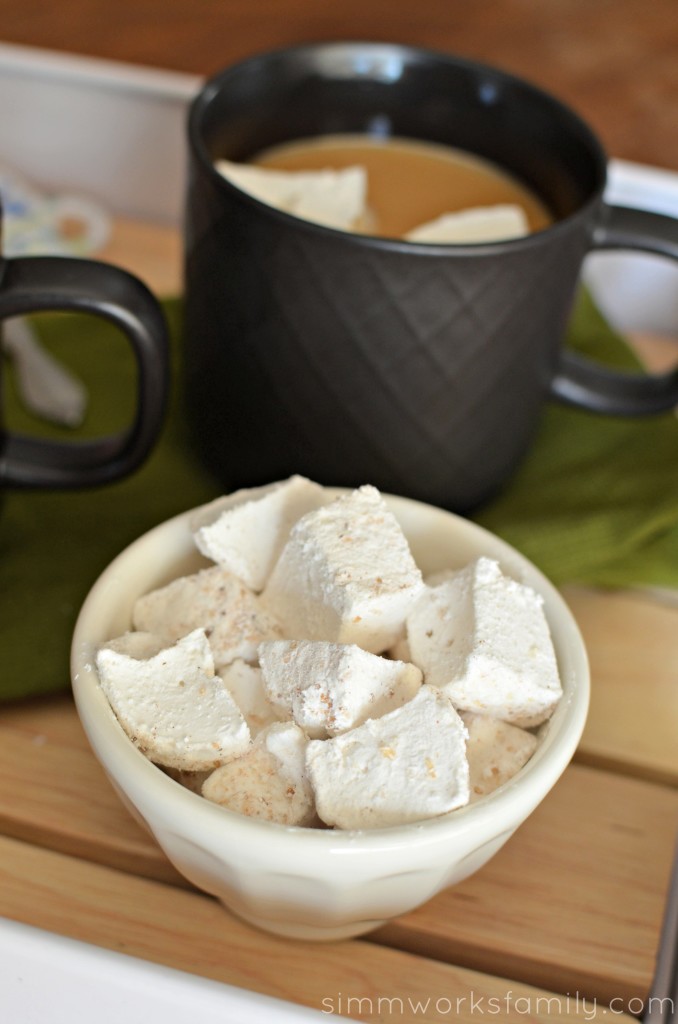 Cinnamon Marshmallow Recipe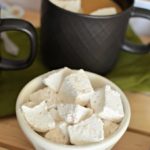 3 packages unflavored gelatin
1 cup ice cold water (divided)
12 ounces granulated sugar (approximately 1 1/2 cups)
1 cup light corn syrup
1/4 teaspoon kosher salt
1 teaspoon vanilla extract
1/4 teaspoon cinnamon extract
1/4 cup confectioners' sugar
1/4 cup cornstarch
1/4 cup cinnamon sugar mixture
Nonstick spray
Place the gelatin into the bowl of a stand mixer along with 1/2 cup of the water. Have the whisk attachment standing by.
In a small saucepan combine the remaining 1/2 cup water, granulated sugar, corn syrup and salt. Place over medium high heat, cover and allow to cook for 3 to 4 minutes. Uncover, clip a candy thermometer onto the side of the pan and continue to cook until the mixture reaches 240 degrees F, approximately 7 to 8 minutes. Once the mixture reaches this temperature, immediately remove from the heat.
Turn the mixer on low speed and, while running, slowly pour the sugar syrup down the side of the bowl into the gelatin mixture. Once you have added all of the syrup, increase the speed to high. Continue to whip until the mixture becomes very thick and is lukewarm, approximately 12 to 15 minutes. Add the vanilla and cinnamon extract during the last minute of whipping. While the mixture is whipping prepare the pans as follows.
Combine the confectioners' sugar and cornstarch in a small bowl. Lightly spray a 9 by 9-inch metal baking pan with nonstick cooking spray. Add the sugar and cornstarch mixture and move around to completely coat the bottom and sides of the pan. Return the remaining mixture to the bowl for later use.
When ready, pour the mixture into the prepared pan, using a lightly oiled spatula for spreading evenly into the pan. Dust the top with enough of the remaining sugar and cornstarch mixture to lightly cover. Reserve the rest for later. Allow the marshmallows to sit uncovered for at least 4 hours and up to overnight.
Turn the marshmallows out onto a cutting board and cut into 1-inch squares using a pizza wheel dusted with the confectioners' sugar mixture. Once cut, lightly dust all sides of each marshmallow with the remaining mixture and cinnamon sugar mixture, using additional if necessary. Store in an airtight container for up to 3 weeks.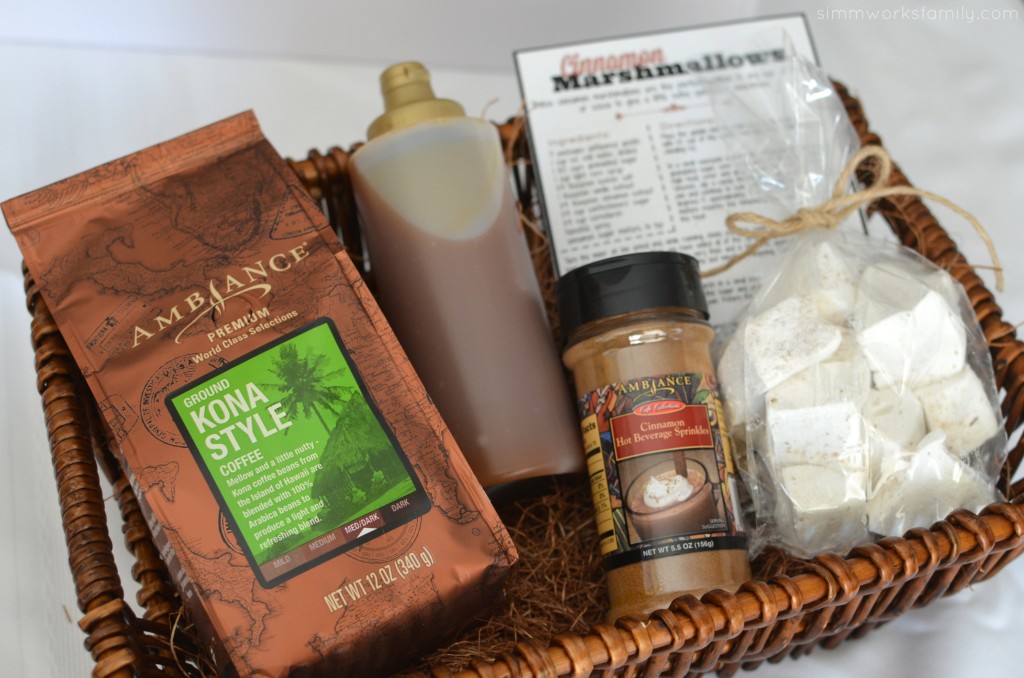 After enjoying your cup of coffee, don't forget to check out the Ambiance promotion running from October 15 – 28!
Smart & Final will be giving away 10 coffee makers and 10 $100 Smart Cash Cards. Customers are eligible to win by purchasing Ambiance products and entering a code from their receipt on the sweepstakes site here. Good luck!
What is your go to gift basket item?