I participated in an Ambassador Program on behalf of Mom Central Consulting for Brother P-touch. I received a product sample to facilitate my review and promotional item as a thank you for participating.
The holidays are upon us! And for me that means busy season. Not only are we crafting up a storm this time of the year but I'm also working a lot as well. So that means organization is key.
Since my craft room and office are the same workspace (shared with the kids playroom) I really need to stay on top of the organizing so that nothing goes missing. Because it has before.
My secret weapon for tackling my craft room organization is the Brother P-touch PT-H100 label maker. With it's ease of use, multiple options, and quick printing, I can have everything I need to get my craft on right in front of me and easily identifiable.
Craft Room Organization Ideas
My craft room was a huge mess before I started cleaning and organizing. But now it looks pretty. And along the way I picked up a few great ideas for craft room organization. Here they are:
Use various size jars and boxes to hold like-craft items in. Buttons can all go in a large vase, safety pins in an old q-tip holder. I've found that mason jars work really well for just about any craft supply!
Group together craft items that will be used together. Put all of your sewing supplies in the same area and the glitter and glue in another area.
Utilize shelves, peg boards, organizing units, etc to help store everything. I've had great luck with finding Ikea shelves in the As-Is section and using them in my office/craft room for storage.
Clearly label each jar using a Brother P-touch PT-H100 label maker so you know exactly what each container has inside.
Only keep what you know you'll use in the next year. If you REALLY want/need it but won't be using it, pack it away and store it somewhere else. Craft room space is precious.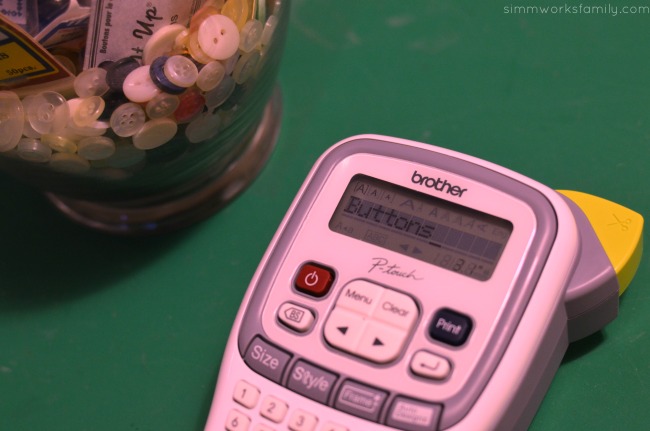 Once I got everything organized, sorted, and in the right spot I was able to easily label everything so that I could clearly see what supplies I had on hand. The photo below definitely shows how much cleaner my craft shelves look now that they've been made over.
And I was SO tempted to label my sticker maker even though I know what it is. What if a stranger didn't know? Yes… I might go back and label it.
Now I'm ready to continue my holiday gift making and crafting so that I can do what I love and give some homemade gifts this year. Next spot to tackle? The holiday decorations! Now that's going to be a large job.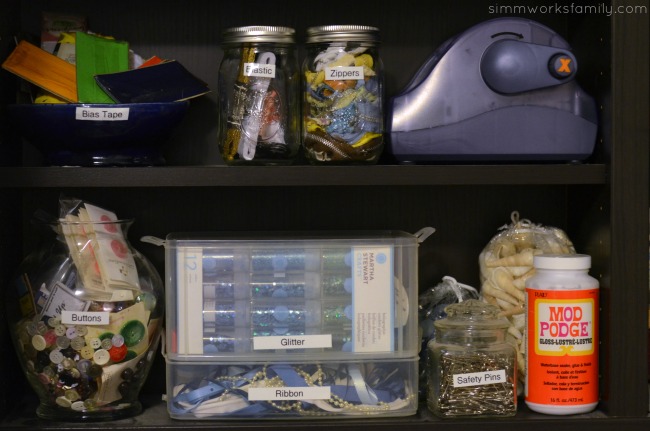 To celebrate their 25th Anniversary, Brother P-touch will be having special promotions and deals at select retail locations. Check out your local Office Max, Staples, or Office Depot for more information.
Check out the Brother P-touch website to learn more about their products and what they have to offer.
How do you stay organized through the holidays?