My kids love to craft. And sometimes they ask to make random things. This past week I had a day with just my daughter and asked her what she wanted to do. Her answer? She wanted to make snowmen. In September. In 80 degree weather.
Being the awesome mom that I am (i.e. hoarder of all craft supplies) I dug into my collection of random crap supplies and we created the perfect craft stick snowman ornament. She made one and so did I.
Even though it's not technically Winter – I mean we just arrived into Fall – we had a great time crafting together and created some pretty cute snowmen. I'm sure grandma will appreciate them!
Craft Stick Snowman Ornament
What you need:
large craft sticks
white craft paint
colorful felt or craft foam (including orange and black for sure!)
Buttons or sequins
Ribbon
Black permanent marker
Elmer's glue
Scissors
What you do:
Paint the craft sticks white and let dry completely.
Cut strips of felt to make scarves, fringe the ends with scissors if you'd like or leave them as is.
Cut a small orange triangle out of felt or craft foam. Cut a hat out of black craft foam.
Use the permanent marker to draw tiny dots for the eyes and mouth. Glue the orange nose in place.
Tie the felt scarf around the snowman's neck or fold it over to look like it's blowing in the wind and then glue it in place. Glue on hat. Glue buttons or sequins in a line below the scarf.
Cut a piece of ribbon 4-5 inches long for the hanger. Fold in half and glue the open ends together on the back of the snowman's head.
Let everything dry and hang it up on your tree!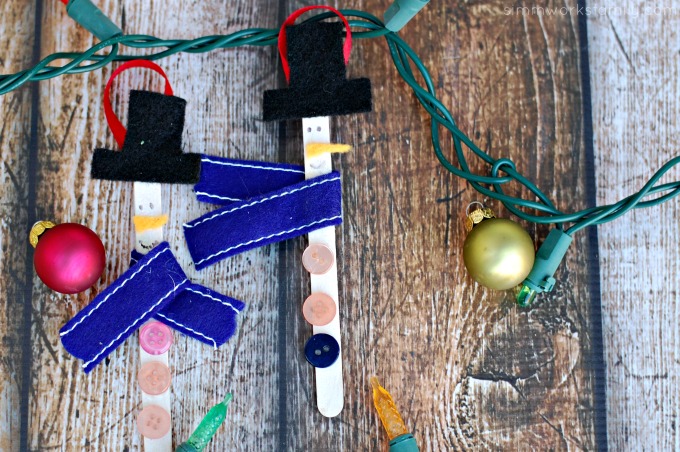 What's your favorite holiday craft?