Another month behind us and my have you grown! And not just in size. I cannot believe how quickly you are picking up on things and trying them out on your own. From vocalizing just about everywhere (the folks at Costco loved hearing you chat today) to trying to master sitting, you are a woman on the go!
Curious about anything and everything, you want to be front and center when people are around. And you always love when your siblings come to play with you morning, noon, and night. While I think they're a bit smothering, you don't seem to mind one bit.
I'm still amazed at how easy going you are. Go with the flow, able to adapt, and all with a smile on your face. You truly are a blessing to our family.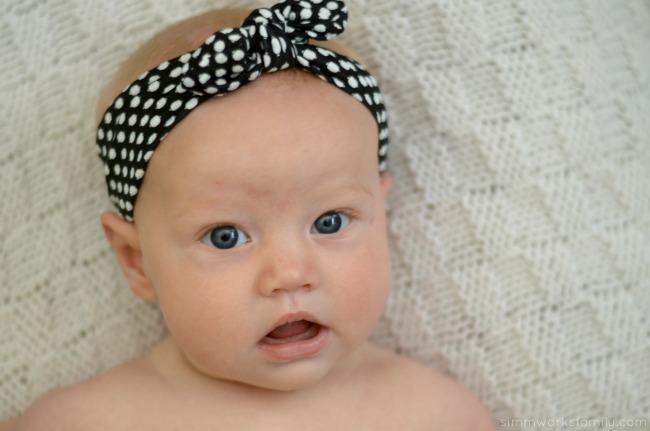 I'm not the only one to think you're a blessing. I see the way others react when you start chatting with them. Or share your smile with them. You light up the room and everyone knows you're there. And even though you've been under the weather with a cold for a majority of this month, it's not slowing you down!
I'm constantly getting comments about how alert you are. But you've been alert since day one. And? I'm fairly certain you'll be moving any day now. From the way you can spin around in a circle when you're on your tummy, to how you try and lift up your butt already when on the ground. We're going to be in trouble soon.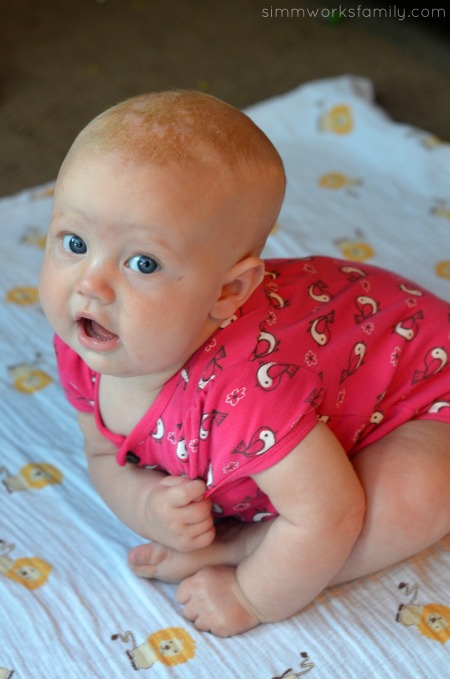 You're still a chart topper and your doctor was very pleased with where you are developmentally. While he gave the green light for food because of your development (he mentioned starting around 5-6 months but saying that you were ready now), we'll be waiting a bit to really start. However we have been giving you small tastes here and there.
We're so blessed to have such a healthy and happy baby and are so looking forward to this next month! Keep doing what you're doing baby girl. We love you.
4 Month Stats:
17lbs 4oz – 98th percentile
26 1/2 inches – 97th percentile
44cm – 97th percentile
4 Month Comparison