This shop featuring a DIY 3-D Dinosaur Wall Art tutorial has been compensated by Collective Bias, Inc. and its advertiser. All opinions are mine alone. #ProjectAmazing #CollectiveBias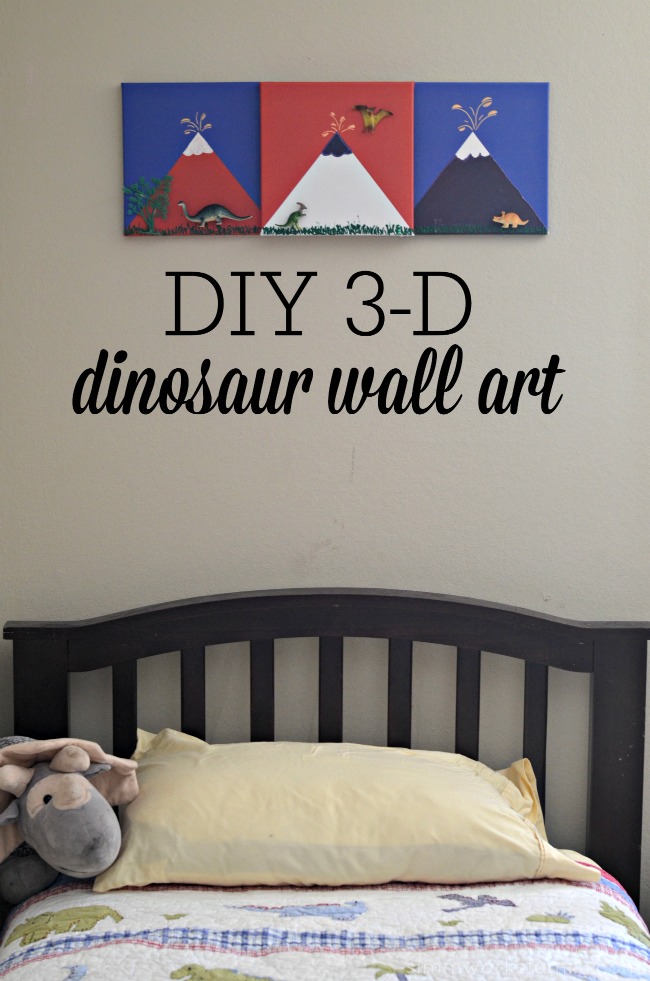 A few weeks ago we were perusing IKEA in search of… honestly I completely forget what. But I'm sure it was something we needed. While we were there we also found a nice duvet, a rug for right by our sliding glass door, and a set of 3 geometric canvases that my son desperately wanted. Turns out the canvases were on clearance so all we had to do was figure out what we wanted to do with them.
My son didn't want to paint over them. He loved the triangles and the colors. So we had to think of some way to incorporate the triangles into our idea. I went with him into his room and looked at what we already had going on. Some large canvas pieces from Pottery Barn Kids (clearance, of course) with a rocket on one and a t-rex on the other, his 1 year cake smash photo, and the cross stitch his great aunt made him with his birth date and stats on it.
Then I looked down and saw what he had on the floor. Dinos spread out everywhere…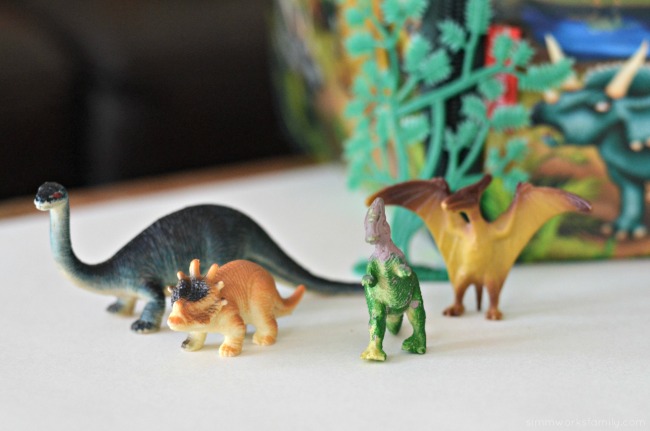 And the idea popped in my head! Those triangles were going to turn into volcanoes and a few extra dinos from the dinosaur box would add to the scenery. But how to attach everything together? Do I cut open the dinos? Use glue?
I really didn't want to make a mess everywhere. Especially since the kids wanted to help out. So I kept it simple. I grabbed some Command™ picture hanging strips and Command™ Clear Hooks as well as some Scotch® Permanent Double Sided Tape to adhere the dinos onto the canvas.
The Command™ picture hanging strips would be the perfect way to layer the canvases on top of one another to create a 3-D effect. Plus, if we ever wanted to display the 3 canvases seperate, there's no worry about ruining the canvas underneath.
Here's how I did the rest: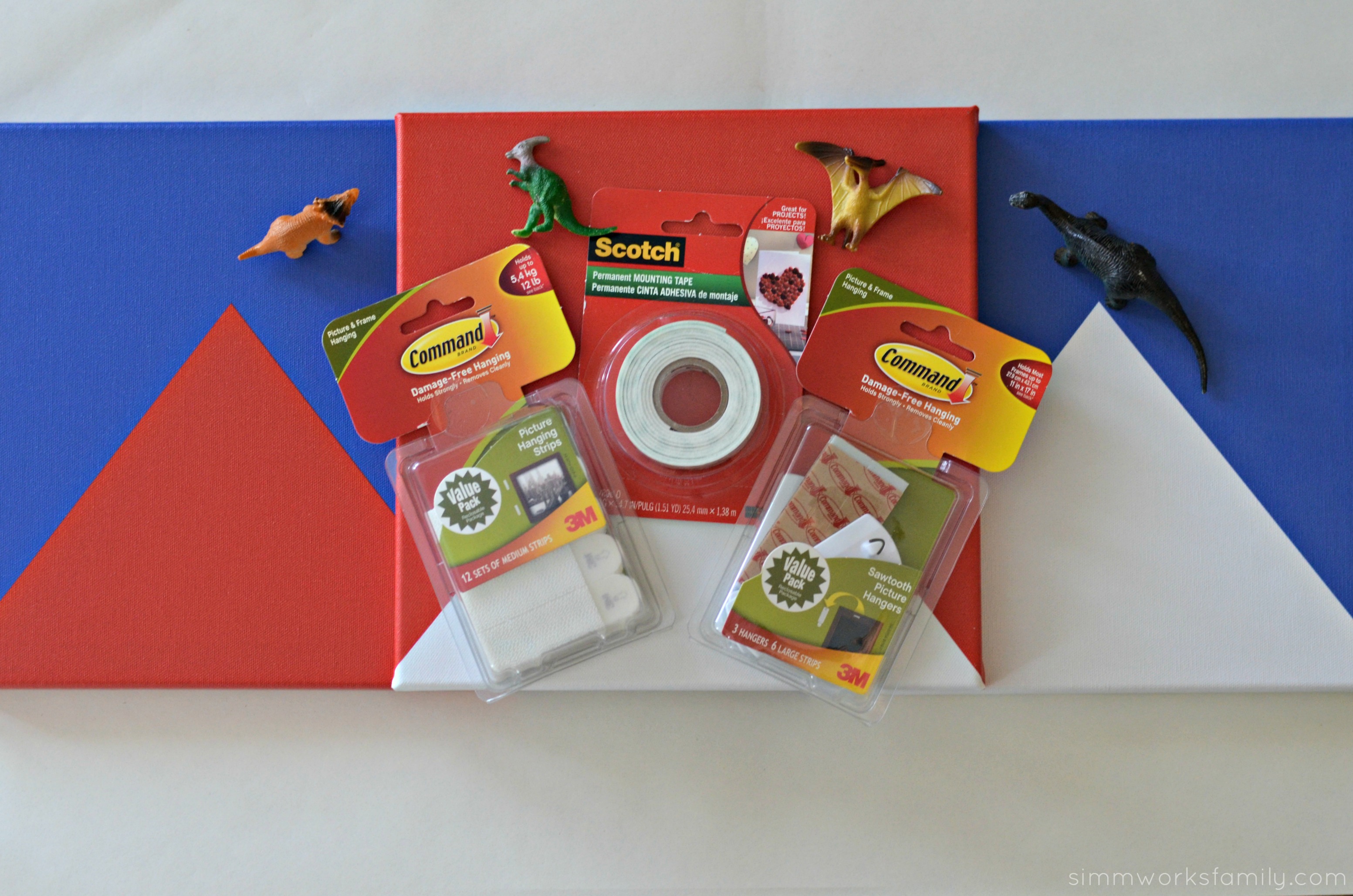 DIY 3-D Dinosaur Wall Art
What you'll need:
3 square canvases with sawtooth mounting
a handful of small dinos and greenery
paint or paint markers
green puffy paint
Scotch® Permanent Double Sided Tape
Command™ picture hanging strips
Command™ saw tooth picture hangers
What you do:
On the canvas, paint out the scenery you want for your dinos. As I mentioned before, we turned our triangles into volcanoes by adding tops to each volcano and some lava spurting out with an orange paint pen. I outlined one of the triangles I painted in with puffy paint to make it stand out.
Once the mountain scenery is dry, add grass by using the puffy paint. You could also use regular green paint to do this but since everything else is 3-D I think the puffy paint gives it a nice touch.
After the grass is dry, figure out where you want to mount the dinos. Then add pieces of the 

Scotch® Permanent Double Sided Tape to each dino and mount onto the canvas. 

Next up, grab 4 sets of 

Command™ picture hanging strips (8 strips total) and put each set together. You'll hear them connect together with a satisfying click. Once each set has been clicked together, remove the backing on one side and add two to the left edge of one canvas (the one you want to be on the right hand side), and add the other two to the right edge of one of the other canvases (the one you wnt to be on the left side). 

Now remove the backing from all 4 sets and set the third canvas on top of the other two overlapping the edges by the width of the Command™ picture hanging strips.
Using the 

Command™ saw tooth picture hangers, mount the canvases to the wall where you'd like to hang them. 
Tada! Now you have fantastic 3-D Dinosaur Wall Art to display for all to see. 
Command™ Brand provides damage-free hanging solutions for a wide variety of uses for your craft projects. Their products hold on strongly, remove cleanly. That way I don't worry about damage to my walls, holes left in random places, or a mess left in it's place. Find more inspiration for amazing summer project ideas here.
Now shoppers no longer have to search Walmart for these 3M products, as they are now available in the crafting aisle. Both Scotch® Brand and Command™ products are available in this aisle at Walmart. I found mine near the adhesives!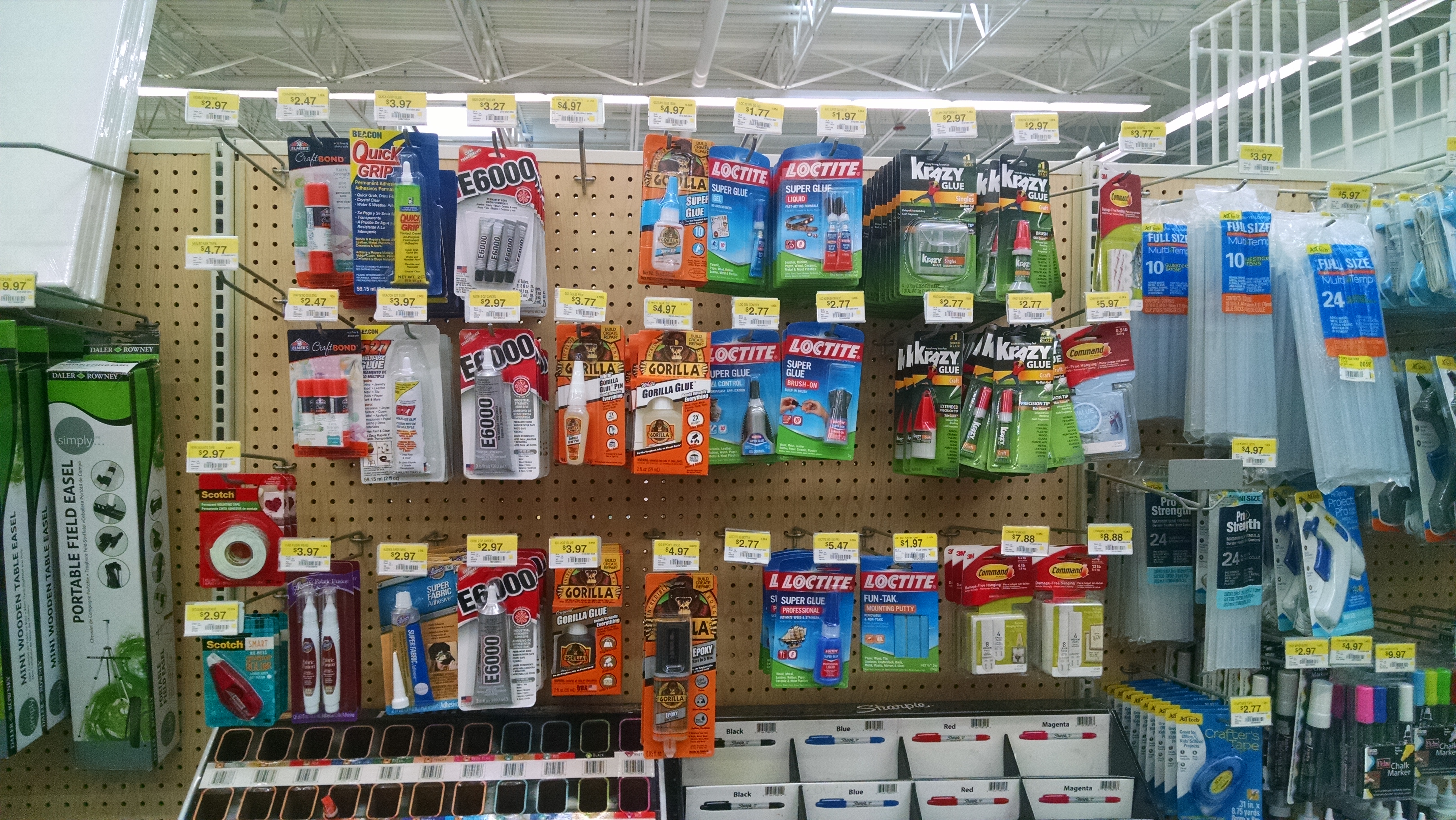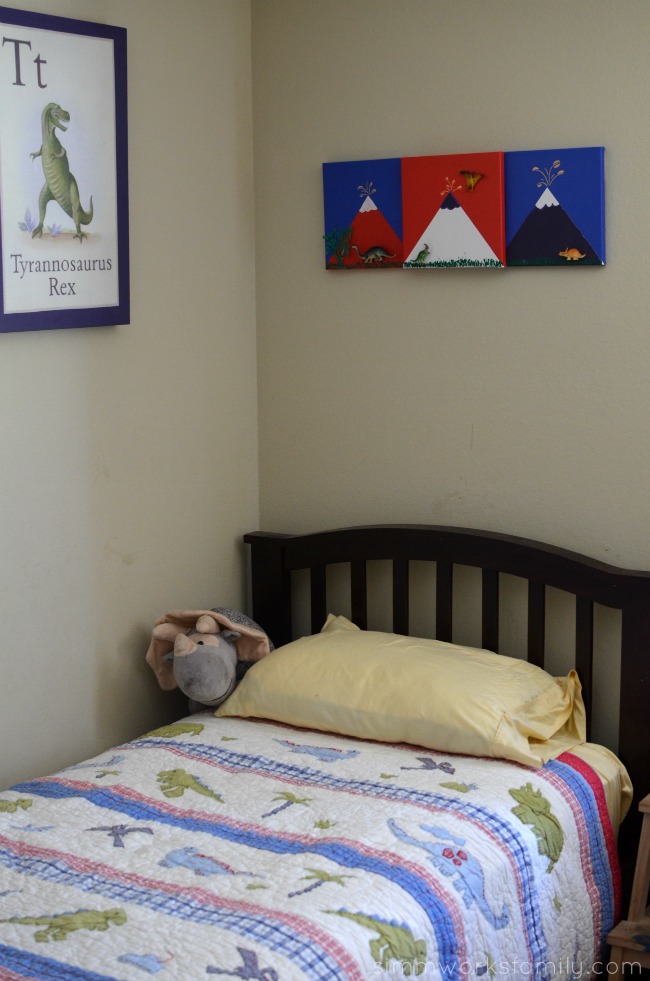 Where do you find inspiration when crafting?