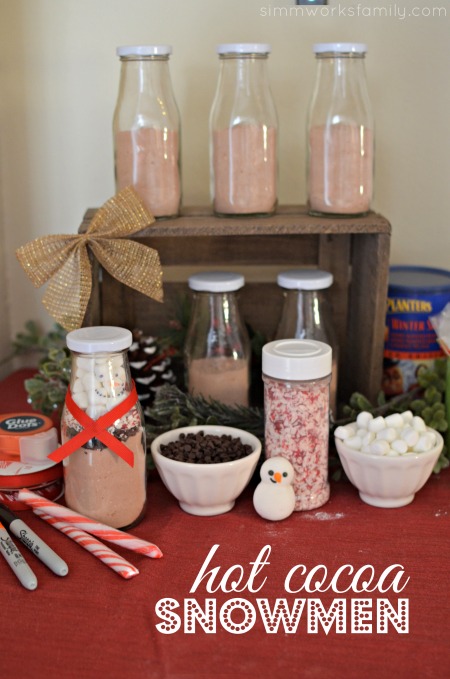 We recently shared our tips on how to host a Holiday Gift Making Party to get in the festive spirit and get ahead on a few homemade gifts. One of those gifts, this hot cocoa snowman, is such a fun way to spread holiday cheer and includes a homemade hot cocoa recipe you could make batches of to save for later.
The best part about these little jars is that the kids can easily get involved in filling and decorating the jars. And what kid doesn't love working with mini marshmallows and mini chocolate chips? One for you, two for me, one for you…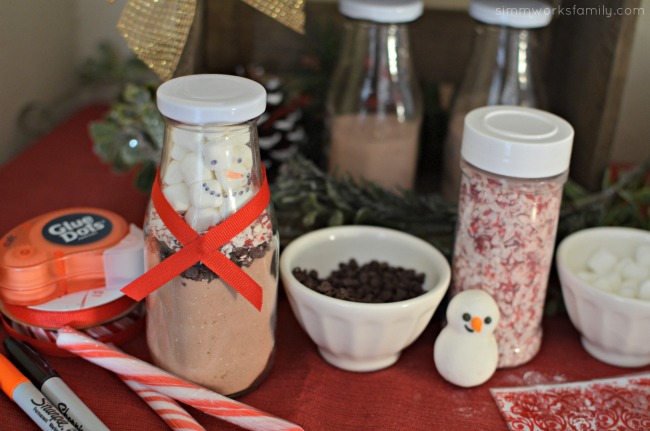 Homemade Hot Cocoa Mix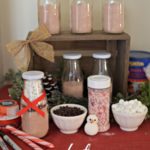 2 cups powdered sugar
1 cup cocoa (Dutch-process preferred)
2 1/2 cups powdered milk
1 teaspoon salt
2 teaspoons cornstarch
1 teaspoon cinnamon
Combine ingredients in a mixing bowl and whisk together until well combined.
If using for snowmen gifts, set mix aside and read the post here for instructions.
If mixing up a large batch of hot cocoa for guests, combine mix with 5-6 cups of hot water and stir until mix is dissolved completely.
Add hot cocoa to a crock pot to keep warm throughout your event or serve right away and let guests top with whipped cream, marshmallows, crushed peppermint pieces, mini chocolate chips and more!
Now that you have the hot cocoa mix made, you can proceed with assembling the cute little snowmen.
What you'll need: 
1 batch hot cocoa mix (recipe above)
6 glass jars

 (I snagged these at Michael's with my 40% off coupon)

red ribbon
orange and black sharpie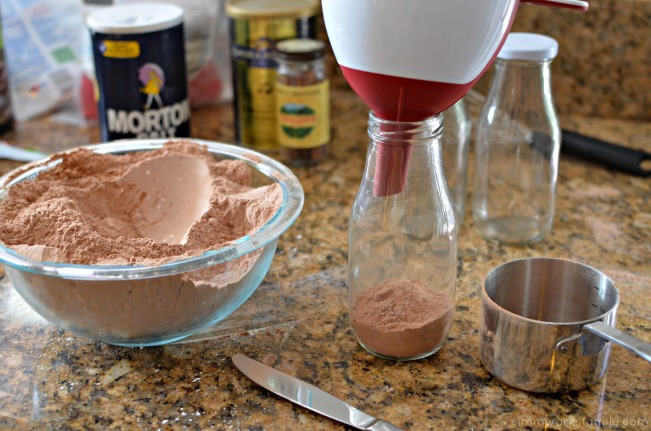 What you do: 
1. Grab the glass jars, cocoa mix, and a funnel.
2. Take the tops off of the glass jars and pour a little under a cup of mix into each jar (hot cocoa recipe makes 5.5 cups).
3. Top cocoa mix with some mini chocolate chips and crushed peppermint. Then add mini marshmallows to the top.
4. Cut a ribbon to fit around the jar and use a glue dot to secure the ribbon to the jar. Then, using the sharpies, make a snowman face on the front of the jar.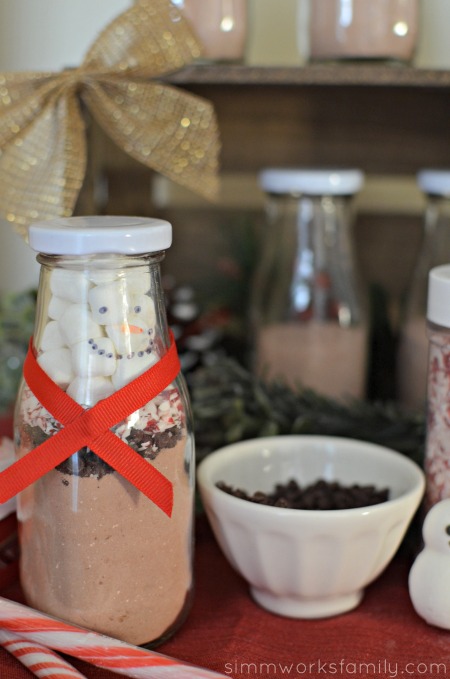 Tada! How cute is your hot cocoa snowman? Now have your friends make theirs while sipping a little hot cocoa themselves. You can add a little tag with instructions to add mix to 1-1.5 cups of hot water for an extra large mug of delicious hot cocoa.
If you make a double batch of cocoa mix you can add 1/2 of it to 5-6 cups of water on the stove (or in the crock pot) to enjoy with your friends as you make your homemade gifts!