Easter is a wonderful time to gather with family and rejoice. And after we enjoy Mass as a family we love enjoying an Easter brunch. Depending on the year, sometimes we enjoy a morning out with Easter brunch in San Diego.
There are so many wonderful places hosting Easter brunch here in San Diego. Everyone can find a place suited to their family's liking. The only thing I suggest is to call ahead and make reservations (or purchase tickets) if available.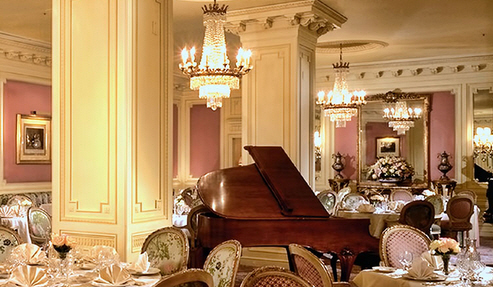 Westgate Hotel
On Easter Sunday, April 20, experience The Westgate's traditional Easter Champagne Brunch, complete with fresh seafood, made to order omelets, carving stations, gourmet desserts and a kid's specialty station. Families and children will be entertained by a face painter, special visit from the Easter Bunny and the sounds of live music.
Brunch will be served from 10:00 a.m. to 3:00 p.m. The price is $65 for adults and $29 for children 12 and under, plus tax and gratuity.
Humphrey's
Humphrey's will serve up an Easter buffet, plus champagne and live jazz performances. The extensive selection of food includes traditional brunch dishes, a carving station with roast beef, turkey, and ham, plus seafood, an omelet bar, and tons of options for dessert. It is literally impossible to leave hungry.
10 a.m. to 3 p.m. $54.95 for adults, $16.95 for children ages 4-12. Children under 4 are free. Reservations required, call 619-224-3577.
La Valencia Hotel
This buffet brunch is a great pick for families. Kids can create some arts and crafts, hunt for eggs in the garden, and meet the Easter Bunny. Dishes will include seasonal favorites like ham Benedict and thyme roasted lamb, plus a waffle bar, prime rib, and assorted sweets.
10:30 a.m. to 1:30 p.m. (reservations required). $85 for adults; $38 for kids under 12, plus taxes and gratuity. Visit lavalencia.com for more information.
Hotel Del Coronado
The Del's Easter Champagne Brunch buffet on Easter Sunday  is available in the oceanfront Ballroom and in the magnificent Crown Room from 9am to 3pm. The elegant buffet will feature classic holiday fare. A special children's buffet will be available for the little ones. Both the Crown Room and the Ballroom will have live musical entertainment.
The price is $100 for adults in the Crown Room, $90 in the Ballroom. Children ages 6-10 are $35 (not including tax and gratuity). Children 5 and under eat free. Call 619-522-8490 for information and reservations.
San Diego Zoo
With or without an Easter bonnet, you'll love the delicious selections of this bountiful Easter brunch buffet served from 11am to 3pm. There'll be continuous seating in the Treetops Banquet Room.
Cost is $42.95 for adults and $18.95 for children ages 3 to 11, plus tax and gratuity. Nonmembers add Zoo admission. For reservations, please call 619-557-3964, 10 a.m. to 4 p.m. daily.
Bahia San Diego
Overlooking beautiful Mission Bay, the Bahia will be hosting an Easter brunch on April 20, 2014. The beloved Easter Bunny will be on hand to lead the kids in a traditional Easter Egg Hunt at 11:30 a.m., 12:30 p.m., 1:30 p.m. and 2:30 p.m. Children of all ages are welcome. Added to the already-festive atmosphere is the classical sounds of local pianist James Bianchi.
10AM to 3PM (Seating every half hour from 10:00am – 2:30pm).
BICE
It's all about the little extras at BICE this Easter. Tables will be adorned with chocolate Easter egg baskets, and each reservation will be given a voucher to come back and receive a complimentary entree. Stop in for a prix fixe late lunch or dinner.
2 p.m. to 9 p.m., $45 per person. Call 619-239-2423 for reservations.
Where will you be enjoying Easter brunch?