These 3 Ways to Dye Easter Eggs with Toddlers and Preschoolers will make egg dying fun for the whole family!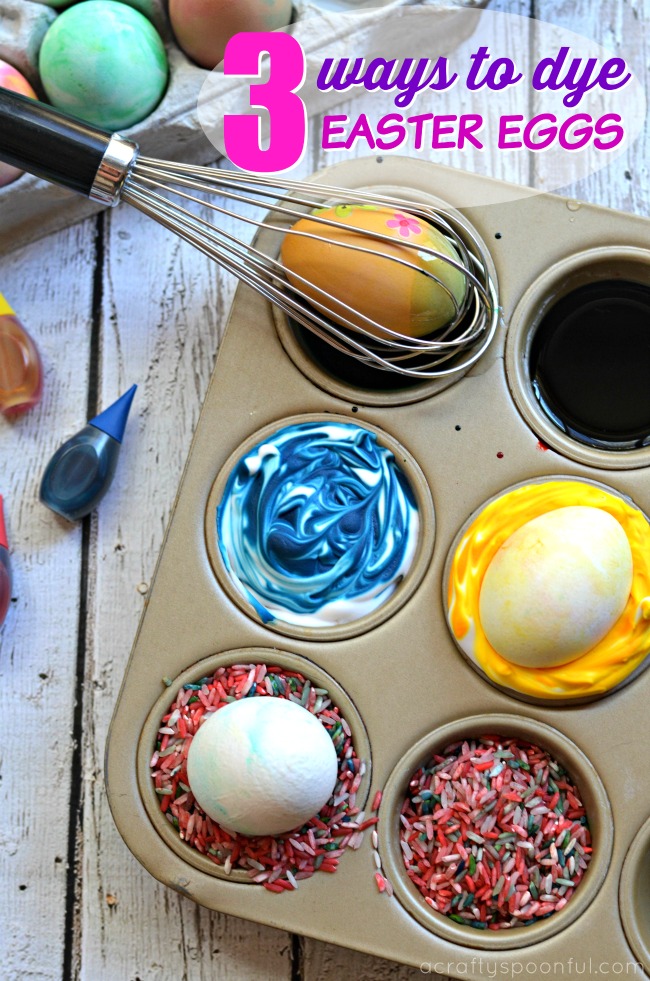 This year our preschooler is ready to jump in with both hands and really have fun dying Easter eggs. We did a few experiments of our own last year to find 3 ways to dye Easter eggs with toddlers and preschoolers that are not only fun but easy too! And as an added bonus, you probably have all of these things in your home right now. How's that for awesome?
My youngest had a blast trying these different methods of dying Easter eggs with me last year and couldn't wait to show her brother and sister what fun they have in store for them. Since we dye Easter eggs the Saturday before Easter, she had a leg up from her siblings and was a pro when it was time to actually dye the eggs. This year? She's the master…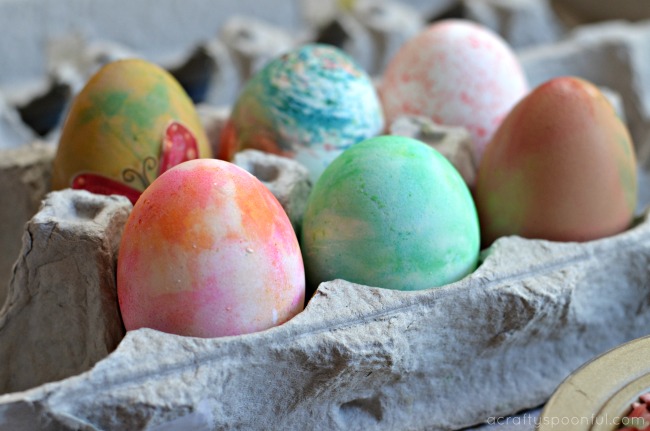 3 Ways to Dye Easter Eggs with Toddlers and Preschoolers
With small children, it's hard to use the ready-made kits on store shelves. Their little hands just aren't ready for holding those thin wire holders and spoons can sometimes be harder to control. So we set the spoons aside and let the kids have fun with these few suggestions!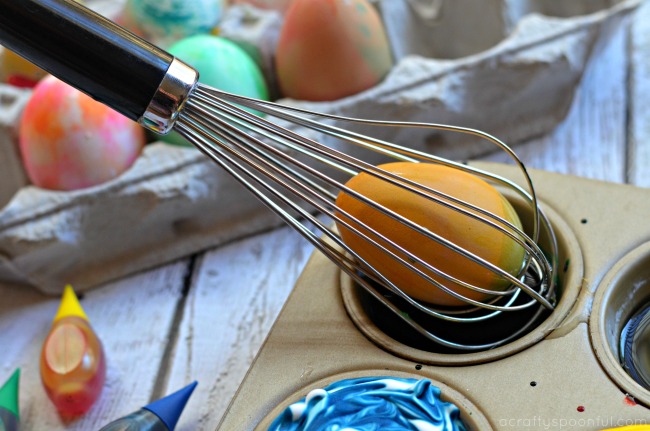 1. Use a Whisk
As I mentioned before, it's really hard for little ones to use those small wire handles that come with the store bought ready-made kits. So we make it easier by placing hard boiled eggs in a whisk for easy dunking.
Put some plastic cups in a muffin tin for stability and fill with 1/2 a cup of warm water and 1 tablespoon of vinegar. Then add in some food coloring drops to create the colors you want. Grab your hard boiled egg in the whisk and let your child dunk until they're done!
You can also forgo the whisk and cups and simply let your child dunk their eggs in the muffin tin directly! But be prepared for a bit more mess that way.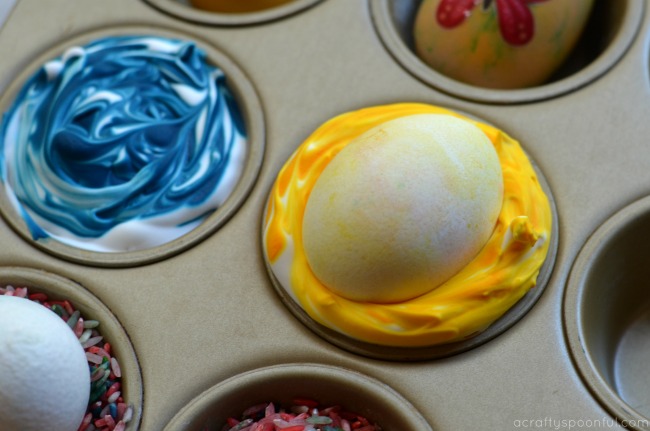 2. Whipping Cream and Food Coloring
Grab a tub of your favorite whipping cream and add it to a few muffin tin wells. Then add a few drops of the food coloring of your choice and swirl with a toothpick.
Add a hard-boiled egg to the center of the muffin tin well and spin with your hands until the whole egg is covered. Pull out and set aside to dry. Wipe off any excess cream with a paper towel and enjoy the beautiful colors it leaves behind.
Alternatively, you can also use shaving cream!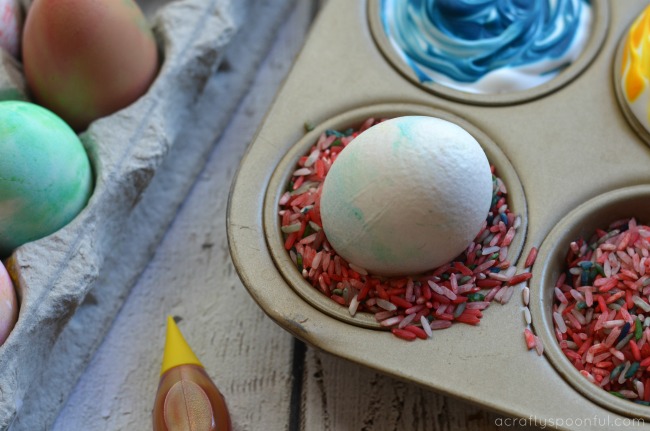 3. Dye with Rice
Grab some rice from the pantry and add to a few wells in your muffin tin pan until they're about 1/2 way full. Add some drops of food coloring and mix around with a toothpick until the grains of rice are coated with the food coloring.
Add a hard-boiled egg into the muffin tin well and swirl around. Let dry completely and enjoy!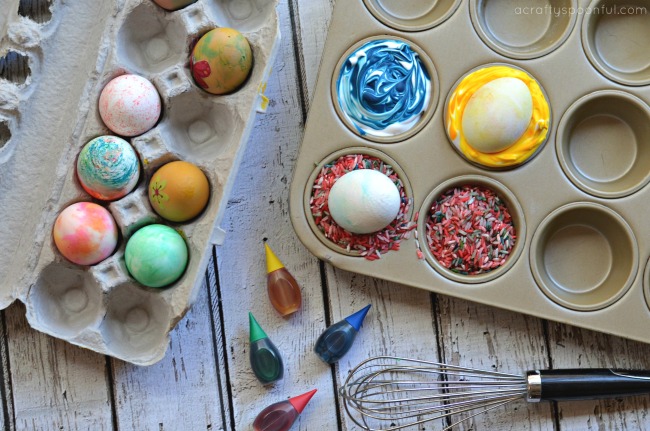 These 3 ways to dye Easter eggs with toddlers and preschoolers is a fun and easy craft you can do with your kids this Easter. We love setting everything out and sitting back to watch what the kids will think of next when they're dying their eggs.
A few alternative tools you can leave out for your kids are stickers, crayons, and paintbrushes.
Watch how my 2-year-old and I use these techniques last year in a fun Facebook Live video:
Looking for more Easter ideas for the kids?
Loved what you read? Read more:
Pin this article for later!
Click the Pin button on the image below to save for later.